Our Digital Workout Schedule for the Week of April 20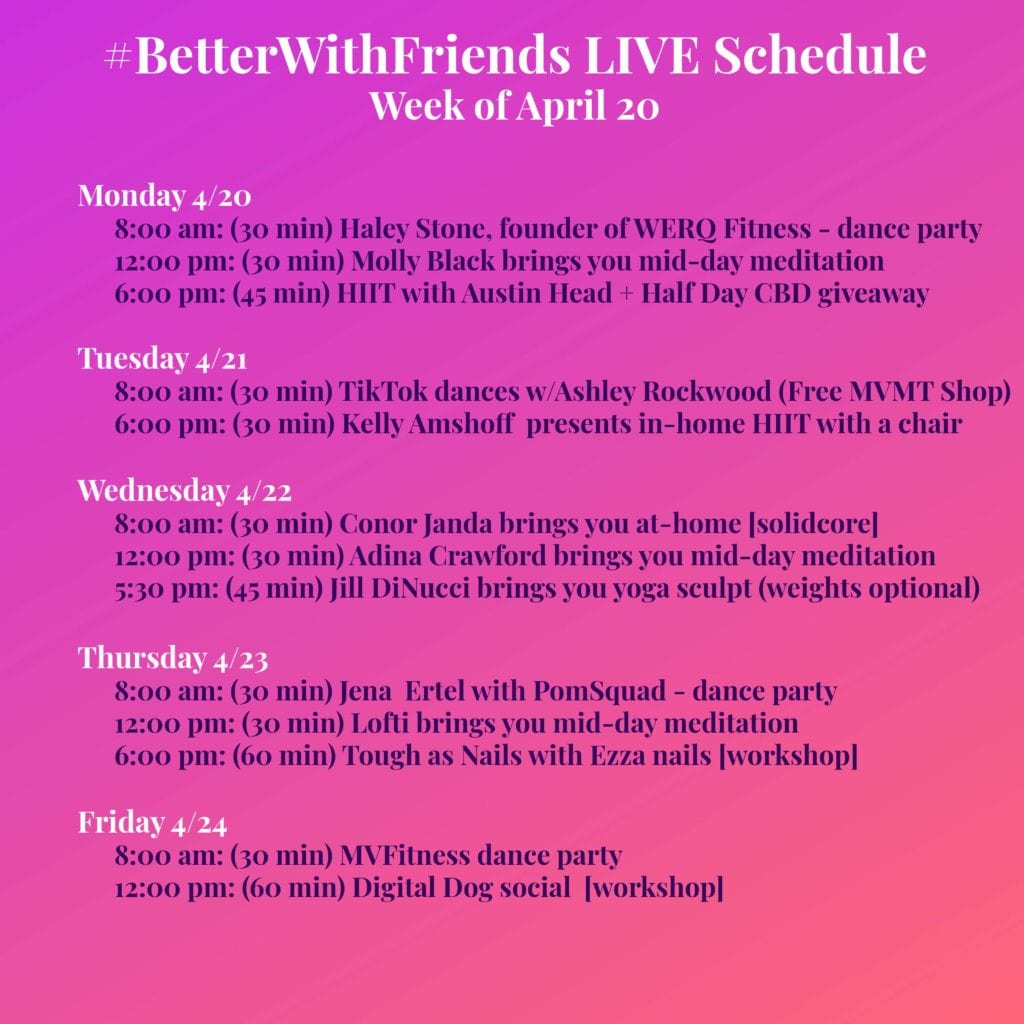 In our sixth week of digital workouts, we're continuing our quest for joy, peace, strength, and connection. And you'll find that come through from the ways we move our bodies, to the way we calm our minds, all the way into the way we socialize (prepare for a "doggy social hour").
We're bringing back morning dance parties Monday, Tuesday, Thursday and Friday and you'll also find the toughest core routine on the block with our off-the-reformer [solidcore] class Wednesday. You'll also find evening doses of HIIT and strength with Austin Head, Kelly Amshoff, and Jill DiNucci. We're also trying our very best to manage our mental state with meditation from Molly Black, Adina Crawford and Lofti.
And as we built the schedule, I kept thinking about the ways that living digitally opens us up. Yes, I know there are so many ways we're limited, but here's my "aha!": we've wanted to host dog yoga since – well forever. We've never been able to get around the logistical complexities of getting a million dogs + people in a room for yoga.
This week – FINALLY – dog yoga is happening during our doggy social hour. And it's one thing that's good about being digital.
Here's what you can expect this week.
Two workshops built to bring you joy:
4/23 at 6 pm CDT: Nailcare Workshop + Tough As Nails Talk with Ezza
On Thursday, April 23, 6:00 pm, we've invited our good friend and CEO of Ezza, Ale Breuer, to help us figure out how the heck to deal with the 4-week old no chip we've been sporting. This workshop + talk will be centered on at home nail care and how people can take care of their nails so they are stronger and healthier. It will also be an open conversation format, focused on popular nail care questions (that you can ask at any time!) with Jeana, aSweatLife's CEO and founder. Ale will be sharing best practices on how to keep nails healthy and modeling how to use their Toughen Up At-Home Nail Kit!
4/24 at 12 pm CDT: Digital Dog Social (No Dogs Required!)
Research has shown that animals can provide stress-relief, among other health benefits, and you don't need to own a pet to experience them! We're here for any and all opportunities to relieve some stress and bring some joy into your days, and so we decided it was time to gather both our two and four-legged friends for a midday break. We also know a lot of you have been thinking about becoming a dog-owner while you're spending more time at home… maybe this digital social will be the push you need to pick up a new fur-ever friend.
On Friday, 4/24, aSweatLife is hosting a Digital Dog Social with Robyn and Yogi the dog from Yoga2.0, Randi from Bow Wow Meow, Heather from One Tail at a Time, Yvonne from Anything is Pawzible and of course you + your pup (if you have one)!
Robyn will kick things off with a quick Dog Yoga (or Doga) flow and then Randi will lead us through how to make some killer dog treats at home (ingredients below). If you've been thinking about dog-parenthood, you won't want to miss this! Heather will be able to answer any of your questions about adopting and fostering. We'll wrap things up with a fun 'Peekaboo' trick tutorial with Yvonne and maybe a few new future dog-owners!
This Digital Dog Social will be free for all attendees but we'll be collecting donations for One Tail at a Time. We know everyone is currently in a different financial situation but if you are able to donate, you can do so. We'll host the social in a private Zoom room. If you don't have Zoom, you can download it here!
Lots of ways to work out!
This week, every day will start with something we wanted to do for the simple joy of it: dance parties. Monday through Thursday at 8 am CDT, we'll start the day with a dance format to get the wiggles out, to sweat, to smile and to laugh. On Friday, we'll have P.Volve in place of dance, but we can guarantee a party. You'll also find plenty of other ways to get stronger and work up a sweat with lots of instructors and business owners we love.
All workouts take place on Facebook LIVE.
Monday 4/20
8:00 am: (30 min) dance party with Haley Stone, founder of WERQ
12 pm: (30 min) Molly Black brings you mid-day meditation
6:00 pm: (45 min) HIIT with Austin Head + Half Day CBD giveaway
Tuesday 4/21
8:00 am: 30 min dance party w/Ashley Rockwood founder of Free MVMT Shop (TikTok dances – 2)
6:00 pm: (30 min) Kelly Amshoff presents in-home HIIT with a chair
Wednesday 4/22
8:00 am: (30 min) Conor Janda brings you at-home [solidcore]
12:00 pm: (30 min) Adina Crawford brings you mid-day meditation
6:00 pm: (45 min) Jill DiNucci brings you yoga sculpt (weights optional)

Thursday 4/23
8:00 am: (30 min) dance party with Jena Ertel founder of Pom Squad
12:00 pm: (30 min( Lofti brings you mid-day meditation
6:00 pm: (60 min) Nailcare Workshop + Tough As Nails Talk with Ezza [Workshop sign-up required]

Friday 4/24
All of the resources: