How to Reap the Stress-Relieving Benefits of Pets, Even if You Can't Have One
Pets have some major superpowers, especially when it comes to improving the lives of their owners. For example, according to a study published in the journal Scientific Reports, dog owners who live alone lowered their risk of heart-related death by 36 percent compared to single people without a pup.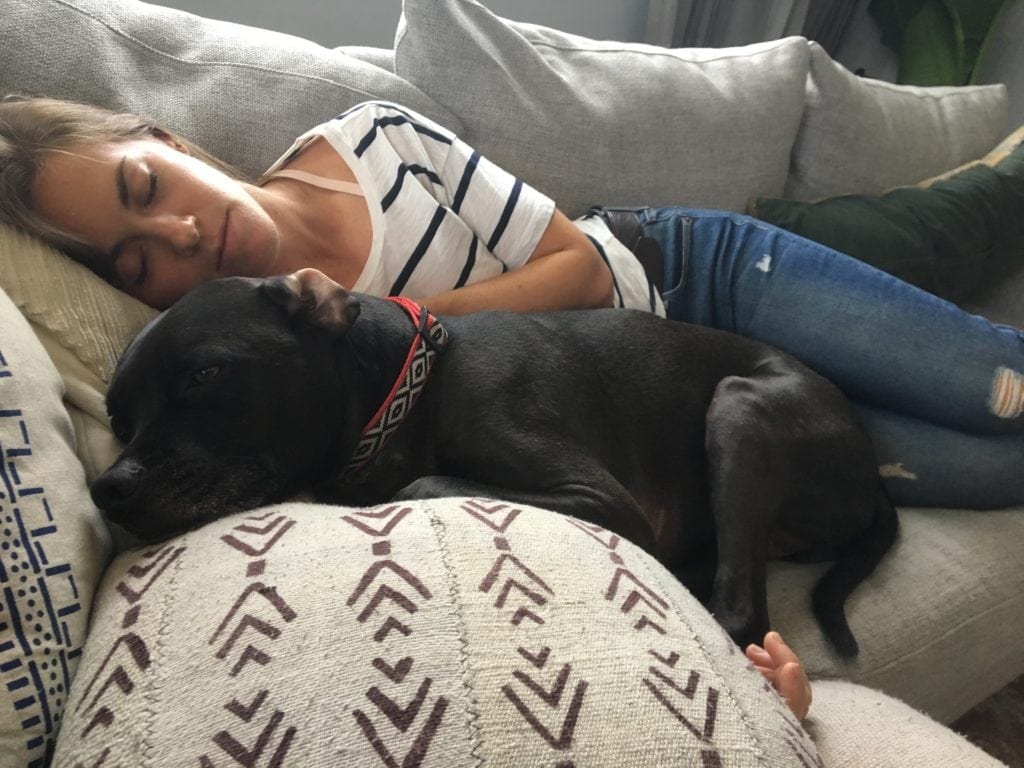 Pets are also amazing at relieving stress, per a study published in Frontiers in Psychology. David Williams, MD, ER doctor in Chicago and chief medical officer of Pet Partners, an animal therapy organization, has seen the stress-relieving effects animals can have on humans firsthand through his work. He and his daughter regularly bring their dog, which has been certified as a therapy animal, to nursing homes and hospitals to boost patients' moods.
Williams explains that in the past, much of the research around the health benefits of pets used to be anecdotal. These days, he says, scientists know that animals lower levels of cortisol (the stress hormone) and increase levels of oxytocin (the love hormone) in humans. "Animals have a positive effect on our lives," says Williams. "They lower our stress, make us feel better, and give us unconditional love. It's that unconditional love that helps us through periods of hardship and stress."
Of course, sometimes owning a pet is out of the question. Maybe your apartment doesn't allow animals or you're not quite sure you can handle the responsibility that comes with having a pet full-time. The good news is, you can still reap the stress-relieving benefits of animals. Here are six ways to do just that.
Visit an animal cafe.

Animal cafes are popping up across the globe, so no matter where you are, you can play with furry friends for an hour or two. While cat cafes are definitely the most popular (and Chicago's first cat cafe,

The Purrfect Roast Catfe

, opened in August 2017!), there are lots of different types of animal cafes, depending on where you are in the world. The

first dog cafe in America

opened in Los Angeles in 2016, while there are even bunny, hedgehog, and reptile cafes in Japan! At these animal cafes, you'll have the opportunity to lounge and cuddle with adoptable pets while sipping on drinks and noshing on snacks for a cost. (Prices vary per cafe, but usually run $10-20 an hour.)
Become a dog walker.

Yes, you can get paid to play with pups.

Rover

is a popular dog-walking service that's available in more than 14,000 cities. When you sign up on their site, you'll be asked to create a profile that highlights your experience with animals, and you'll also be subject to a background check. If you're approved, pet owners will be able to start hiring you for dog walking gigs. Rover states that you can make up to $1,000 a month, depending on how much dog sitting you do.
Pet sit.

You can also sign up to be a pet sitter on Rover. Or you can go back to school—pet-sitting school, that is—and get your certification from

Pet Sitters International

. The best candidates for pet sitters are ones who've had experience caring for animals in the past. So if you used to have a pet growing up but now live somewhere where they're off-limits, this could be a great low-key way for you to get your animal fix. A pet-sitting certification will give you more cred if you want to make serious money off of your love of animals.
Volunteer at an animal shelter.

Give back to animals in need by signing up to volunteer at an animal shelter where you can feed, clean, and play with cats, dogs, and more. You don't have to dedicate tons of time—for example, the

Animal Humane Society

in Minnesota asks for a commitment of only two to four hour shifts every other week for a year. For opportunities across the country, check out the

Humane Society of the United States

.
Take an animal yoga class.

Sure, it sounds like a gimmick, but yoga has proven health benefits. According to a study published in the

International Journal of Yoga

, yoga helps improve depression because it increases levels of serotonin, a neurotransmitter that is linked with feelings of well-being. Couple that with animals like goats and horses, and can you even imagine how good you'll feel after spending time in downward dog?

Goatyoga.net

has a list of goat yoga classes happening in the US.
Watch cute cat videos.

Seriously, science says this is good for you. A study published in the journal

Computers in Human Behavior

found that participants who watched cat videos felt more energetic and positive and had fewer negative emotions including anxiety and sadness afterward. So consider this your pass to watch some

Lil Bub videos

the next time you're stressed at work.