8 Effective Online Workouts So You Can Skip the Cold Weather
I don't know about you, but I love going for a good run in the summer or taking on a hiking session with my friends. But just because it's snowing outside, doesn't mean you can't get a good sweat sesh in and still have fun! Check out these online workouts that are fun and effective. Bonus: you can partake in them from the comfort of your home!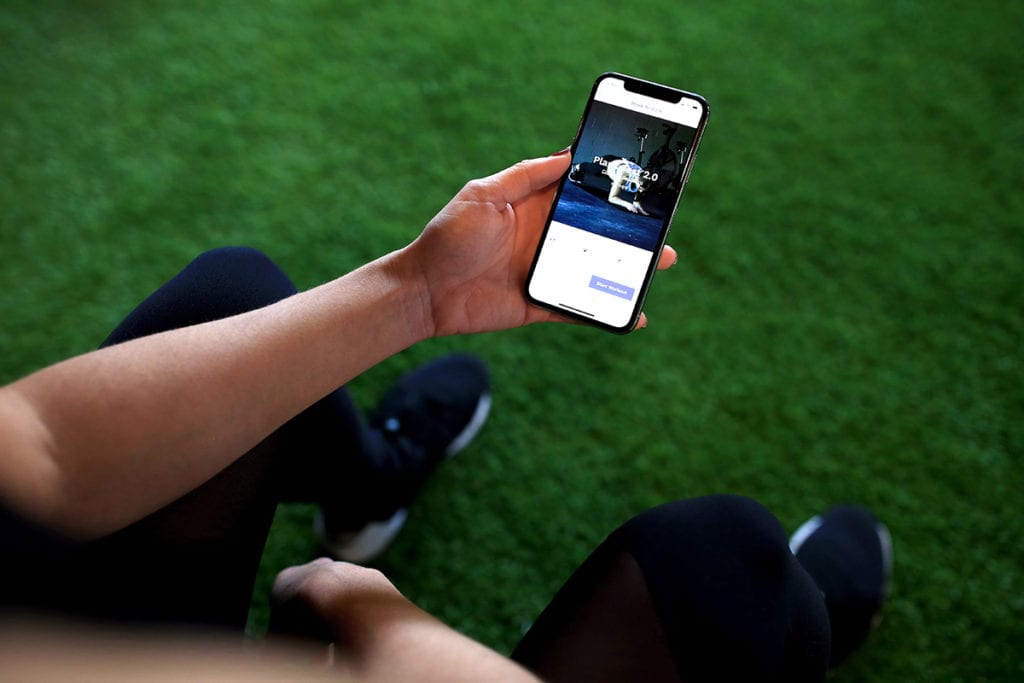 Bailey Brown is an Australian-based fitness guru with a new program called BB FIT. Her workouts are TOUGH, and one of the best features about her program is that she has short, effective 10, 15, or 20-minute workouts. Each sweat session is a mixture of fat burning cardio with intense Pilates based toning and sculpting.
BB Fit fan and blogger Natale Pfund shares, "I love working out with Bailey Brown because when I'm feeling the burn, her energy makes me feel like I could be at brunch with a bff. I really enjoy the dynamic movements and combinations she creates. And I always feel the results in my strength and posture immediately. Post-pregnancy, working out was pretty daunting, but Bailey's carefree spirit helped me fall in love with working out all over again."
It seems like barre studios are sweeping the country with this trendy workout. But don't judge a book by its cover: this workout isn't just for dancers.
The Bar Method is a super efficient way to shape your body. Each class starts with upper-body exercises, followed by a series of leg and seat exercises at the barre, and ends with core exercises on the floor. BE PREPARED TO SWEAT. The Bar Method also has a great video library of 15 to 60 minute online workouts that you can do from home.
Sarah Beth has a free YouTube channel and it is the internet's best-kept secret. I SWEAR! She has so many yoga workouts whether you are a prenatal mom looking for some movement or you are looking to sweat out a cold (yes, she has a specific flow for that!).
Want to look like a Victoria's Secret model? Well, how about you work out with one of their trainers from the comfort of your home? (And at a fraction of the cost!)
P.VOLVE was created by Stephen Pasterino, a celebrity trainer (with clients that include several Victoria's Secret models) that focuses on functional movement. This method specifically aims to help you build defined thighs, a higher butt, and a stronger core.
I think it is safe to say that everyone has a friend who swears by Beachbody. Their on-demand program has a variety of online workouts ranging from P90x to Tai Cheng to Country Heat workouts. If you are looking to try a new workout style every day, this is a good option.
Fitness guru Kristina Andersen has been exercising with Beachbody for five years now.
"I love doing Beachbody workouts because they offer so many different programs and they can be done anywhere," she gushes. "The variety of programs really is endless, and they have something for whatever mood I'm in. As a new mom, working out at home is the only option, and all of these programs can be done with little to no equipment!"
This fitness app is run by two female fitness gurus, Karena Dawn and Katrina Scott. The selection of workouts are made for women and vary based on your preference. There are sessions that allow you to focus on specific muscle groups such as your legs, core, or arms, or you can choose a total body workout. There are hundreds of videos that include yoga, HIIT, cardio, barre, boxing, kettlebell, strength, weight training and more. Tone It Up (TIU) is also known for an encouraging online community to help motivate you even more.
Former model and actress Melissa Wood changed career paths once she realized that working out didn't have to be part of her job—it could be part of her lifestyle. With her health coaching certification in hand, she set out to build a low-impact workout method that also provided a supportive, encouraging environment for women.
Her epic workouts are known to make you sweat. Yet, she is also known for focusing on her breath work and her gentle guidance during her workouts. Her program is definitely worth trying out.
Sobekick is an online space for everything from bootcamp boxing to cardio kickboxing. There is a variety of class types that align with various skill and fitness levels. These are calorie burning online workouts that can be done from your home.