Jay DeCoons: From Acquiring The Bar Method to Selling to Self Esteem Brands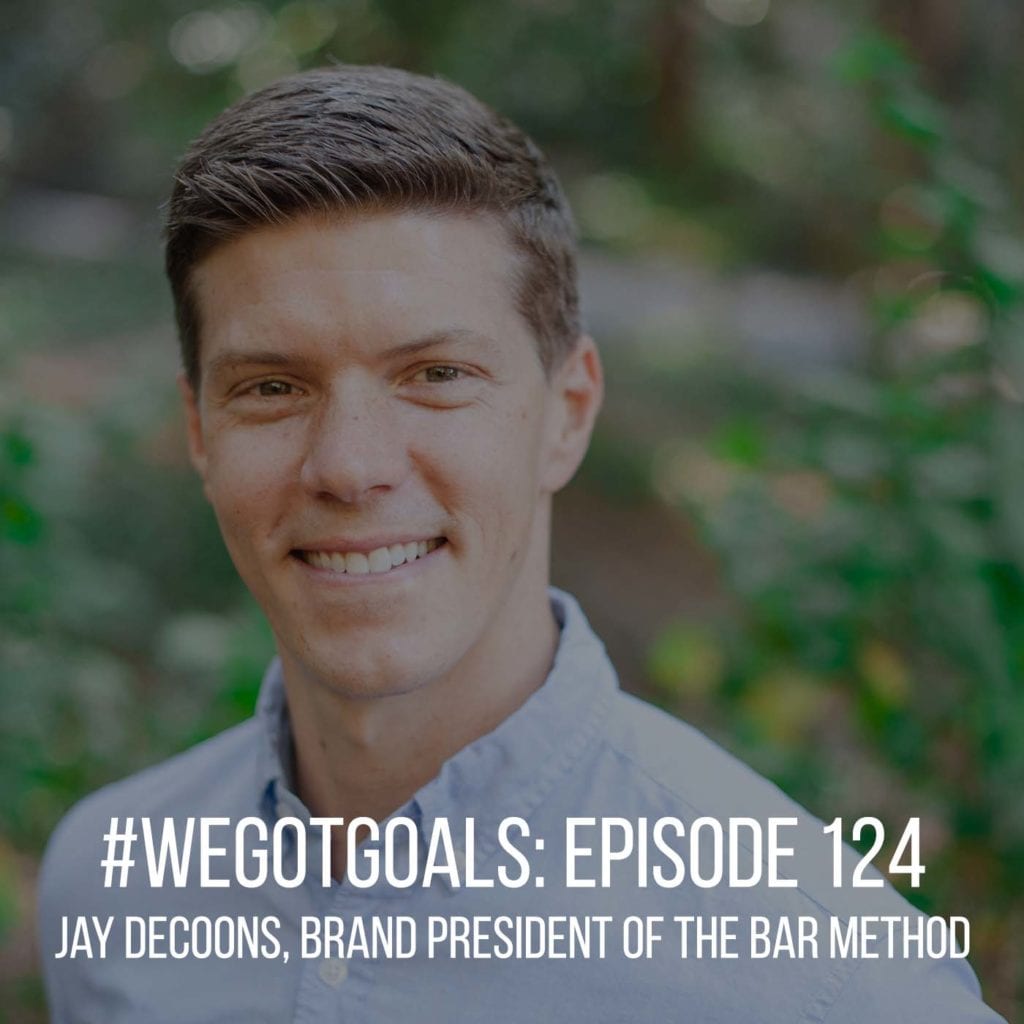 From the first time I spoke to Jay DeCoons, Brand President of
The Bar Method
, to the time we recorded our episode of #WeGotGoals, things had shifted dramatically at the company.
Self Esteem Brands
– the parent company of Anytime Fitness – acquired the Bar Method with plans to pursue global franchising. This was the key goal DeCoons had been working towards, and it appeared to to be suddenly coming to life. On this episode of #WeGotGoals, DeCoons relives his journey with The Bar Method – from acquiring it to leading it to selling it to Self Esteem Brands. He shares the bumps in the roads and what it took to realize his strengths as a leader.
Here's what you'll hear in this #WeGotGoals episode:
4:25: How Jay's time at the Private Equity firm Summit Partners was his training ground to understand entrepreneurship
5:55: Jay describes a big goal he accomplished in the past and the journey to acquire and run The Bar Method with a group of private investors.
7:40: Jay speaks to his experience at YogaWorks and how it helped him to understand what it takes to run a successful studio – everything from knowing P&L to creating relationships across the industry like the one he built with Burr Leonard, founder of The Bar Method. .
8:50: Jay shares his take on networking and relationships: "Just trust in doing the right thing and where you can be helpful and it can lead to amazing opportunities down the road that you have no idea of today."
11:15: Jay gives great advice about how to hire for your weaknesses and the benefits of partners with complementary skills – especially when you're setting big goals and managing change.
14:10: Jay speaks to failure, being hard on yourself and a concept he calls being "radically supported in your role." This is a piece of the episode that every entrepreneur should listen to if they ever feel like they can't do everything. Jay talks about why you can't and how to find support.
16:45: Jay speaks to joining forces with Self Esteem Brands and why it affords his team to get to their goals faster.
20:10: Jeana compares Jay's options to grow The Bar Method without an acquisition vs. growing with an acquisition to endurance racing A-goals and B-goals. Jay describes how to keep thinking big even when cash-strapped.
22:20: Jay speaks to The Bar Method's early foray into video on demand content for members.
25:00: Jay describes the workout at The Bar Method and how it impacts you mind, body and soul – and how the corporate culture of setting goals trickles down to members tackling big goals.
27:50: Jay talks about one of his favorite books about goals – Traction by Gino Wickman – and how he uses concepts from it in business like quarterly rocks, "90-day goals," and "from X to Y by when."
30:30: Jay talks about his personal goals and how he and his wife set goals for themselves and their 7-, 5-, and 2-year-old kids. Jeana and Jay set a new goal for Jay to try to get out on a date night with his wife more frequently – starting with one date every three weeks with his wife.
33:15: Jay describes his journaling routine and why gratitude is important to help him to see how lucky he is.
Resources we mention throughout the episode:
Apple
, 
Spotify
, and more (and hey, leave us a rating while you're at it!).