How to Transition Back into Working Out Postpartum
"I had a preconceived idea of what I was going to be able to do post baby," began Chicago based trainer and owner of EnviroFit Chicago Victoria Slone when we began our Skype interview. As we continued to talk, she noted that reality was notably different from her expectations. I am not a mother myself, but I was already a rapt audience as she smiled through the camera from her car, parked in her driveway, hiding just for these moments from her four kiddos inside the house.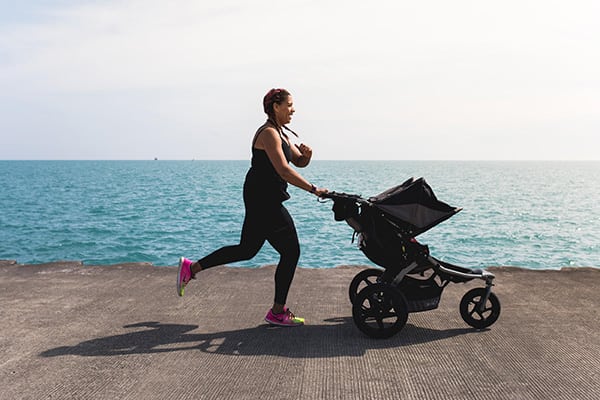 More often than not, you will find Slone with her children, heading to a nearby park where the entire family can get their fitness on. With over 10 years of experience as a health and wellness professional, Slone works with great enthusiasm to offer new moms hope that their postpartum body will begin to resemble that of their pre-baby life, in due time.
What activities can I do in the those first weeks after birth?
For the first six weeks, your body will need a good deal of rest from workouts, Slone emphasized. Working out too soon can actually increase bleeding and affect your milk supply. This does not mean that you have to be a couch potato mama, of course, but an easy walk will allow you time to bond with baby while getting your wobbly joints back in action and giving you fresh air. Remember to bring your water bottle with you on these walks as postpartum hydration is necessary.
Another important exercise to begin right away are Kegels; if you have had a natural birth, your pelvic floor is going to be quite different than before, and these exercises will help you to, well, consider jumping on a trampoline again someday.
Above all, while your heart may be ready to run a race and get back into your fitness routine, Slone reminds new moms that "your body changed for nine months to make this new life, and it may take that much time to rebuild it."
How do I transition back into fitness?
Try low-impact exercises first
FitPregnancy.com explains how after giving birth, ligaments are looser and "a shifting center of gravity and other physical changes that occur with pregnancy will change the way your body responds to exercise." Translation: you might feel pain working out the way you used to pre-baby, and some workout formats (ahem, cycling) might be a little… let's say, sensitive to your healing bod.
After allowing your body adequate recovery, Slone suggests trying exercises that you may not have done pre-baby, such as swimming, that are lower impact. This may be the time to extend those walks with the baby, pushing the pace a bit more as you heal, or getting back into yoga, (though you still may want to hold off on the hot yoga or yoga sculpt in the first weeks back to exercise). YogaJournal.com offers perfect poses for new mamas.
Find inspiration and motivation from other moms
Another piece of sage wisdom: "reach out and find other moms. Combats isolation in this new phase. Find your tribe." When she was a new mom, Slone got hooked up with Stroller Strides through FIT4MOM which allowed her to feel connected again, especially given that so many of her friends were not yet in Phase Baby.
If you are a Chicago resident, Active Mom's Club offers great classes and a way to access a postnatal fitness support group, and MamaTribe is a Facebook group where moms help each other field questions about all things baby.
Outside of the Chicago area, check out your local Cheers for Moms; it may be the place you connect with your next play date, and if you visit the park on that play date, Slone has just the workout for you below.
Include your little one in your workouts
When you are now living the mom life, bringing your baby into workouts may be a wonderful way to restart your fitness routine while also continuing to bond with the wee one. An easy and at home way to access "Baby and Me" workouts on on the SweatWorking app. Even though I do not have my own flock, my littlest sister has a new baby bird that I want to borrow just to be able to try out one of Slone's workouts — because my older nieces' dolls would be a bit silly, right?
Once your babe is a bit more independent and can waddle around, Slone has kickass options for the park; she is all about using your environment to guide your routine. While we were talking, she listed off so many moves you can do on the playground that I could feel my endorphins ready to burst into my bloodstream. That bench at the end of the sandbox? Switch between tricep dips and step-ups. That bench can also offer a nice incline for pushups and you can follow those up with walking lunges. When you're feeling your inner wonder woman powering up, grab onto those monkey bars for pull-ups!
Working out with and around your kids is a fantastic way to help the budding superheroes see the super powers fitness can bring a person when you live a sweat life. As you are embarking on the new phases of mamahood, Slone reminds us "You are not alone. You're amazing. It's going to be great."