These Are The 4 Things You Should Be Doing Within 30 Minutes of Your Workout
Disclaimer: this post was written in partnership with Après and includes affiliate links (you can use the code ASWEATLIFE25 for 25% off at checkout, PS!). As always, we only write about products and brands that we love, and thanks for supporting the brands that support aSweatLife!
As an instructor, I see it all the time: the countdown on our final interval hits 00:00, the buzzer sounds, and my clients are OUT, practically sprinting for the door as they scramble to wipe down equipment and move on to the next event of the day.
And as a group fitness lover myself, I'm so guilty of that, too. I tend to schedule my workouts back-to-back with other meetings, calls, or plans, leaving myself no time to cool down before I'm grabbing my backpack and layering back up. This often ends up with me wandering the aisles of the grocery store, hungry and cold because I'm still in sweaty clothes and unsure of what I want for dinner — it's not a pretty sight.
Turns out, we're not doing ourselves any favors by skipping the cooldown, the stretch after a tough workout, and that all-important post-workout refuel. In fact, you might even be setting yourself up for injury or overtraining.
Plus, there's more to a relaxing post-workout routine than just stretching. As we said in our recent breakfast-and-learn on morning routines, the key to keeping any routine is to make it enjoyable — so why not apply that to your post-class time, too? You'll enjoy the after-glow of a hard workout, while properly thanking your body for all it's done for you.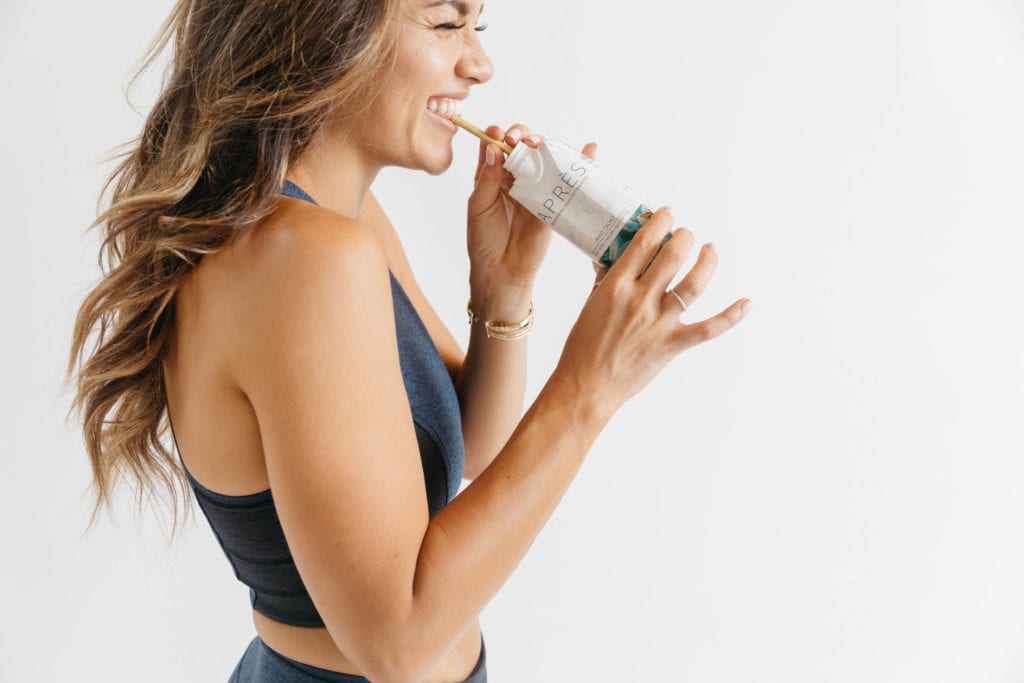 Your mission, should you choose to accept it: the next time you plan a workout, whether it's solo or with a class, pad 15 to 30 minutes at the end for a proper post-workout routine. After all, we KNOW you're not skipping your skincare routine, and we've talked about the importance of morning and nightly routines; the post-workout time is just as important as any of those.
Here's what to do with that precious post-workout time to maximize the work you just did and set yourself up for success for the rest of the day after it.
First: Cool down.
Allow your heart rate to come down naturally as you spend at least five minutes on a cooldown. If you're finishing a run or other cardio movement, take it down to a walk, a slow pedal with light resistance, or even just shuffle your feet from side-to-side as your heart rate comes down.
From there, move into static stretches targeting the muscle groups you just worked. For example, after lower body strength, you might cycle through a hamstring stretch, pigeon pose, and downward dog. Static stretches are best saved for the end of a workout, when your circulation is increased and your muscles are already warm.
If you've got time, add in a few minutes of foam rolling here. Foam rolling can also be done before a workout as part of a warm-up, but it's so helpful that you can really do it anytime throughout your day to reap the benefits.
Next: Get your protein on.
Consuming protein is key to helping your muscles rebuild and repair post-workout, especially on heavy strength days. Experts recommend ingesting protein 15-60 minutes after a workout to hit the anabolic window of time when your body gets the most out of those nutrients, with 30 minutes being the sweet spot; if you wait a couple hours to eat, your body's ability to repair muscle decreases by up to 50 percent. Aim for 10-20 grams of protein.
Of course, if you're already sprinting out of the gym, you probably don't have time to cook a full protein-packed breakfast or lovingly roast some chicken in the oven. Your best bet is probably a ready-to-drink beverage like Après that has a solid balance of protein, MCTs, and electrolytes to replenish you post-workout. They're easy to toss in a gym bag (no refrigeration required!) and drink on the bus, at your desk, or wherever you find yourself.
Third: Refresh yourself from head-to-toe.
In a perfect world, you'd be able to go home and shower immediately after every workout — and that might be possible, especially if you're an early morning rooster or someone who rocks at-home workouts on the reg.
But for the rest of us mortals, there are a few simple things you can do to refresh yourself after a workout before you go out and face the world.
First, clean your dirty face to prevent acne and cool your cheeks. Even a quick splash in the locker room sink counts, or you can store a pack of face wipes in your gym bag for on-the-go cleansing (we love the wipes from gaan + co.!). For a more comprehensive post-workout skincare list, this post has all the essentials.
Next, change out of your damp, sweaty clothes. You deserve this. If a full shower isn't in the cards, a quick wipe down with the aforementioned wipes will do, but even just swapping shirts will make you like a new person before you head out the door.
Finally: Celebrate your workout and thank your body.
When you rush out of a workout, you do yourself a disservice by not acknowledging the hard work you just put your body through! At the end of most yoga classes, the instructor ends by saying "Namaste," or "the light in me recognizes the light in you." Try repeating a similar mantra to yourself at the end of a tough workout to thank yourself and recognize the good you did for yourself that day — here are a few options:
"I did this for me."
"Today I loved myself enough to exercise."
"Better than yesterday."
Or, if mantras aren't your cup of tea, take a a moment to reflect on a moment you felt particularly badass during the workout. Did you keep perfect form during all of your kettlebell swings? Hit a new speed on the treadmill? Go all the way until the buzzer during your least favorite movement? Whatever small victories you found during the workout, soak them in before you move on to the next thing (bonus points if you cheers to yourself with your post-workout protein shake).
How do you #ownyourafter? Let us know what you do post-workout in the comments! And if you do try Après, remember to use code ASWEATLIFE25 at checkout for a 25% discount! You can also find Après at our #SweatworkingWeek Fitness Festival Presented by Michelob ULTRA at Thalia Hall on Saturday, February 2.