Gym Bag Essentials For Your Post-Workout Skin
Even if your gym has fancy products and decent face wash in the locker room, whether it's post-spin triage or a full fledged routine, much like when you travel, it's always best to bring your own products. But, if you want to look as good as you feel, stocking your gym bag properly isn't just a matter of throwing in a few things and hoping nothing leaks. Here are some of my favorite post-gym essentials.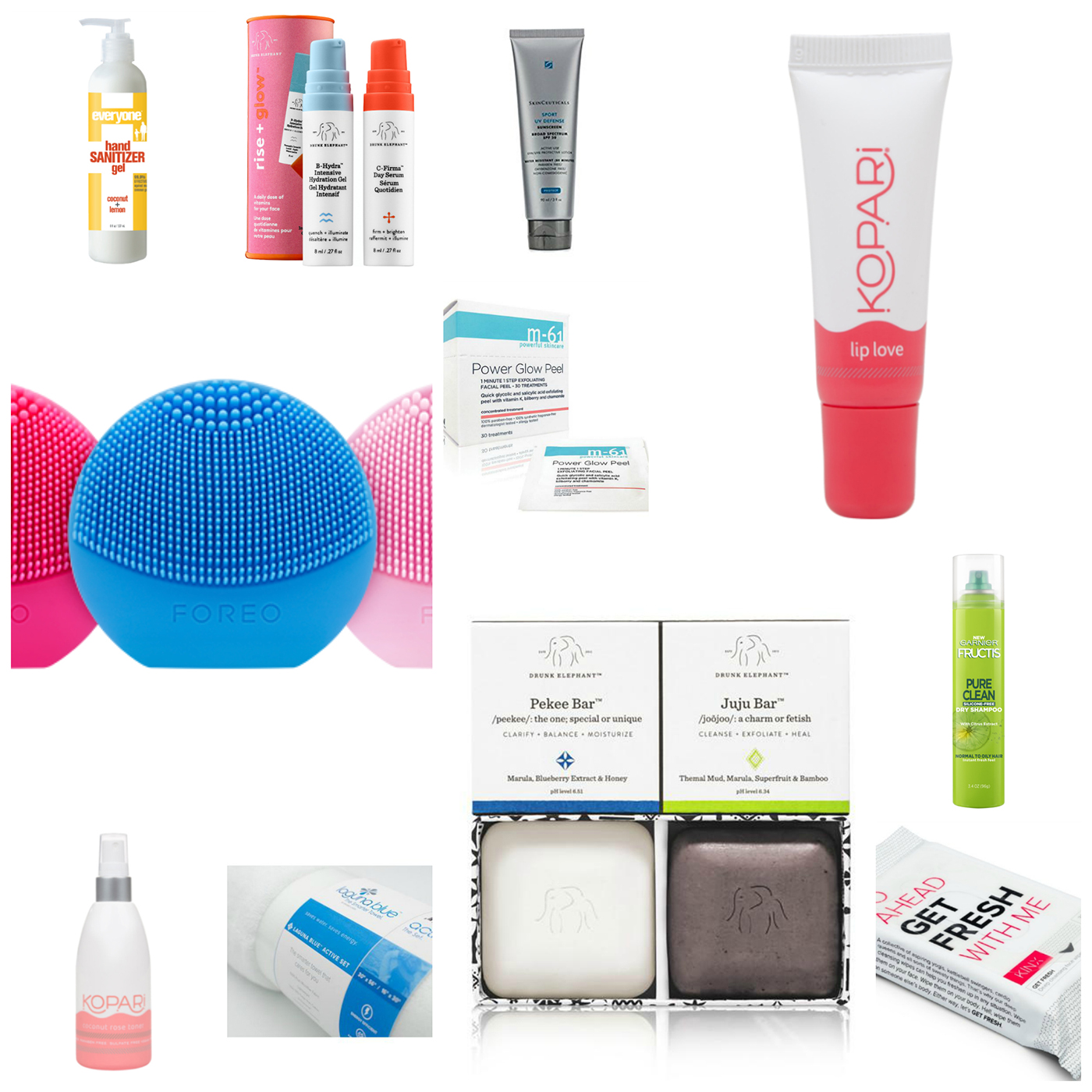 Everyone Coconut Lemon Hand Sanitizer Spray
If you only use one product post-workout, it should be hand sanitizer. According to Dr. Sal Nadkarni, who is a Chicago-trained, Los Angeles-based internist, the gym is teeming with germs. "Always carry hand sanitizer with you," he says. "I can't stress this enough. Especially with the sweat and the equipment, there is so much bacteria, even if you go to a good gym where they clean well. You have to protect yourself from getting sick. Even if it's not a cold or flu, you can get bacterial infections on your skin or in your eyes." Because the FDA requires that all hand sanitizers are equally concentrated, you can choose any one you want. My personal favorite is Everyone Coconut Lemon Hand Sanitizer Spray because it smells like a cocktail and the cap prevents accidental leaking.
Kinx Active Deep Cleansing Face Wipes
If you cannot wash your face, at the very least, you should be using a wipe to remove bacteria and sweat, and to prevent breakouts. Kinx Active Deep Cleansing Face Wipes come in a small package that stays well sealed, so even the very last wipe stays wet. I also use them on my body if I'm not planning on taking a shower.
SkinCeuticals Sport UV Defense SPF 50
Tested by marathon runners, SkinCeuticals Sport UV Defense SPF 50 is formulated specifically for people who get their sweat on outside. In addition to being water, wiping and rubbing-resistant, it provides broad-spectrum UVA/UVB protection. This sunscreen also benefits your skin because it contains Artemia Salina, an ingredient that helps protect collagen from UV damage and increases resistance to heat. It's also paraben and oxybenzone free.
Foreo Luna Play Plus
Foreo's Luna Play Plus is a travel-friendly sonic cleansing brush that uses a AAA battery, so you don't have to worry about recharging it (don't we have enough things to worry about recharging?). Designed to cleanse and exfoliate your skin, the device removes 99.5% of dirt and oil as well as makeup. Made of silicone, which is 35 times more hygienic than a bristled cleansing brush, it's also waterproof, non-porous and there are no refill heads to buy.
Laguna Blue Towel
Personally, I'm not a fan of rolling the dice on a gym's towel service. In my experience, the towels are either barely large enough to dry off a Chihuahua or smell like bleach. That's why I like Laguna Blue towels. Made of microfiber, they're antibacterial and dry twice as absorbent as cotton. At 30 x 56 inches, the bath towel is large enough to dry off, but thin enough to be portable. Using the hand towel to dry my hair also significantly cuts down on blow-drying time.
Drunk Elephant Travel Duo
Before I choose any product for the gym, I ask myself one question, "Could this leak?" Because Drunk Elephant's Travel Duo contains baby sized Juju™ and Pekee™ cleansing bars, the answer is no. The Juju Bar, which is formulated with thermal mud and bamboo powder, cleanses, lightly exfoliates and heals the skin. It's good for those days when your skin is mad at you for sweating too much. The Pekee bar is infused with blueberry extract, marula oil and honey to cleanse, tone and moisturize all in one. Both bars are also made with extra fun because who doesn't like to say "Juju" and "Pekee"?
Drunk Elephant Rise + Glow Duo                                                               
Drunk Elephant's Rise + Glow Duo was made for people who tackle their workout in the AM. This set contains travel-sized versions of the C-Firma Day Serum and B-Hydra™ Intensive Hydration Gel. With 15% L-Ascorbic Acid, C-Firma Day Serum helps diminish the signs of aging and gives your skin a nice glow. Formulated with pineapple ceramide, lentil, apple and watermelon, B-Hydra is not a smoothie, but a gel moisturizer that can be used on its own or mixed with other products.
M-61 PowerGlow Peel
If your skin needs a post-workout pick-me-up, just toss a few individually wrapped M-61 PowerGlow Peel wipes in your bag. Containing glycolic and salicylic acids, they exfoliate, resurface, clarify and firm the skin. Think about these wipes as a personal trainer for all your other skincare products, cutting through anything unnecessary, making them work harder and penetrate deeper.
Garnier Fructis Pure Clean Dry Shampoo
Dry shampoo is a great way to freshen up a sweaty head. Available in a 3.4oz bottle, Garnier's Pure Clean gets the job done quickly without adding additional oil, texture or silicone, which can attract more dirt to your hair. It also has a fresh scent.
Kopari Coconut Rose Toner
If for some reason, you can't wash your face immediately after working out or are wearing makeup, so you can't use a wipe, a spritz or two of Kopari's Coconut Rose Toner is a great way to triage, cool off and tighten your pores like you've been tightening your abs. It's also alcohol-free, so it does not cause drying.
Kopari Coconut Lip Love
Kopari's Coconut Lip Love doesn't slack off or slip off. Made with coconut oil, vitamin E, shea butter and quite possibly magic, it infuses your lips with moisture throughout your workout. I have the world's driest lips and I think this is best lip balm I've ever used.