Feb. 2: A #SweatworkingWeek Fitness Festival of Historic Proportions, Presented by Michelob ULTRA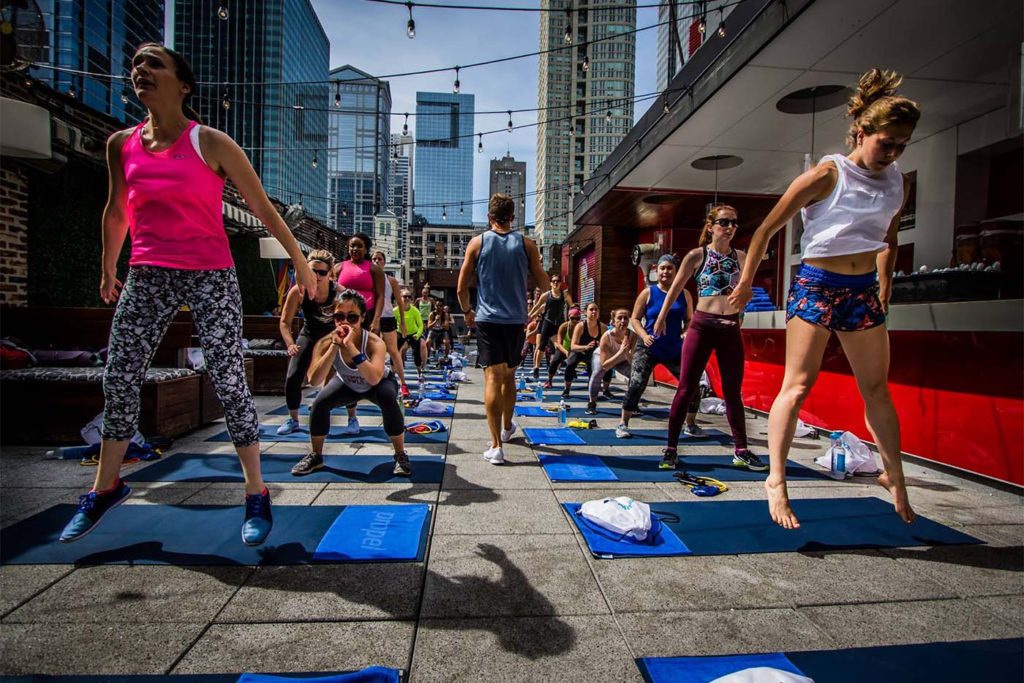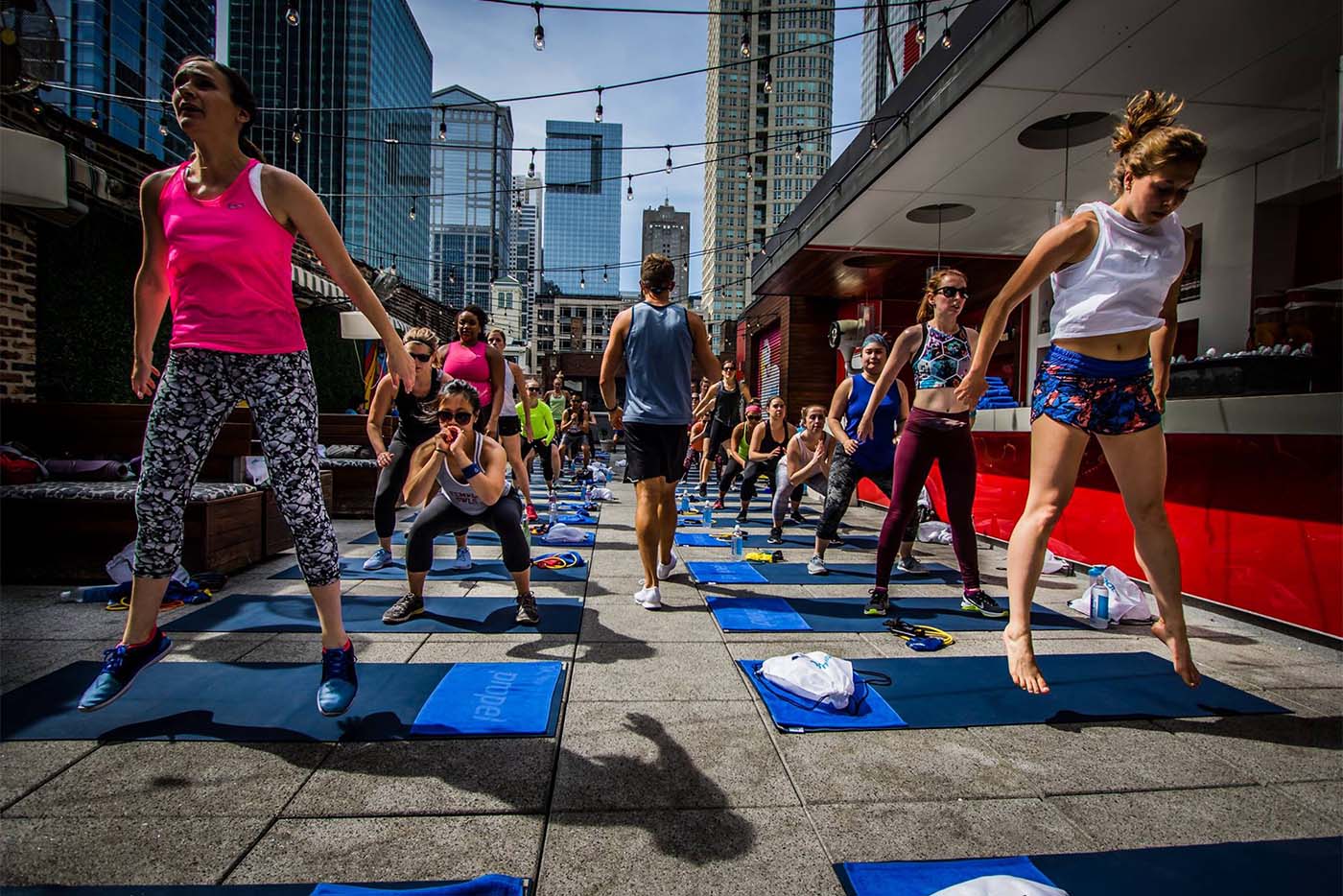 When weather struck, we decided with our partners to postpone the fitness festival because we love you and we want you to be happy. But fear not, fitness festival revelers, we've regrouped and we're about to hit Thalia Hall, Feb. 2.
When we sat down to vision-board this edition of #SweatworkingWeek, we knew we wanted to go out with a bang — turns out, we'll be going out with a giant tuba, a remix of your favorite guilty-pleasure pop song, and a drumroll from a DJ set like you've never heard before.
But we're getting ahead of ourselves.
During each iteration of #SweatworkingWeek, we plan for the Saturday fitness festival to be the culmination of everything we've put together during the week. This year's theme, as you've no doubt noticed by the unusual choice of venues, is experiencing sweat through Chicago; specifically, through Chicago's unique culture and all the things we get to take advantage of as we live in this Windy City. With events scattered around the city's greatest offerings (the Museum of Contemporary Art, for one) and infusing fitness and culture in one-of-a-kind ways (intervals and improv, anyone?), it's all coming to a head on Saturday's Fit Fest — where we'll take over Thalia Hall for three totally wild workouts paired with music in ways you've never seen before.
And if that's not enough, we're building our own pop-up museum too. Meet The MUSEUM OF SWEAT, where you'll be able to engage with brands in unique ways before, during, and after your workouts.
Here's the lowdown (you'll appreciate my pun in a few minutes).
3 Chances to Sweat With Us at the Fitness Festival
Enter Thalia Hall and warm up from the cold with one, two, or heck, all three workouts we'll be offering throughout the day. Each class was designed with music in mind, to go with the historic music venue we'll be sweating in.
9:15 am: Box with Beats by The DJ Firm and a Live Drummer
Let the music amp you up as the DJ Firm performs alongside a live drummer for this boxing and conditioning session led by Courtney Belcastro of Title Boxing Club. You'll be challenged with combos or jab, cross, hook, and uppercut, but you'll also find yourself sweating as you get your heart rate WAY UP with conditioning drills. And because Courtney is an athlete who treats boxing like a sport, you'll get a chance to feel like the undisputed champ too.
10:30 am:A Dance MegaMix with Tanya Lozano (Healthy Hood), Ashley Rockwood (FREE MVMT SHOP) and Bobby Gouse (MVFitness)
In the middle of the day at the fitness festival at Thalia Hall, we're creating a dance mega-mix you will have all the FOMO over if you miss. You'll experience three distinct dance styles Tanya Lozano from Heathy Hood will showcase what you can find at her neighborhood fixture, Ashley Rockwood will bring you ballet burn from FREE MVMT Shop, and Bobby O'Brien from StudioThree will give you a taste of his dance
Tanya Lozano: You'll feel your hips come to life with a a combo from Tanya. This mini class will make you want to dance at HealthyHood every day.
More about Ballet Burn: Hold the classical music in this fist pumping, turned out twist on a traditional ballet/floor barre technique that combines cardio with grace and grit.
MVFitness will have you leaving class feeling like a true Pop Star, without needing to be a dancer. Come as you are and be ready to flip that hair like Britney.
11:50 am: Yoga with Jenny Finkel + The Lowdown Brass band
This upbeat yoga flow is paired up with a band that has roots in Chicago and wings in fun – the Lowdown Brass Band (which you should book for your parties, events and honestly, your Friday nights). You'll be led by Jenny Finkel, one of the most upbeat (and hilarious) yogis we know; she'll bring her sense of whimsy and rhythm to a flow like you've never done before. Don't know how yoga fits with an eight-piece band? Guess you'll have to be there to see it happen.
How We'll Infuse Culture with Workout Classes
In addition to the amazing musical talents we've enlisted for the day (see above), you'll also see a LIVE ARTIST in motion: Tracee Badway will be creating a painting in the midst of this fitness festival. You'll see the venue flipped to showcase the real faces of the asweatlife.community — who knows, you just might see yourself reflected in her work.
Why Thalia Hall?
Our final destination of the week is a landmark that has had a lot of big names pass through it throughout Chicago's storied history. We're taking over Thalia Hall for a fitness festival to wrap up the week.
One of our constant challenges to ourselves is to get out of the asweatlife.comfort zone — and this year, that meant leaving the familiar streets (and parking regulations) of River North and the West Loop. We immediately reached for the stars and started to wonder if we could book Thalia Hall, a music venue we loved for its concerts, its weekly free yoga series, and its history.
Thalia Hall is a historic landmark located in the Pilsen neighborhood of Chicago. It was founded by John Dusek at the turn of the century as a neighborhood establishment. Dusek was a family man, a tavern owner, and a facilitator of the arts. He was a visionary, and the founding father of Thalia Hall.  His hope for the corner of 18th & Allport was to build a public hall for the community. In 1892 his dream became reality: a multi-purpose property that would offer commercial storefronts, residential housing, and a hall for the community.
The hall was deemed a historical landmark in 1989 and today you can find comedy shows, The Pilsen Yoga Tribe, concerts, weddings and so much more in the great hall. Within the same walls, top-rated restaurants like Dusek's, Tack Room and Punch House all call it home.
On Saturday, it'll be our home for the day — and we can't wait to host YOU and celebrate the week with you.
The Surprises That Await You at The Museum of SWEAT
Michelob ULTRA will be providing happy hours throughout the week as well as one long happiness-filled morning and afternoon at the #SweatworkingWeek Fitness Festival. Expect beer-mosas and more from our partners at Thalia Hall all morning and afternoon, Saturday, February 2.
And remember, if you're DTMF (down to make friends) on Saturday at the fit fest without the workouts to accompany it, grab a $5 ticket here to hang out with us all afternoon (one complimentary Michelob ULTRA is included for our friends over 21)!
At The Museum of SWEAT, our very own take on an experiential pop-up, you'll get to know some of our favorite health and wellness brands and partners local to Chicago and from all over the country in new ways.
Looking to up your sports nutrition game? NOW® Sports has been committed to producing safe, natural and affordable sports nutrition supplements for more than 30 years. Today they offer more than 130 natural formulas, all backed by clinical research and thoroughly tested for identity, purity and strength to ensure what's on the label is in the bottle. Plus, they're now third-party certified via Informed-Sport for an added level of purity assurance. Stop by and sample their new BCAA Big 6, a propriety vegan and caffeine-free blend of amino acids formulated to support exercise endurance and recovery from intense workouts. Believe us, you'll need this after all the workouts we have planned for you!
We've been in love with Lifeway Kefir as a delicious snack for a long time, but when we heard CEO Julie Smolyansky's story on the #WeGotGoals podcast about trusting her gut in launching the business that is now wildly successful, we'll jump at any chance to have the Lifeway team a part of what we're doing. Experience Lifeway in entirely new ways at the Fit Fest on Saturday.
The most delicious post-workout shake we've ever tried is setting up shop to offer you sample shots of Aprés' most delectable flavors. We can't wait for you to keep the party going with us after the workouts and truly own your after with the help of this recovery drink.
Smoothie bowls? Smoothie bowls.
We had so much fun teaming up with Graze and RXBar last year to bring to life the most memorable smoothie concoction we've tried to date, we're bringing them back to the #SweatworkingWeek Fit Fest. We dare you to try to make a better smoothie than what you'll try here, or find a better pair to go with it than RXBar's nut butter flavors like vanilla bean and maple almond.
Foxtrot Delivery Market
Before she had Foxtrot, Director of Community Maggie Umberger remembers Googling "HaloTop delivery" far too many times to no avail. With the expansion of the market that has literally everything you'd ever crave, it's now at your fingertips. Try some of Foxtrot's healthy snack options and get to know the brand that also saves us from ourselves when there's no more ice cream left in the freezer and dessert feels like an absolute must. 
Would it even be a fitness festival without badass boxer braids to Instagram your time there? We don't want to find out. We've loved Glowout's founder, Jenn Dieas forever, and we can't wait to have the Glowout team on site making us all feel like the bosses we are pre- and post-workout.
Independently Driven
This local brand makes non-slip headbands that work as hard as you do. You'll see these near the brands by Glowout in the balcony at Thalia Hall where you'll be lucky enough to meet the founder.
Hyperice
Get ready for an entire station dedicated to Hyperice all day at Thalia Hall. We're pretty sure it'll be the first time this high-tech recovery system makes it into one of the most historic venues in Chicago, but we're not mad about it. Experience the culture of the city while you mobilize, roll out and recover from your workouts all in one place.
NormaTec
What's better than a balcony view of Thalia Hall with some of the most innovative workouts this city's seen? Watching it all go down while wearing NormaTec Recovery boots. Grab a beer-mosa and set up for the most interesting recovery session you'll ever sign up for. A beer-mosa you say? More on that below…
REVITALAB local cryotherapy
At the fitness festival on Saturday, February 2, REVITALAB will show you what it means to feel like a brand new person after a sweaty workout through the use of local cryotherapy. They'll be on site all morning and afternoon during the Fit Fest, but we don't recommend lolly-gagging around for spot with this machine. You'll thank us later.
Casper
This bed-in-a-box brand has a lot to offer outside of the … well, the box. They have beds for your best dog buddy, linens and the comfiest pillows you've ever seen. At the Fit Fest, you'll have a chance to experience this comfort AND chances to win!
Did you read all the way to the bottom? Follow us and send us a DM on Instagram to get one 50-percent off ticket.