10 Things Not to Wait for Spring To Do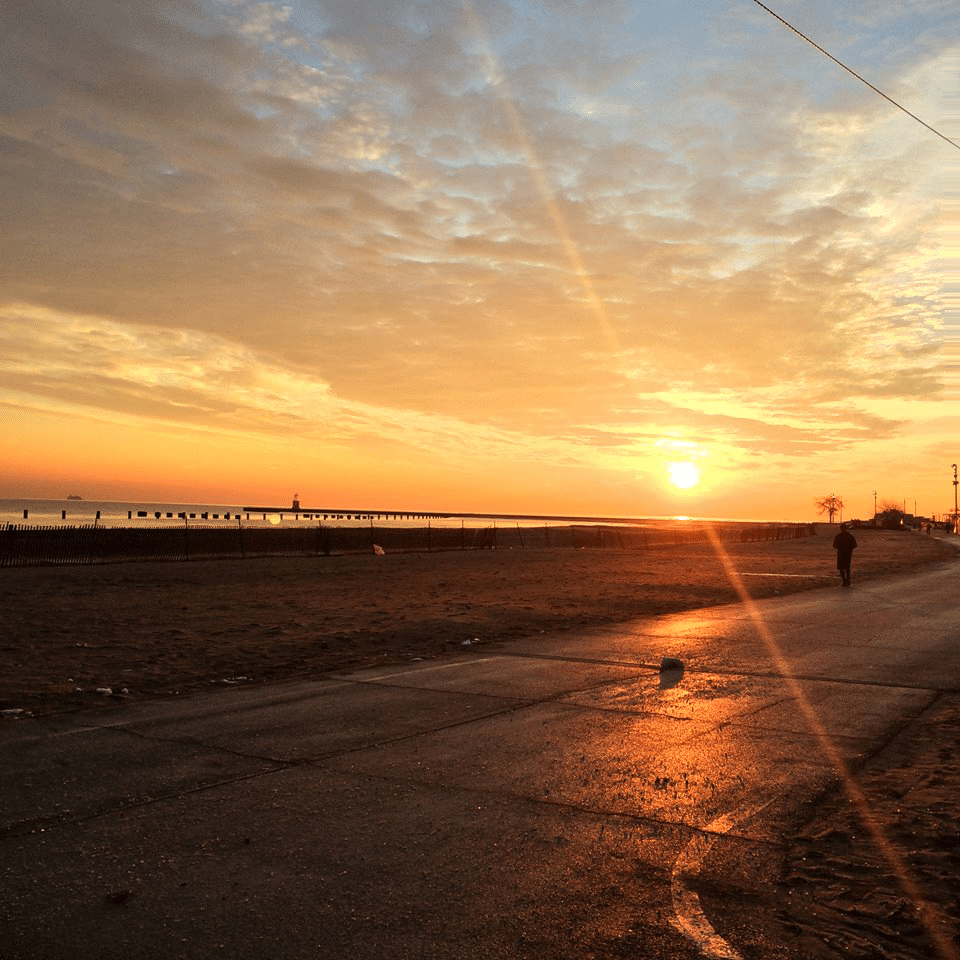 Winter is not my season. I think Seasonal Affective Disorder describes me.
However, in combination with some of my New Year's resolutions and my overall goal to be less focused on the future and to live in the present, I started to think about how I can incorporate some of the things I love about warmer weather into my daily life when the temperature is well below freezing and dark falls at 4 pm. In Chicago we have to put up with this weather for almost a third of the year. So why put off something that genuinely makes me happy just because it's not the season for it?
As January turns to February, we're only halfway out of the woods, here are 10 things you can stop waiting for warmer weather do!
Spring Cleaning: Start with one area of your house to comb through on a dreary weekend afternoon, throwing out what you don't need and setting aside what you can give away. Move through your house clearing and cleaning out closets, drawers, even your pantry, to make room for a lighter, brighter you. Marie Kondo, author of The Life-Changing Magic of Tidying Up: The Japanese Art of Decluttering and Organizing, emphasizes the benefits of purging and reorganizing. She asks you to ask yourself, "Does it spark joy?" and if the answer is no, it's better off gone. When the clutter is gone, you'll feel more relaxed and calm in your own home. And what's more, winter is a great time to give clothing and household goods to charity.
Pack a picnic and get outside: It may not be the full picnic scene you're imagining (checkered blanket and all), but try getting outside with some soup and hot cocoa in thermoses, and check out one of the ice skating rinks like in Maggie Daley Park. You can join in on the skating if you like, or sit outside and people-watch. Making a plan to spend time outside in the middle of winter might seem like a very counter-intuitive thing to do since we all naturally feel more inclined to hibernate. But in fact, feeling confined is one of the major contributors to Seasonal Affective Disorder, according to Norman E. Rosenthal, author of Winter Blues: Everything You Need to Know to Beat Seasonal Affective Disorder. And you can plan ahead to have something ready to warm you back up afterwards, like this crockpot recipe for slow cooked Mexican pulled chicken tortillas.
Cook something light: Speaking of cooking in the winter, how often do you search "hearty winter recipes?" Why not add a twist to a more traditional winter soup that has winter veggies by adding some homemade basil pesto, or opt for a lighter fish recipe like salmon baked together with tomatoes and asparagus versus a heavier dish of beef or steak? By eating a lighter meal, you won't feel as inclined to stay cozied up on the couch. You might even be more open to a jog outside …
Jog outside: Nike does a pretty good job of letting us all know that there's no such thing as bad weather, just bad gear. I'm not suggesting you go for a run along the lake front path when it's -15 degrees outside, but maybe there's some merit to those words. Test your limits, challenge yourself and try something you didn't think you could do. For me, it's a jog outside. For you, it might be something totally different. Plus, the endorphins you create will help get you through the winter SADs. As an added bonus, getting outside to exercise in the winter makes you work harder since your body is simultaneously working to regulate its temperature. And once you're finished, you'll feel that much more accomplished that you braved the weather and overcame a mental and physical obstacle all in one.
Train for something: Taking your jog outside to the next level, and set a goal for yourself that will give you some motivation to keep moving (indoors or out) throughout the dull winter months. Last year I trained for a Tough Mudder. This year, who knows?
Build a healthy habit: It's easy to get lazy, especially when everything slows down when it's cold out. But, sometimes, it's the littlest things that can turn our days around and make them something so much more productive, memorable or enjoyable. I'm working on making my bed everyday. For whatever reason (maybe BuzzFeed knows), I feel better starting off my day with my bed made, so it's a habit I'm sticking with. Find yours now and start your day off on the right foot, no matter what the outside temp is. This TED Talk begs the question, "What are you waiting for?" when it comes to starting a new habit. Matt Cutts, an engineer at Google, found that 30 days is the perfect amount of time to try out a new habit, incorporate it fully into his daily life and decide if it was something he wanted to keep up with after his month trial was done.
Go to the farmer's market: The Green City Market is open indoors from November through April at the Peggy Notebaert Nature Museum. You can still keep up your Saturday farmer's market routine throughout the winter – and get the ingredients to make that fresh, light, springtime-esque meal while you're at it. The winter farmer's market takes place every other Saturday; the next will be on February 6. Chef Eric Mansavage of Farmhouse Chicago will be there doing demos.
Start an herb garden or buy an indoor plant: Herbs are an excellent way to add flavor to any dish, and they're not just available in the summertime. According to Chicago Botanic Garden, thyme, lemon thyme, sage, oregano, basil, parsley, and chives are good candidates for a windowsill garden. Plants in general will improve your home's air quality. During the winter months when your heat may be in high gear and you're keeping windows closed, poor ventilation can be buffered by a few of these hard-to-kill house plants.
Take an impulsive weekend trip or stay local and find a festival: When the weather turns warm, we all start to think about a vacation. But taking a trip between now and spring could be the perfect thing to break up some of the winter. Choose a warmer destination a little further away, or search for a quick closer, midwestern getawaygetaway (like these trips Refinery 29 picked out). And staying in town doesn't mean you can't experience something new. Towns like Chicago celebrate various aspects of the city throughout the year, not just when it's rooftop weather season. At Chicago Theatre Week, February 11-21, you can sample from over 100 productions throughout the city at a discounted price.
Find a free workout: Even if you have to travel outside of your regular path from work to your couch, getting out there to take one of the many free workouts that various Chicago studios offers is totally worth it. It's a great way to meet new people, stay active and see what Chicago has to offer in the winter! Through lululemon, for example, you can always find some kind of sweet deal on yoga, pilates, barre, HIIT classes or personal training in the area. Nike+ Training Club and The North Face also offer free classes throughout the week. You can even read Dani's review of The North Face workouts here or get inspired by our free workout guide.
With that, spring chickens, stay warm and get out there!