The North Face Mountain Athletics Hosts Free Workouts in Chicago
Since last spring, I've heard about a new, free workout being offered by the North Face. I signed up a few times, but always ended up having a conflict and needing to cancel. Over the holidays, I put my gym membership on hold for a few months, so the idea of a free workout sounded extra appealing to avoid the monotony of running and working out on my own. I decided to sign up again for the North Face Mountain Athletics on one of their Tuesday Lincoln Park workouts.
The Location
The North Face is known for it's outdoor apparel, so it should come as no surprise that these are outdoor workouts, specifically geared towards training for any outdoor goal. On Tuesdays, the group meets up at the Lincoln Monument, located in Lincoln Park behind the Chicago History Museum (not far from the corner of North Ave and N Dearborn St). The coaches and a representative from North Face will be there to sign you in with spotlights and a gear check bag. On Thursdays, they meet up at the Millennium Monument in the northwest corner of Millennium Park, at the intersection of Michigan and Randolph.
The Group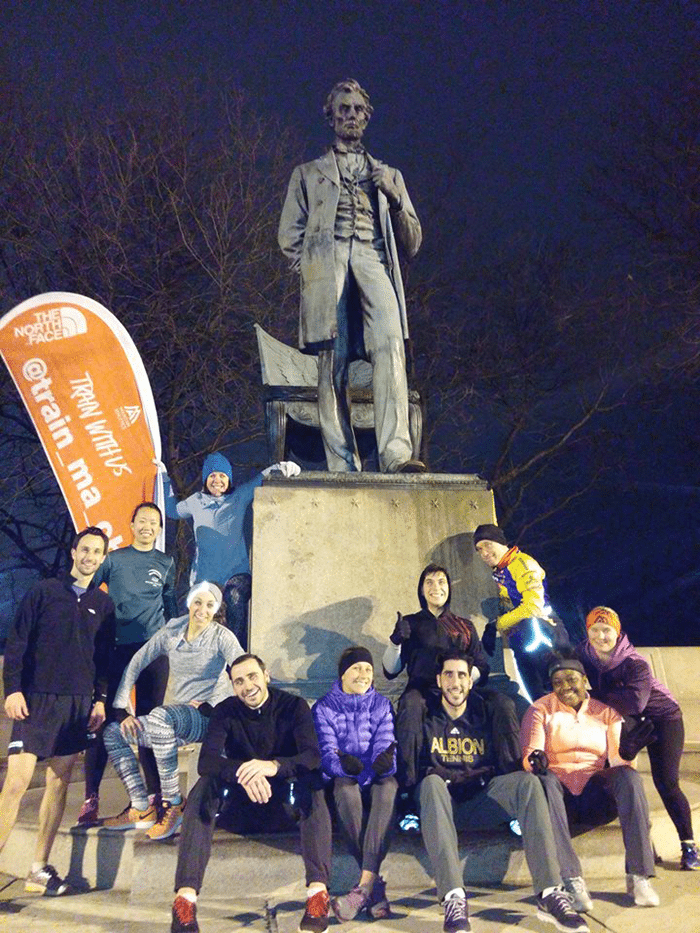 Whenever I go to a new workout I prefer to take a friend with me. On this particular day, I was by myself, but I quickly realized that wasn't a problem at all. As the group arrived, everyone introduced themselves to me. One of the regulars didn't even try to shake my hand, he went right in for the hug. They explained that this is so much more than just a workout for them – it's a community. Before the workout, the trainers announced that they had one new person (me!) and made sure that everyone had introduced themselves to me. This took what could have been an opportunity to feel confused or alone and turned it into a really warm start to the workout – which was great considering the low temperatures!
The Workout
The workout itself was split into three parts – a partner workout, a stair workout and an ab portion. For the partner workout, we all quickly paired off. Knowing I was new, one of the regulars quickly offered to be my partner. We worked together on partner pushups, burpee hop overs, one legged lunges (using the other person for balance), and sprints. Each exercise was one minute and we repeated the whole thing three times.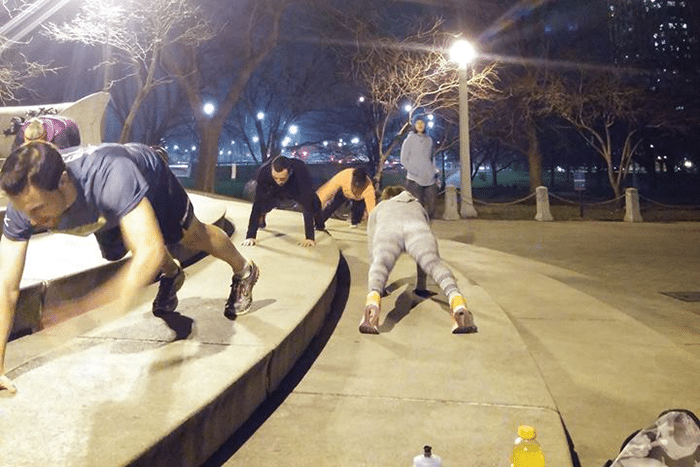 For the second set, we went over to the stairs on the monument. Keeping the same 1 minute timeframe, we did stair runs, lateral step ups and planks with alternating leg/arm raises. We finished off with 45 second sets of slow sit ups, slow mountain climbers, and side planks.
Even though the temperatures were hovering in the low 40s, I found myself taking off some of my layers as the workout went on. They make sure you break a sweat no matter what the temperature is! The workout was tough, but definitely scalable to anyone who wants to join. I know I was panting during the minute of sprints! The trainers are great about coming around to help you with your form and make sure you're getting the most out of each exercise.
Perks!
Although the workout is sponsored by North Face, they have partners all over the city and sometimes offer extra perks. In December, they rented a trolley and brought the crew up to Fleet Feet with free goodies, snacks and giveaways. In the past, they have had similar events at Uncle Dan's as well as challenges where they give winners a North Face gift card. In late January, they are hosting an event at their store in the Hancock building. They also partner with the November Project to support the group's early morning workouts on Wednesdays and Fridays.
Want to learn more?
Visit the North Face Mountain Athletics Chicago on Facebook, Twitter or Instagram. Or, sign up for a class for FREE on Eventbrite. The signup for Tuesdays can be found here, and Thursdays can be found here.
Let us know!
Did this post help you get closer to achieving one of your goals?