The Functional Purpose of Exercise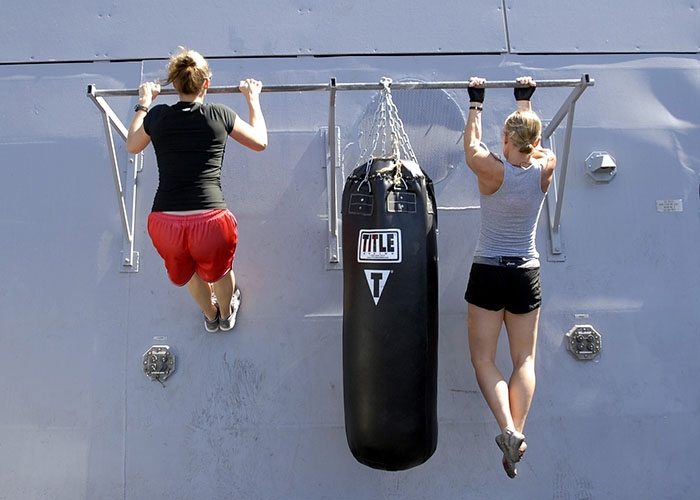 This May, I'll be participating in my first (and quite possible only) Tough Mudder. Let me just set the stage for this statement: I am a yogi. I meditate. I've never been into weightlifting. Not to say that I don't love a hard, sweaty workout, but signing up for this Tough Mudder is easily the furthest thing from my exercise comfort zone I can think of.
But I committed to it, so I did my research to figure out how to train and learned that pull-ups are a must. Arm strength in general will get you far. And then there's the stamina you'll need for a 12-mile course, so running (hills) just became a part of the picture.
Sounds like a pain, huh? To a yogi, it was at first. I dreaded what the week's workouts looked like during the first month. But the more I stepped away from the comfort zone of my yoga mat and the closer the Tough Mudder got, the more I envisioned myself being able to climb over a wall by myself, run through the mud and cheer my team members on and not feel completely spent when its done.
I haven't actually done the Tough Mudder yet so I have no idea what kind of shape I'll be in, but to me it doesn't much matter because I've started to realize something pretty cool. Exercise means so much more than making you look a certain way. It empowers you to be able to do more within the context of your daily life, whether you're on your feet all day at your job or participating in mud races on the reg.
That's what I loved about this past month's #Sweatworking event at POW! MMA and Fitness. Not only was it a killer circuit training workout, there was context behind each movement that gave me a motivation to do it harder, better and faster. Like the reason we repetitively practice jumping up quickly from lying flat on the ground is to establish muscle memory to be ready in any situation with an aggressor, to not stay knocked down but to be light on our feet and ready for the next move.
Every time I go to the gym I see countless people on the elliptical when I arrive, and by the time I leave an hour later, they're still there. Not to berate the utility and benefits of an elliptical, but how much functionality does it actually add to our lives besides burning calories?
If you love an elliptical workout, go for it. But if you don't- ask yourself, why are you making yourself do it? My introduction to more purposeful fitness practices has got me thinking. The human body doesn't want to be stagnant. When we consistently do the same thing over and over, we hit a plateau. We stop seeing results. I threw my muscles for a loop by adding weight training and more frequent running, and while I might not keep it up forever, I love the idea that it might help me succeed in the race I committed to.
The less I equate working out with getting beach-ready or working off last's nights drinks, the more positively I view exercise in general. It's not an obstacle or a punishment, it's unlocking my body's potential and opening doors for me to do things I never dreamed to be capable of.
The greatest (and most freeing) thing I'm learning about the functional purpose of exercise is that doing it only to burn calories is a missed opportunity. I'm going to keep doing what I love, I'm going to keep trying things that scare me and I'm going remember that I'm doing it all for my body, not to my body.