A Week of Free Workouts in Chicago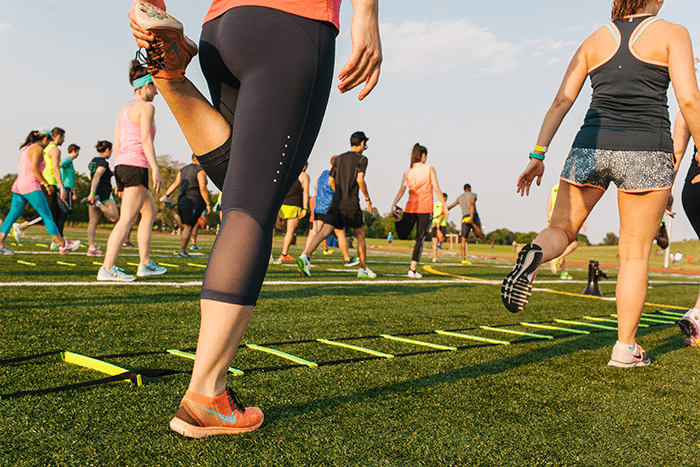 Working out can get expensive. Even if you have a money-saving package with your favorite gym or ClassPass, or if you're a runner, classes and equipment add up quickly. You may be getting in shape, but your wallet won't be.
However, if you know where to look, you can find free workouts throughout the city of Chicago. Here's a week's worth to get you started.
(Note that most gyms in Chicago will offer your first class, or even your first week, fo' free. All you have to do is ask and say you're interested in a test drive!)
Monday
Start your week off feeling strong with an NTC H.I.T. workout. This full-bodied workout uses functional movements to strengthen your entire body, alternating between high and low intensity intervals. Pro tip: sign ups open Sundays at 2pm. Be logged on and ready, these workouts fill up fast.
In the mood for a run? Try the Live Grit Fun Run in the West Loop Universal Sole location at 6pm, or the Monday night Fun Run out of either of the Fleet Feets at Southport or North/Wells at 6:30pm.
Tuesday
Get in a speedy workout with Nike Run Club in Chicago. This weekly track workout takes place at the Lakeshore Park track at Chicago Avenue and Lakeshore Drive, and a different speed workout each week ensures that you won't get bored. Worried that you can't keep up? Don't be – pace groups are available for every speed, and your sense of pride after finishing the tough speed workout will keep you coming back week after week.
For something a little more geared towards winter activities, The North Face offers a unique free Mountain Athletics training class at the Lincoln Monument in Lincoln Park at 6:30pm. Meant to help you achieve your outdoor goals, whether it's nailing a double black diamond or climbing a 14er, you can register here each week (psst- they're also offered at the Millennium Monument at Michigan and Randolph on Thursdays!).
Wednesday
The November Project has inspired a cult following in Chicago that love it for its creative, tough, "weather-proof" workouts and community-minded attitude (trust us, we've been). Join them on Wednesday mornings at 6:28 am at the Totem Pole in Lincoln Park (East of N. Lake Shore Drive where Addison Street would intersect) (or Fridays at 6am at the Bean), and get ready to be greeted with a hug.
Thursday
SWEAT Chicago offers a free Sweat Express class on Thursdays at 11:30am. The 45 minute class is meant to introduce you to SWEAT's method of making you, well, SWEAT- a method that includes cardio and light weight/high rep movements.
Throw some more HIIT into your week at 10am with Crosstown Fitness. This free community class keeps you moving from station to station in a heart-pumping, muscle-busting NTC class- perfect if the NTC class on Michigan Avenue you're trying to sign up for has filled up. Even better? You get a chance to work out with aSweatLife's official girl crush, Betina Gozo. Tell her we said "hi."
Need a stretch? Hit the Patagonia store on the Mag Mile for a 7:15pm yoga class (or attend on Tuesday at the Lincoln Park location).
Friday
Shake out your legs with a fun run out of the Fleet Feet running store in Lakeview. Starting at 6:15 am at the store on Southport, this quick three-five mile run is a perfect way to catch the sunrise and get your sweat on before starting your day.
Saturday
Nothing says "free" like a bodyweight workout you can do on your own time, without any extra equipment. Use an app like the 7 Minute Workout app or the trusty N+TC Nike Training Club App. Or, if you feel like going app-free, browse any one of our dozens of bodyweight workouts here on A Sweat Life. Let us know what you think afterwards!
Sunday
Recover from your busy week with 10 am Sunday Salutations at Lululemon on Halsted in Lincoln Park. This all-level Vinyasa flow is held in the store during winter and outside at nearby Oz Park during the warmer months. In the Bucktown neighborhood, you can also enjoy a free class at 10am. If you happen to treat yourself to a new pair of Wunder Unders afterwards, we'll support you – after all, you saved a ton by working out for free this week.
Similarly, Athleta on Southport offers a free class on Sundays at 9:30. While the workout varies, December's schedule holds a barre class courtesy of The Barre Code (the North/Clybourn location of Athleta is hosting Yoga Six classes too!).
Thanks to A Sweat Life contributor Dani Liffman for her help compiling this list!