The Lunch Bunch: Slow Cooked Mexican Pulled Chicken Recipe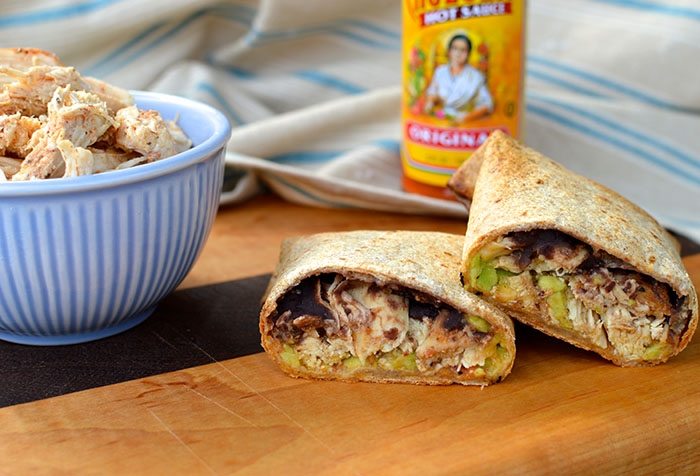 Oh the possibilities. I've mentioned batch cooking many times these past few months, as it's the basis for our Lunch Bunch. I truly believe it's one of the easiest ways for an active person to be healthy (note I said active- that's you! We are actively living … Running around, working hard, achieving goals, sweating each day and trying so hard to keep the balance … somehow). Cooking a big batch of one food item will not only save time in the coming days, but really helps cut back on the mental energy & time needed for healthy meal choices! Cue my Mexican pulled chicken.
I'm not a huge fan of baked chicken. It's sad to watch it shrink away in the oven, I tend to always overcook it, and it simply became boring to me. Thus, I'm finding new ways each week to make this lean protein more exciting. This shredded chicken is PACKED with flavorful spices that will have your mouth watering and will add a kick to any lunch you make with it! Not to mention, the slow cooking method in the crockpot makes this chicken extremely juicy and tender. I had a hard time not eating away while I was still shredding it. Another win for the Crockpot!
Last, but certainly not least, the spices that infuse the flavor into this chicken have a long list of health benefits. Cayenne pepper, known for its heat production, has been shown in studies to slightly boost your metabolism for a period of time after consuming. This spice is a staple during cold and flu season because it helps to break up mucus and congestion in the body. Cumin is also really good for promoting digestion and has long been known for it's medicinal purposes in stomachache relief.
For my first meal with this shredded chicken, I made delectable BAKED chimichangas that took less than 20 minutes. I simply used a whole-wheat tortilla and layered up some refried black beans (could use any bean), homemade guacamole, the shredded chicken and some cheese. I found this recipe via Creme De La Crumb and it's absolutely as good as it looks!
Roll this up into a burrito, bake and serve warm. If you have mini tortillas, use this idea for a post workout snack! The possibilities are endless with this chicken…. you can make Mexican style lunches all week from baked chimichangas to tacos to fajitas. This can be a protein staple for any type of salad, Mexican or not. Turn the chicken into my mayo-free chicken salad for sandwiches or go ahead and make a big batch of warm chicken soup. Whatever you are craving this week, now you have the staple ingredient to create it. Happy lunching.
Download your prepping guide here.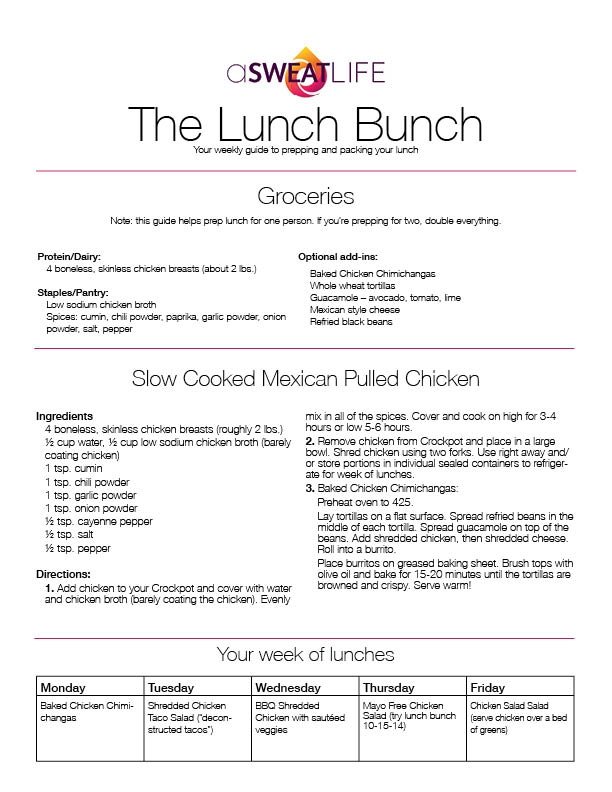 Grocery List:
Protein/Dairy:
4 boneless, skinless chicken breasts (about 2 lbs.)
Pantry:
Low sodium chicken broth
Spices: cumin, chili powder, paprika, garlic powder, onion powder, salt, pepper
Optional add-ins:
Whole wheat tortillas

Guacamole – avocado, tomato, lime
Mexican style cheese
Refried black beans
Recipe:
Ingredients:
4 boneless, skinless chicken breasts (roughly 2 lbs.)
½ cup water, ½ cup low sodium chicken broth (barely coating chicken)
1 tsp. cumin
1 tsp. chili powder
1 tsp. garlic powder
1 tsp. onion powder
½ tsp. cayenne pepper
½ tsp. salt
½ tsp. pepper
Directions:
Add chicken to your Crockpot and cover with water and chicken broth (barely coating the chicken). Evenly mix in all of the spices. Cover and cook on high for 3-4 hours or low 5-6 hours.
Remove chicken from Crockpot and place in a large bowl. Shred chicken using two forks. Use right away and/or store portions in individual sealed containers to refrigerate for week of lunches.
Baked Chicken Chimichangas:

Preheat oven to 425.
Lay tortillas on a flat surface. Spread refried beans in the middle of each tortilla. Spread guacamole on top of the beans. Add shredded chicken, then shredded cheese. Roll into a burrito.
Place burritos on greased baking sheet. Brush tops with olive oil and bake for 15-20 minutes until the tortillas are browned and crispy. Serve warm!