Friday workday fitness fix: jump rope edition
If you've only got 30 minutes to squeeze fitness into your day – make it count. One of my favorite ways to get my heart rate up quickly is by busting out a childhood gym-class go-to: the jump rope. Everything old is new again.
My co-worker (who is also a personal trainer in her spare time), took me through a 30 minute jump rope/strength workout that totally kicked my butt and was really a total-body sweat fest.
If you don't have a jump rope, read EBay's guide to help get the right length and type for your fitness needs. Ok great, you have a jump rope and 30 minutes. Try the workout I did this week below! The best part about jump roping – you can do it in almost any hotel room.
(If you've never done a double-under, get tips on the technique first – before you nail yourself in the shins repeatedly – here)
Happy jumping!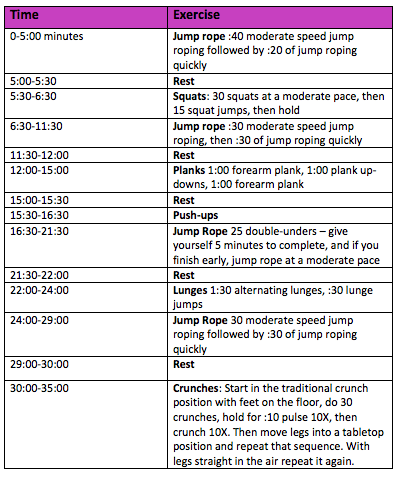 Disclaimer: I am not a personal trainer. The views expressed on my blog are from my own experiences and from reputable resources. Consult your physician before making any major changes to your lifestyle or diet.