ClassPass's New Research on 2019 Fitness Trends—And How Our State of Fitness Survey Stacks Up
December is a month for reflection, and this particular month more so than others, since it's coming at the end of a decade (raise your hand if you too spend way too much time reading "best of the decade" year-end lists).
ClassPass got in the spirit this year and released new research on regional fitness trends for 2019—a pretty telling bunch of statistics, considering ClassPass partners with 30,000 boutique studios, gyms, and wellness partners in 27 countries on five continents around the globe.
With 100 million workouts available for analysis (!), the data reflects a lot of findings we also found in our latest State of Fitness survey. Here's what ClassPass's research shows about this year's fitness trends, and how it compares to our own research.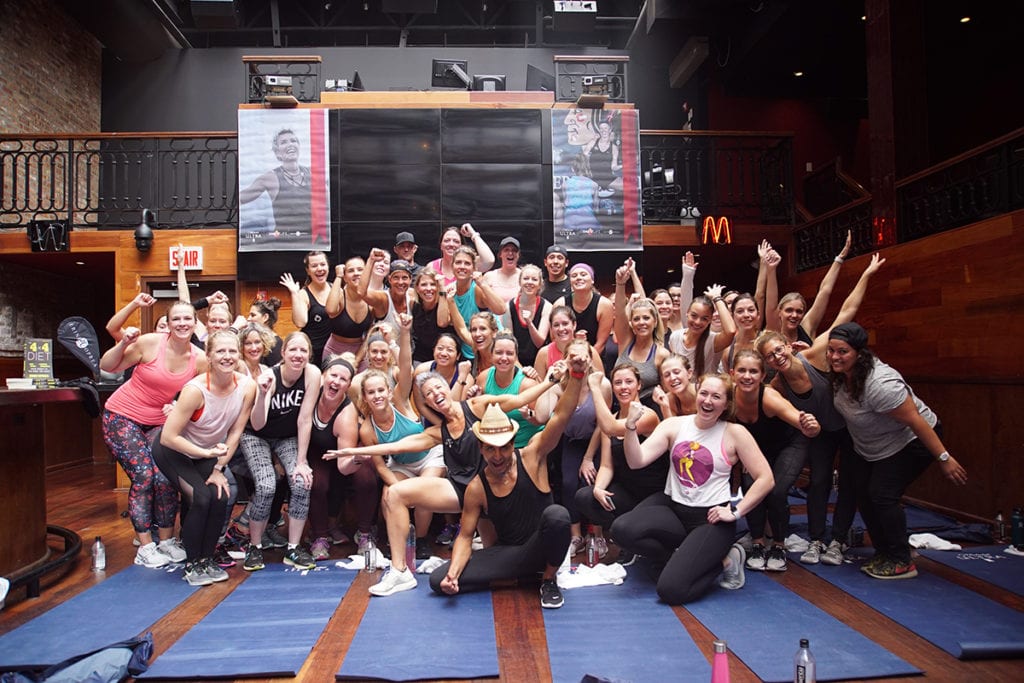 The strength training movement is getting stronger
According to ClassPass, strength training was the top workout of 2019 in North America. And interestingly, they called out Chicago specifically as an example of a highly populated city that loves strength training.
Not to brag (okay, kind of to brag), but our readers saw that coming: you named women in the weight room as the most exciting trend of 2019. We love that the myth of "getting bulky" is finally being laid to rest, and you could probably make an argument that this trend is in direct correlation to female empowerment movements like #MeToo. As women are gaining confidence to use their voices and lean in, they're also finding power in physically getting stronger. You go, girls.
As for what fitness trends are coming in hot for 2020? Megaformers, those love-to-hate-em machines you see at Pilates studios like [solidcore], Studio Lagree, BODYROK, and more. According to ClassPass, ClassPass users attended over a million Megaformer classes in 2019, and there's been a 38.6 percent increase in Megaformer reservations in 2019 vs 2018.
Workouts are becoming social activities
According to ClassPass, 80 percent of ClassPass users have coordinated a workout with a friend or colleague this year, with rowing and boxing as the most popular classes to attend with a pal.
We saw that in our data too; 48 percent of you said you'd worked out with a friend in the last year, and 78 percent of our readers said they'd be more likely to try a workout with a friend.
As Shari Castelli, Director of Partner Expansion at ClassPass, points out, "Ten years ago, people were primarily heading to big box gyms for 45 minutes on the treadmill, or doing a workout video at home. Now more than ever, people are turning to group workouts to make fitness a social, community-oriented experience. Many people report that they are far more likely to try something new or maintain their routine when they book class with a friend – and the data backs this up! ClassPass data shows that people are 26 percent less likely to cancel a workout if it means inconveniencing a friend, and they're 25 percent more likely to test out a new studio or type of exercise if they bring a friend along."
One way we predict this trend will continue to grow in 2020? Workouts as experiences and major events. Brands like Propel and Michelob ULTRA are already leading the way in the fitness festival sphere, and SoulCycle is partnering with Black Tomato to begin hosting retreats. Plus, 80 percent of aSweatLife's respondents said they wanted to work out more with their friends at special classes, events or festivals this year—so the market is ready and waiting.
Chicago ClassPassers are most likely to work out over lunch
ClassPass's research found that compared to other cities, Chicago app users were most likely to take a class between 11 am and 1 pm. Want to become a lunchtime warrior too? Here's how to master the mid-day workout.
Working out is becoming a part of corporate culture, too
Speaking of working out over your lunch break, workplaces are realizing that employee wellness benefits both sides in the long run. Accordingly, many companies are adding health and wellness perks to their benefits packages (we wrote about it here this week, actually). According to ClassPass, 58 percent of professionals revealed they would be more likely to accept a job that offered a fitness and wellness package.
"We predict that more companies will continue to offer fitness and wellness benefits in the coming decade, and that they will be an increasingly popular benefit for recruiting and retaining top talent," ClassPass notes in their study.
Plus, integrating your workouts with your workplace can have social benefits too: ClassPass's study shows that two in three professionals feel that working out with colleagues can help to build workplace friendships. One reader shared a similar sentiment in our State of Fitness, writing that they were excited to work out more with co-workers and doing a group fitness class in place of the usual happy hour (a preference that goes hand-in-hand with the recent sober curious movement).
Expect to see more recovery and mindfulness options in studios
We've slowly noticed recovery staking a hold in the fitness industry, as studios add NormaTec boots and vibrating recovery tools to their lounge areas.
In fact, ClassPass has even added recovery-focused studios that offer infrared saunas, cryotherapy, float tanks, and more to their platform, and that's been a great move for the brand. In 2019, massages, saunas, cryotherapy, and facials all saw an increase in reservations month-over-month.
Castelli notes that "Feeling (and performing) your best is no longer only about pushing your limits – people are now recognizing that you need to give your mind and your body time to recover in order to reap the benefits of exercise… Over our one year test in select markets, we already had 300,000 reservations, so we absolutely plan to lean into this trend by continuing to expand our wellness options over the next year."
Find the full breakdown of ClassPass's research here. What fitness trends are you excited to see in 2020?