Trying to Rev Your Metabolism? You Should Be Doing Some Heavy Lifting
On some level, I always knew I was wrong. Over the course of 10-plus years writing wellness articles, I'd heard trainers and other fitness pros repeat the same truth: lifting heavier weights does not cause you to bulk up.
And yet, as someone who puts on muscle rather easily, I was still hesitant to try a heavy-handed routine. Even as my husband urged me to give his strength-focused workout a try, I waved him off. To get the long, lean dancer-like body I desired, I thought it best to stick with a mix of cardio and barre- and reformer-based classes.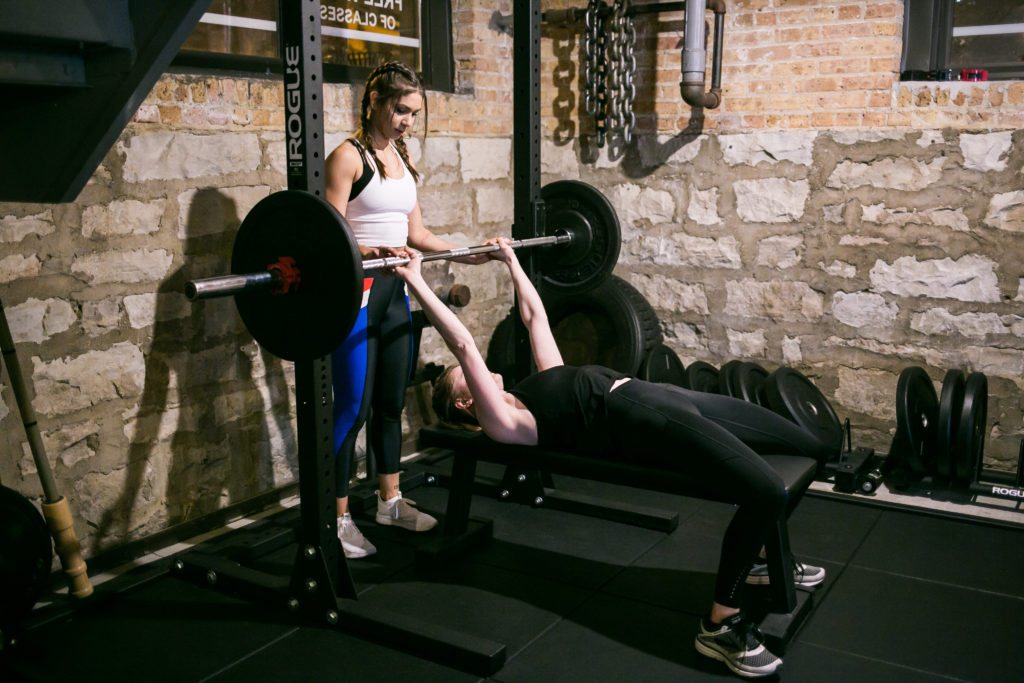 It wasn't until I was chatting with fitness and lifestyle consultant Ashley Borden — an L.A.-based trainer who's sculpted the likes of Reese Witherspoon and Mandy Moore and and recently helped a woman named Jennifer drop an impressive 40 pounds in 12 weeks on E!'s Revenge Body With Khloe Kardashian — that I realized I was being entirely ridiculous. When I mentioned that I struggled to know if I was following the most effective workout routine because there are so many different fitness experts touting slightly different theories, she corrected me gently, but firmly. Her thinking, she said, was no theory — it's science.
When you lift heavy enough weights doing compound moves that work multiple muscle groups (think: deadlifts, squats, bench presses), she says, "the pituitary gland will produce growth hormone." (A good test you're working hard enough, she says, is that you're breathless after 10 reps.) Releasing such powerful hormones as HGH and testosterone, explains Borden, attacks core belly fat and helps build muscle. Adding that extra tone is key, she notes, because the more muscle you have, the more effective your body will be at torching calories, even when you're sitting on the couch post-sweat.
While building muscle is the goal, you're not going to hit bodybuilder status. Though you may feel a little extra swole post-lifting, she admits, that's simply the sensation of lactic acid building up in the muscles. And it can be fixed by using a foam roller to target your quads, glutes, hamstrings and calves. Foam rolling can alleviate muscle soreness, she says, and "helps to dissipate the 'sausage' leg feeling I hear about all the time." Once that inflammation goes down, she adds, "the great feeling of a stronger, firmer body takes over."
And along with feeling tight and right, says the pro, you're likely to experience firmer skin around your muscles, fewer injuries and even more restful sleep.
Ready to come on strong? Borden recommends doing interval training, combining weight lifting with functional moves. It's a mix she calls "the sweet spot."
And it can help to find a program to follow that offers a little guidance. While I know my way around a gym, I had visions of myself aimlessly doing some squats and deadlifts and hoping for the best, so I signed up for Borden's 12-week plan. Available on her site, her app #ProjectHotBody mimics the exact program she used on Revenge Body. Five days a week, you follow the roughly 45-minute to hourlong workout that utilizes dumbbells, barbells, medicine balls, cable machines and cardio done on a rower or stationary bike.
A little more than three weeks in, I'm doing moves I never tried, feeling fitter and overall just increased optimism about the direction of my exercise routine. Borden swears even more tangible results will follow. Noting Jennifer, her client, shed an impressive 37 inches on the plan, she says, "I like to say the proof is in the programming."
As for me, I'll be over here throwing some weight around.