Here's What You Need To Know About The Sober Curious Movement
Last year was the first time I heard of friends completing a dry month – which means no alcohol consumption during said month – with most of them doing it to start the year.  Dry January is a popular thing that has gained traction recently. Some people do this in addition to Whole30 and get a group of friends to do this together which makes it a bonding event and a bit more fun.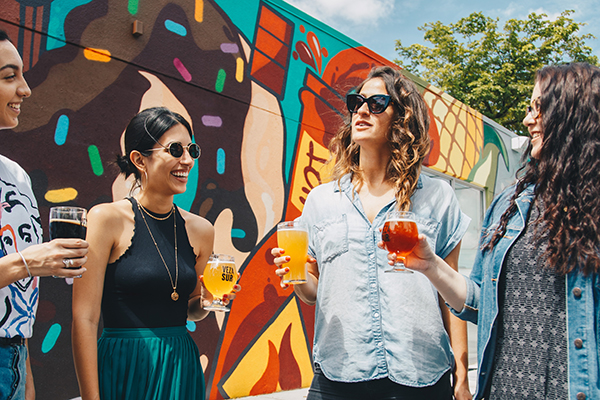 I did Dry January with friends and having them for support made the month go by fast. We had brunch with mocktails and it was great. I also had no trips which allowed me to skip out on the cocktails I would try when traveling to new cities and restaurants.  
In the past couple of months especially, there has been an increase and discussion regarding the 'sober curious' movement. I reached out to Tiffany Louise, a professional coach, speaker, author and clinical social worker as well as two bloggers: Kristin (@boozeless) who has a podcast and Jordin (@westloopsoul) who writes about Chicago and being a boss.  All three women have careers and social lives that currently do not include alcohol as part of it.  
What does 'sober curious' mean?
According to the Chicago Tribune, describes "sober curious" as an experiment with alcohol-free living, often among young women influenced by health and wellness concerns.  An article on Bustle notes that people are identifying how alcohol has not made them feel good; these individuals want to limit their intake of alcohol but also don't want to label themselves as completely alcohol-free (even if they completely remove it from their lifestyle).
With the attention the sober curious movement received, I wanted to learn more about it and how people were committing to it.
Why stop or limit alcohol consumption?
Everyone has different reasons for why they have a drink, as Alcohol and You mentions. Sometimes you crave a drink after having a stressful day; drinking at dinners, happy hours, and other social events are also social norms that feel weird to break.
I asked Tiffany why she stopped and she mentioned she just "kept asking if [she] needed a drink day after day and then week after week, and every day it was no.  Once [she] did the math, it had been a year and a half of no drinks." Tiffany said she feels better without the alcohol and even the smallest amounts made her feel unwell; there were no benefits to drinking for her.  
For Kristin, "[she] had growing problems within [her] marriage and social life and wasn't ready to talk about the personal issues with anyone, not even the closest friends or family." After completing the 30 day no-alcohol challenge she set for herself and then hitting the year mark, she had the clear vision that alcohol needed to be removed indefinitely. Her last drink was on May 23rd, 2016.
Jordin talked about waking up with brain fog and not feeling 100 percent the morning after a cocktail or two. She was just turning 29 and wanted to feel her best with the year leading up to 30. The final reason was her dog, Waffles.  He has a set routine with an early morning walk which doesn't change whether she stayed out late the night before or not. Cutting out alcohol allows her to wake up with great energy and a clear mind to work on her goals.
Why has the movement has become more popular?
People are starting to dive into how they feel when they drink.  Personally, as I get older, a cocktail has more of an effect than when I was in college.  I feel sluggish and takes longer to recover.
Tiffany wrote about "people waking up to the truth of alcohol in their lives and how it impacts their well-being." Kristin attributes the increase of attention to the movement to social media and "the brave souls who publicly share their story of recovery, abstinence and mental health issues caused by alcohol."
Really, there is no right or wrong choice to have a drink or not.  A cocktail here and there is not the end of the world. You just have to know how you feel and why you're doing it.  You make your own decision, and if you need a break from alcohol, take it. As Jordin says, bars and restaurants are recognizing the movement and stepping up their mocktail programs. Go out and enjoy yourself!