Why I'm Not Running a Marathon This Year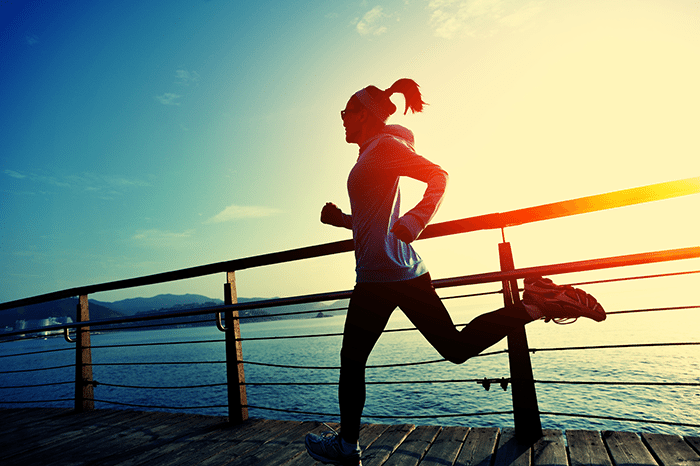 From October 2014 to October 2015, I did three marathons. I trained hard, made new friends, set and achieved some major goals, had some shit runs, and ultimately finished my Tour de Marathon with a seven-minute PR that I was pretty proud of (especially considering I had an infectious disease at the time).
I knew after my last marathon that I'd take some time off. What I didn't realize was that I'd step away from marathons for at least the next year – and maybe for good.
I made the conscious decision not to sign up for any marathons in 2016, even though running was a huge part of my life from June 2014 until recently. It turned into one of those things that people who didn't know me well, knew about me: "Oh, Kristen? Yeah, she's the one who does all the running. Doesn't she do a half marathon, like, every weekend?" (No, no I did not.) At first, I felt a little pressure to keep racing, just because it had become a major part of my identity. Now, I'm operating under the mantra "less miles [and definitely no marathons] in 2016." Here are a few of the main reasons I'm taking a hiatus from that 26.2.
The Training Cycle is Rough
It's a sad but true fact: training for a fall marathon crushes your summer. Sure, it's possible to balance Saturdays at the pool and weekend lake trips with long runs and speed work, and I bet some people are really great at that balancing act, and may even enjoy it.
I am not one of those people the moment. I want my summer weekends free for anything I feel like doing during that moment, without thinking about whether I can afford to skip a long run at that stage in the process. I want to be able to have Friday nights free to go out if I feel like it, without worrying about a 5 am wake-up call. I want to go to the lake without mapping out a 16-mile route in boonies and bringing a CamelBak with me.
Basically, I want to be lazy. And that's a-okay.
My Running Friends Have Transitioned to Real-Life Friends
It's no secret that I've made a lot of my closest friends through running and fitness in general. Now, though, we've been friends for long enough that running doesn't have to be an excuse to get together with them. Meaning, I'm a little less of a nerd now about asking people on friend-dates. Sure, running will always be the thing that brought us together, but it's not what keeps us together anymore.
My Mind Needs Running Less
During The Great Marathon Insanity of 2014-2015, I was going through a pretty devastating personal time, and running helped me stay emotionally balanced. Having a structure and a plan to follow was incredibly helpful because it felt like one thing in my life I could control. Setting minor goals and seeing my improvements were tiny victories when other things were depressing. I even made a little rule for myself that if I was upset or sad about something, that was fine, but I could only obsessively mull over it while I was running. That helped me put destructive thoughts on the back burner by designating a certain time and place to think them; often, I found that by the time I could lace up my shoes and get out the door, I was less upset anyway.
Every now and then, I still need a run for the meditative aspect, the way some people need a yoga class or other people need an hour of The Unbreakable Kimmy Schmidt. However, I no longer feel like if I don't go on a run, my emotions are going to go off the rails.
My Body is Tired
Running is repetitive. Even in a city as runner-friendly as Chicago, the paths get monotonous, and the habit of getting dressed and putting one foot in front of the other for an hour loses its appeal after time. Right now, my body is loving strength workouts and high intensity interval training; even when I do feel like running, I'm finding that I enjoy speed work and hill intervals more than steady-state easy runs. With this mindset, I don't want to force my body into anything it doesn't feel like doing, just for the sake of saying I'm doing another marathon.
I'm Content With My Achievements
I'm proud of my last race and my PR. I don't feel a hunger to beat that number. Honestly, I'm not sure if I could without spending a significant amount of time and effort training, and as mentioned above, I'm not willing to spend that time. Maybe I'll do another marathon in the future. Maybe not. If I don't, I know that I ended on a good note.
I'm proud of my friends who are running marathons this year. I'm sure that somewhere along the way this summer, Cass will talk me into doing at least part of a long training run with her, and I'll be happy to, because that's what friends are for (that, and taking you to Homeslice afterwards to refuel). I'll even probably watch the Chicago Marathon this year, or head to a nearby city to cheer friends on in a different marathon. However, I have no desire to even think about running that distance this year. Less marathons in 2016. Who's with me?