Remember when you were in college and you thought traveling for work would be all glamor and sightseeing? It's more like "[insert client's name] is paying for this, so you'd better make the trip worth their money." Some of the time making a trip worth your client's money can be glamorous, but it's a challenge for your routine all of the time.
Last week I got caught up in the whirlwind of a day trip to Las Vegas and stayed in the Trump Hotel, which happened to have a spectacular fitness center that offered daily classes. After letting it sink in that the classes were scheduled too late in the day for me, I decided to make the best of the fully stocked gym and get a workout in.
Most hotels have a gym with some fundamental amount of equipment, even if that's just a treadmill and some free weights. If that's all you've got, you can do a lot.
This hotel workout is basic. It works with a treadmill, a bike or an elliptical. The trick is to follow the intensity levels and vary your speed throughout the 10 minutes of cardio. This should take you a full hour, but if you have less time, you can cut one of the ab sets.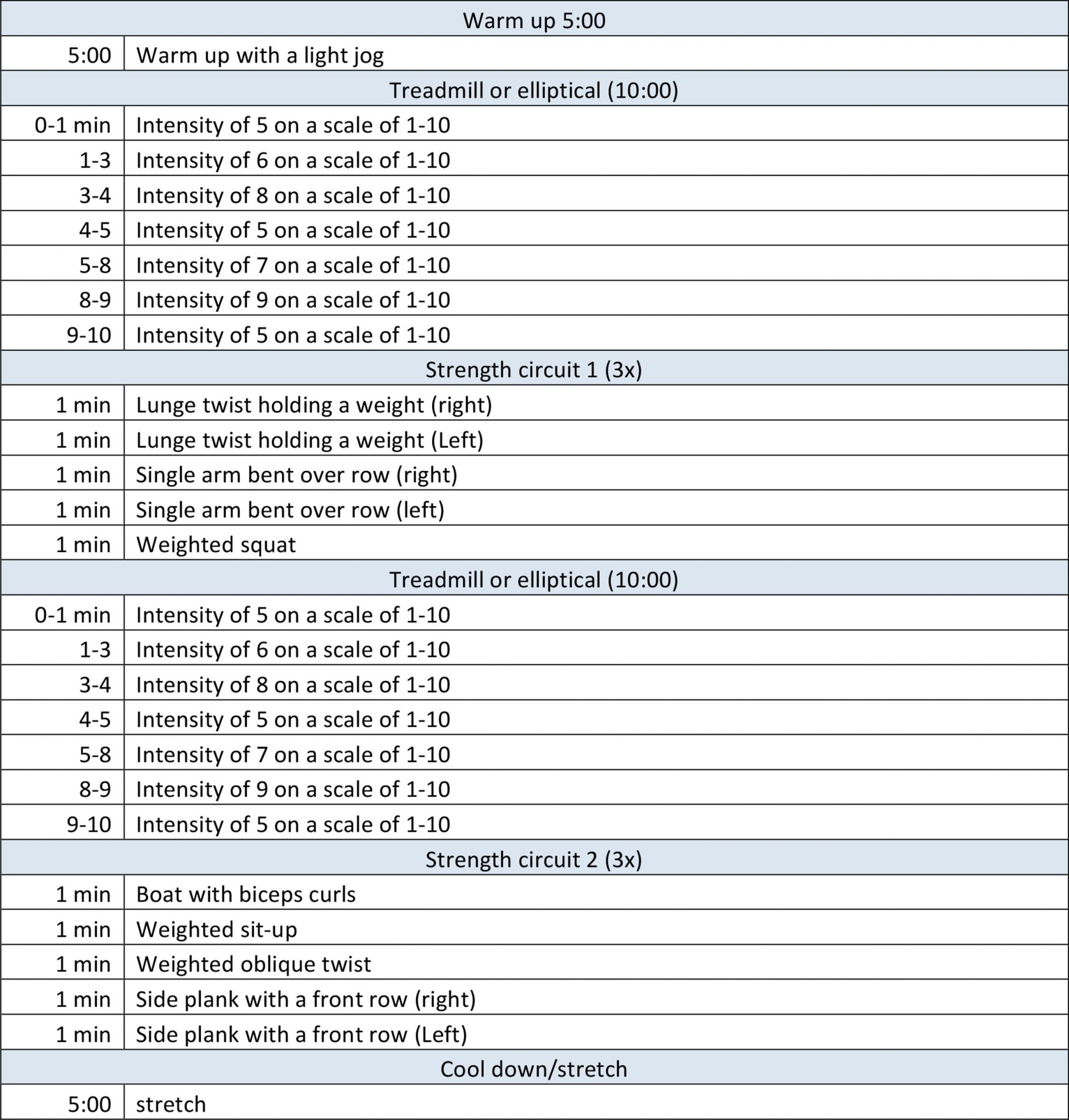 No time to make a playlist? Enjoy this Spotify gem with a little taste of Skee-lo and more.

Lunge twist: Step forward into a lunch and twist toward the lunging leg. Keep doing this movement with the same leg for one minute.
Single arm bent over row: Keeping a neutral spine, bend over slightly and support yourself by bending one leg and keeping the arm that isn't working planed there. Row the weight up with the elbow going back as your hand comes up.
Weighted squat: Step one. Make a super serious face. Step two: hold your weights in front of your chest as you squat down and stand back up again.
Boat with biceps curls: Hold a boat pose. While holding that static pose, curl the weights using the biceps.
Weighted sit up: Keep your weights held over your chest for this entire exercise, moving from a prone position to a fully upright sit-up and back down again.
Weighted oblique twist: Twist using your obliques, moving from side to side. You can keep your heels planted on the floor or lift into a boat pose
Side plank with a front row: In a side plank with one weight in the top hand, start with the weighted hand below the belly button and lift your elbow to pull the weight up to a point just in front of your side.
(Disclaimer: This workout is not intended for the treatment or prevention of disease, nor is it a replacement for seeking medical treatment or professional nutrition advice. Do not start any nutrition or physical activity program without first consulting your physician.)