How to Host Your First Holiday Party Like a Pro
Hosting a holiday dinner or party for the first time? While this might sound intimidating, it doesn't have to be that difficult or stressful. Start by thinking like Aunt Martha after that third eggnog. It's time for some brutal honesty.
What are you good at? Baking homemade pies? Building Pinterest-perfect charcuterie boards? Or are you better at making reservations? You can throw a beautiful event without being a chef. Consider what you're good at and outsource the rest.
Are you ready to start planning? Here's where you need to shop, what to buy, and a few tips for making your table look festive and pretty.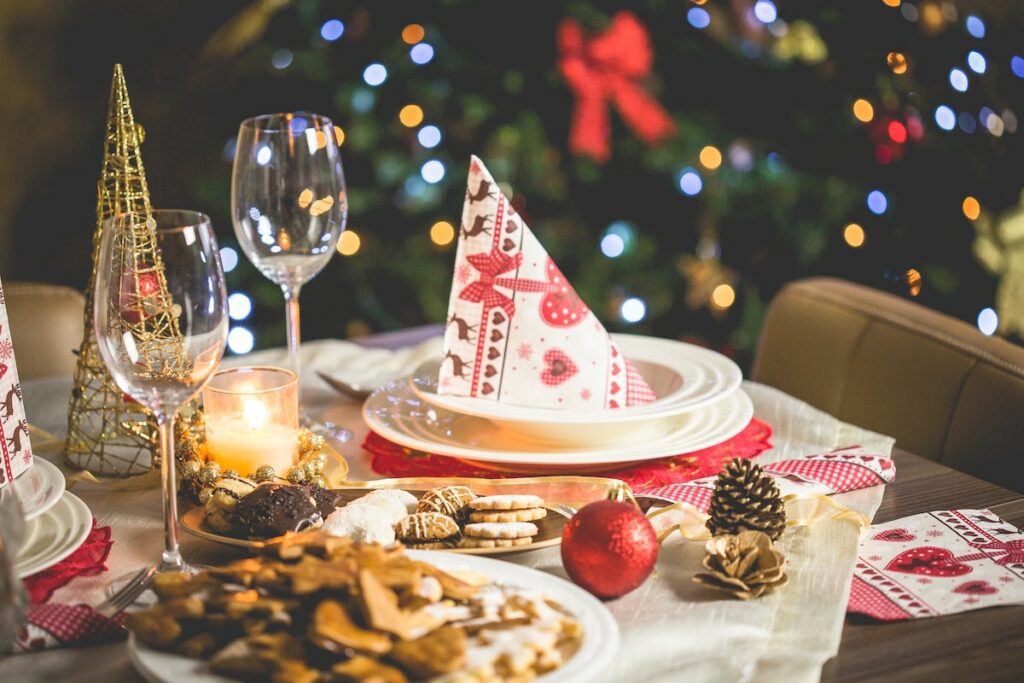 You can be bougie on a budget
If you're hosting holidays for the first time, hit up your local Trader Joe's first. This store has great deals on everything from crackers, proteins, pasta, cheeses (especially cheeses), wine, and more. I've never been unimpressed with the quality of their products as a whole. There are also lots of interesting things you won't find anyplace else.
This store is also a haven for frozen appetizers. From pigs in a blanket to mac and cheese bites, all you have to do is read directions. You can literally be the worst cook and as long as you can follow directions, you'll be fine.
As for mains, you can always go potluck or order takeout from a local restaurant, if you really can't cook. Or opt to cook something simple like a roast chicken or pasta. Your first party isn't the time to learn how to cook something complicated.
Cocktails
Alcohol can get expensive. Fortunately, most people can't taste the difference between a $15 bottle of wine and a $20 bottle of wine, especially after having a few glasses. There are so many great budget-friendly wines out there. If you find yourself lost in the aisle, check for anything that has an award sticker.
You also don't need to buy top-shelf liquor for cocktails. Instead, buy something within your budget. You can even opt for pre-make cocktails and serve them in pitchers. This is less work than making individual cocktails.
Remember, not everyone drinks
It's really important to have nonalcoholic options available for your guests. You never know who's struggling, pregnant, needs to drive home, or just doesn't want to drink that night. Consider offering a mocktail or at the very least, flavored seltzers with garnish.
The dish on dishes
Most first-time hostesses don't usually have a ton of dishes on hand. There are many affordable ways to get around this. But one thing you should never do is serve on paper or styrofoam. You might think one will notice, but they will. Many years ago, I went to a holiday dinner where the host served on styrofoam. Call me petty, but I've never forgotten this. Also, it's bad for the environment.
I recommend hitting up your local thrift shop where you can buy great pieces of China for a few dollars a plate. You can even mix and match. This will make for an absolutely charming table.
Want to order online? Stone Lain has gorgeously-designed sets available on Amazon for a great price. These green ones are perfect for the holidays (and every day), while these white and gold modern plates are really striking.
Alternatively, you can never go wrong with classic white plates. Brandless has a set of four plates currently selling for $16. Then, make sure the rest of the table is dressed up with something more colorful.
If you want to go all out, consider renting a tablescape. Social Studies has lots of options in a range of prices and you don't need need to wash the dishes before returning them. If you don't have a lot of storage space or a dishwasher, this is the way to go.
Above all else, make it look pretty
Don't decorate your table for Instagram. Decorate it for your guests. Less is more for those hosting first their Christmas. Choose a dark tablecloth (like crimson red or hunter green) and a metallic runner. Add some unscented votive candles (you can even get these at the dollar store) and flowers. Make sure the flower arrangements aren't so high that guests have trouble seeing each other.
Another amateur mistake that many people make is serving food out of its packaging. Put the hummus in a bowl. Take the chips out of the bag. Butter belongs in a butter dish (even when you aren't entertaining, it just does). Remember, things don't need to look perfect. They just need to look welcoming.
Don't forget the bathroom
There's no faster way to make your guests feel uncomfortable than running out of toilet paper. Stock your bathroom. Don't forget a bottle of liquid soap and guest napkins so people can dry their hands. Make your bathroom feel a little fancier with a holiday-scented candle.