7 Nonalcoholic Wines and Spirits to Try This Holiday Season
As we approach the holiday season, there are lots of reasons to drink and serve alcohol-free wines and spirits. But can alcohol-free be just as good as the real stuff? The answer is surprisingly yes.
Health benefits aside (these beverages are often lower in calories and sugar), serving nonalcoholic wines and spirits makes you a better host. Let's be honest here— no one wants to toast with water. These beverages are a great option for designated drivers, pregnant women, as well as your sober-curious and sober friends. Here are a few non-alcoholic wines and spirits to consider serving at your next gathering. 
Thompson & Scott Noughty
Noughty is an alcohol-removed wine brand with two flavors available, sparkling Chardonnay and Rosé. As someone who isn't the biggest fan of Chardonnay in general, I was surprised at how much I loved this one. It has a bit of a bite as does the rosé. So for the average person who likes wine but doesn't consider themselves a connoisseur— it's almost a perfect swap.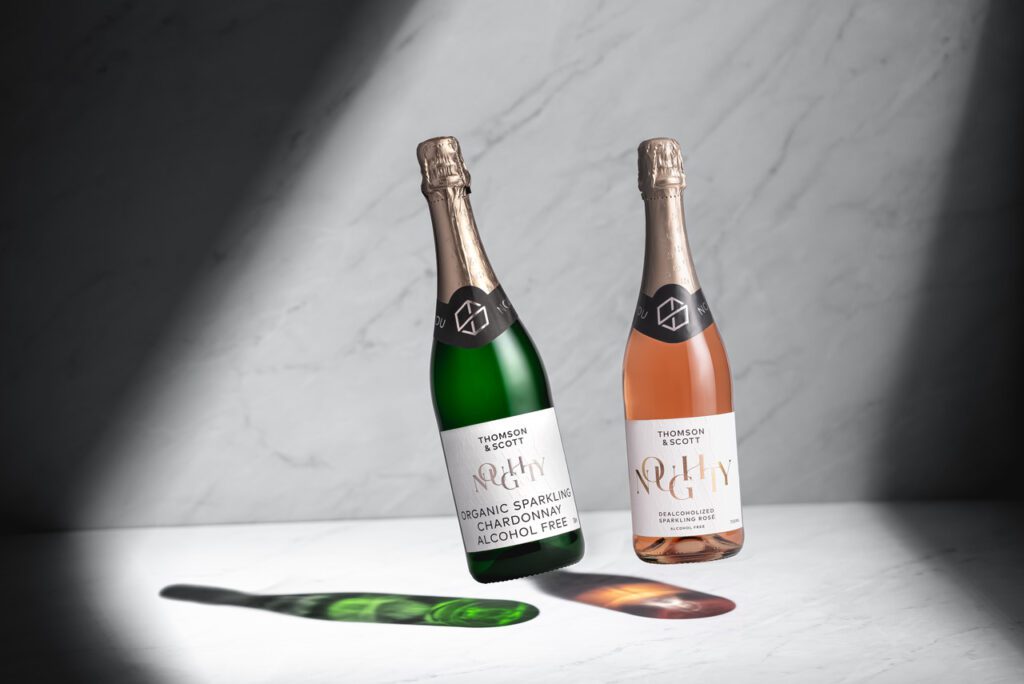 The rosé is just as good as the Chardonnay. It's incredibly refreshing without being too sweet. I also love how both of these come in a festive 750-milliliter bottle, so you can easily gift them or have them out at parties this holiday season. Both wines are less than 20 calories a glass and low in sugar. Better yet, they're vegan and organic. 
Damrak Virgin
Those who love a gin and tonic will love Damrak Virgin! A gin and tonic made with Virgin tastes no different than one made with regular gin. It truly mimics the taste. With a subtle citrus flavor and zero calories and sugar, you could even enjoy this with sparkling water and lemon for a calorie and sugar-free mocktail.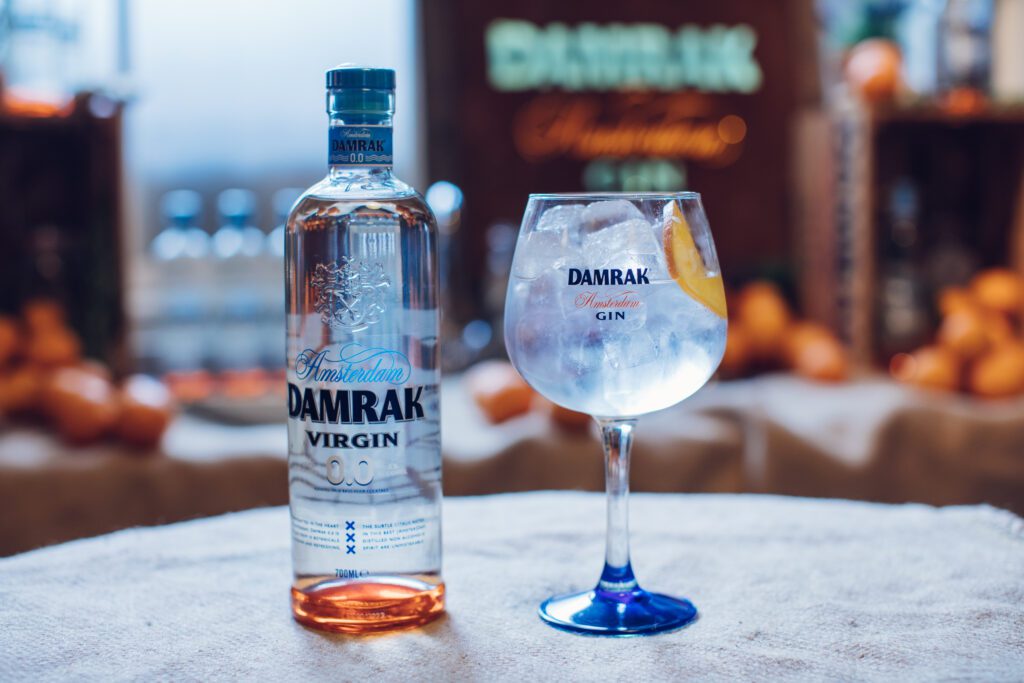 Two years in the making, this drink is distilled in Amsterdam and the first non-alcoholic gin of its kind available. It is also gluten-free. Best of all, you can buy Virgin on Amazon. 
Gruvi Rosé And Dry Secco
Gruvi wines are packaged in individual bottles making them perfect nonalcoholic wines for serving outdoors and picnics. These are also ideal options for pregnant women because it contains 0.0 percent alcohol. Gruvi Rose is vegan, kosher, and gluten-free. It has a slightly sweet taste and complements chocolate-covered strawberries, grilled salmon salad, and roasted poultry.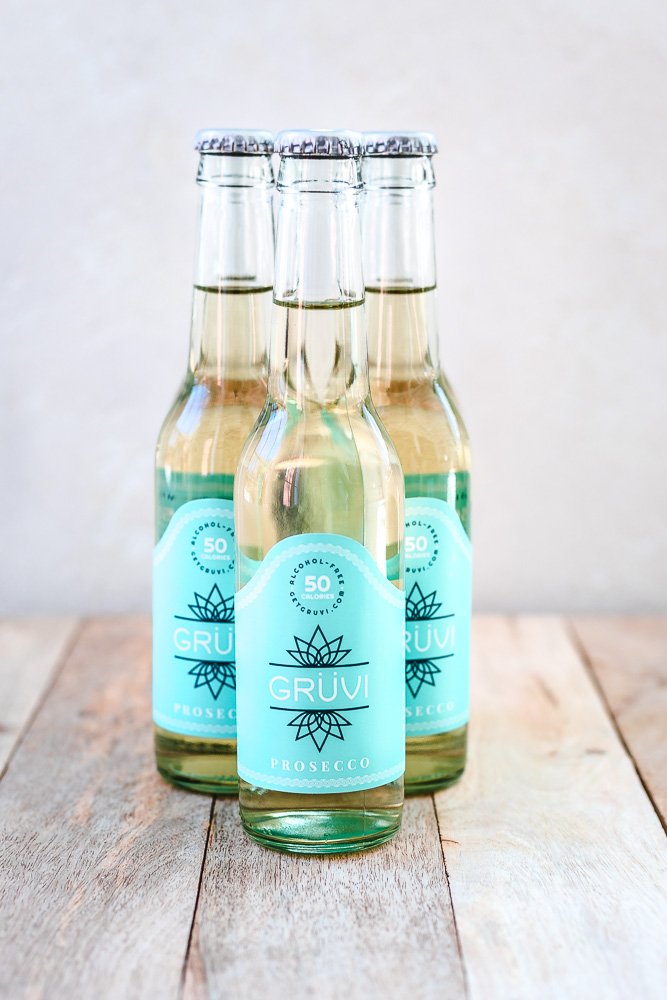 The Dry Secco is yummy on its own but also ideal for mimosas and bellinis. For beer drinkiners, Gruvi also makes non-alcoholic IPAs, if that's more your thing.
Three Spirit
Three Spirit is a non-alcoholic brand of spirit that calls itself "the first plant-powered functional social elixir created by a group of bartenders and scientists." In other words, the ingredients in this drink are mood-altering, albeit subtly. There are three different flavors. Slightly spicy, Livener has guayusa, schisandra, and caffeine to up your mood. Formulated with lion's mane, yerba matte, and green tea, Social Elixir is smooth and tasty. The aptly named Nightcap has lemon balm, valerian, and hops.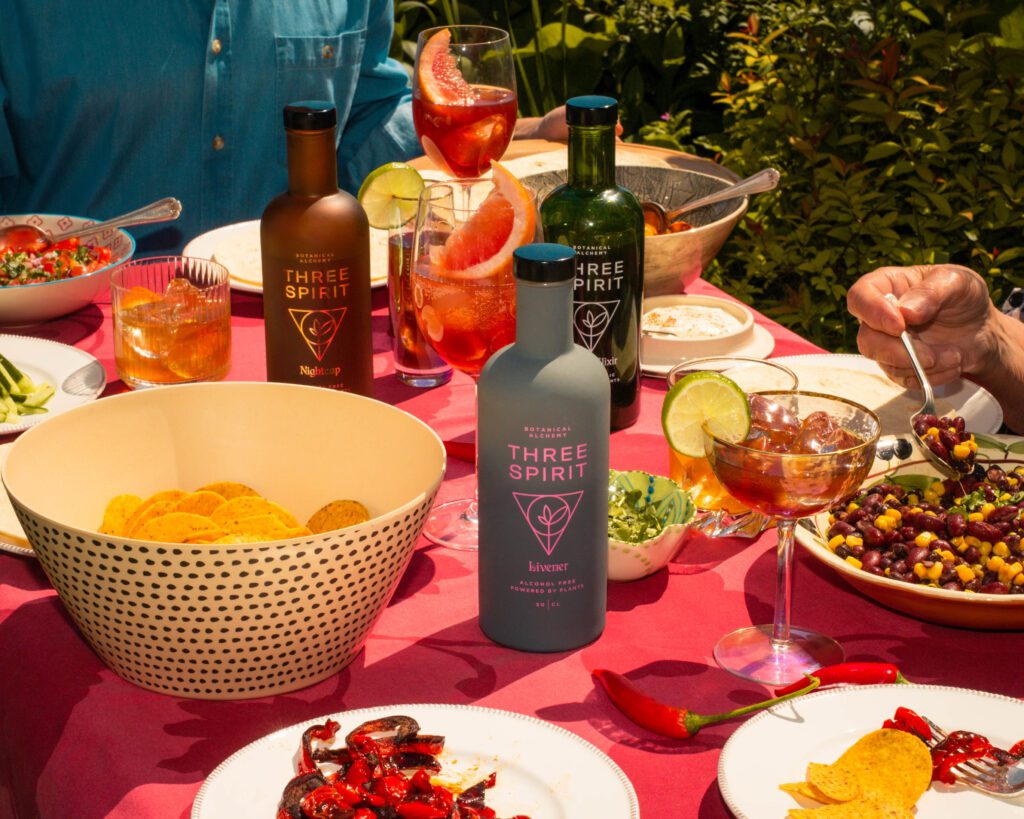 I've never consumed a beverage as fast as I did Nightcap. It was my favorite of the three. A great complement to watching television on the sofa and doing absolutely nothing, I went through the bottle in a week. That being said, if you are serving someone pregnant, sober, or driving, you should probably tell what's in any of these elixirs first. There may not be any alcohol in these beverages, but there are plants. As the website helpfully advises, when in doubt, check with your doctor before imbibing.
Sovi Red Blend
If you're more of a red wine person, you're in luck. Sovi makes a Red Blend that's only 20 calories. Made from a blend of sustainably grown Spanish and French grapes, you can enjoy a can guilt-free. Each four-pack is the equivalent of 1.25 bottles of wine. Sovi also makes a sparkling rosé.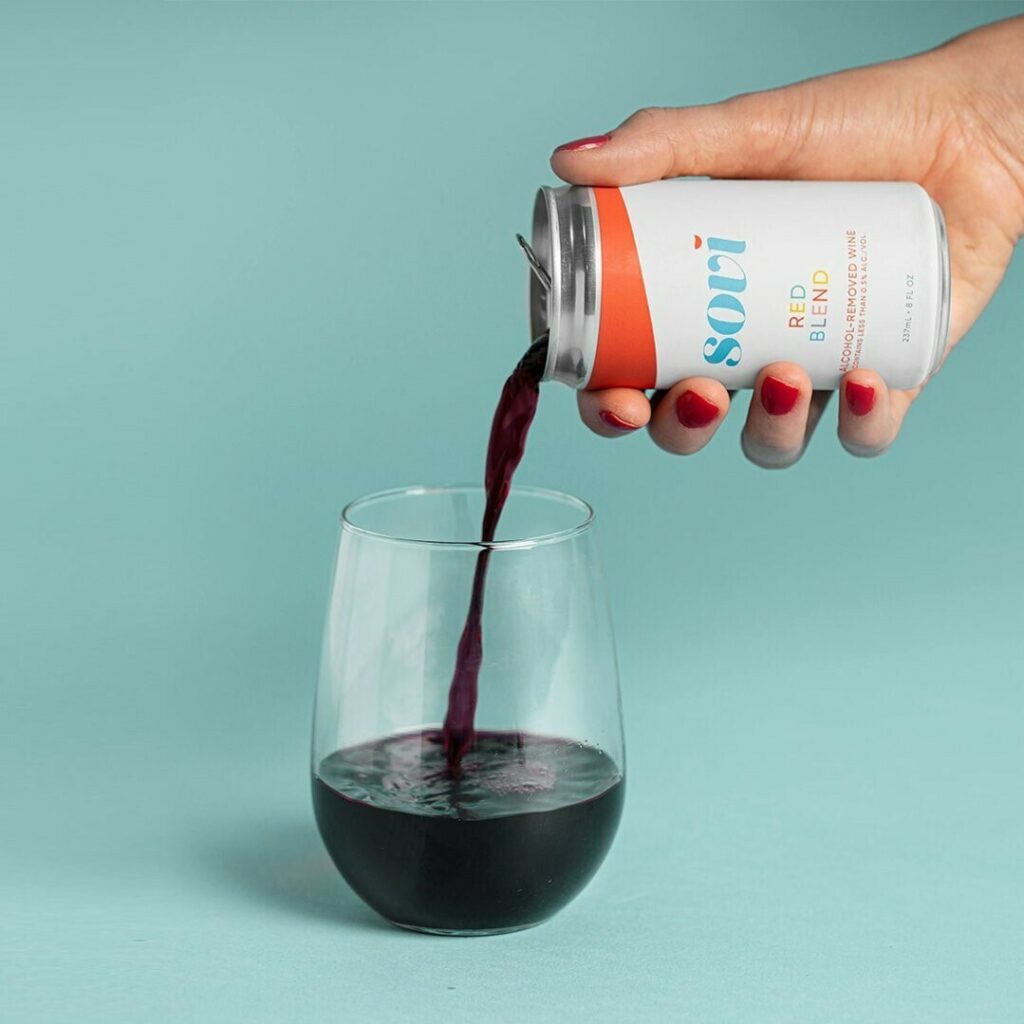 Optimist Botanicals Smokey, Bright And Fresh
Fancy yourself a cool mocktail? You'll love Optimist Botanicals. Bright is a fabulous alternative to lemon vodka. It has a circusy, slightly salty taste. Optimist Smokey is more like tequila or mezcal. Optimist Fresh can be swapped out for gin. All of these are super flavorful without the burn of booze. They are also sugar and calorie-free. Made in Los Angeles, two percent of sales help fund mental wellness care for underserved youth in the area.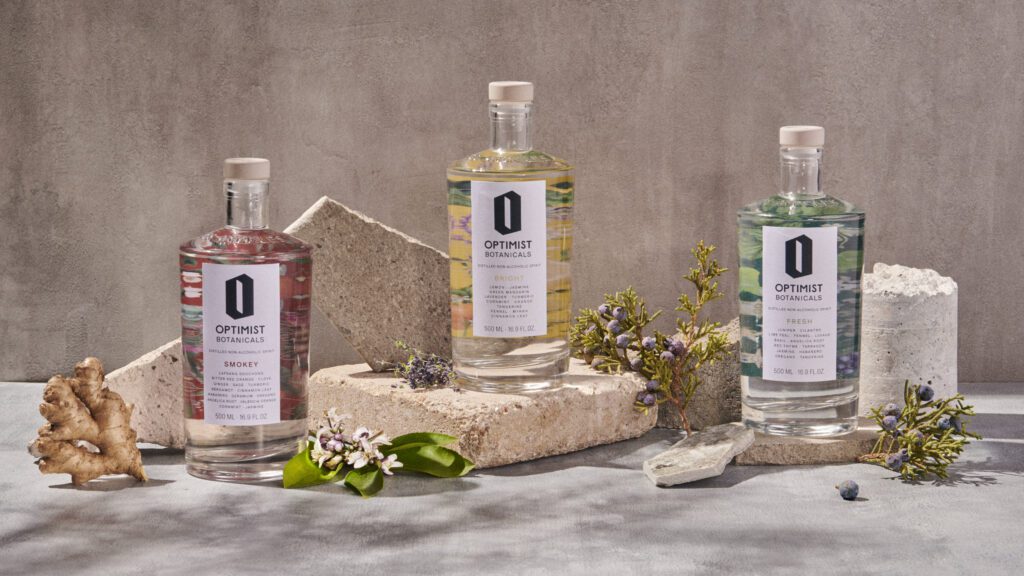 Sip Clean White Blend And Rosé
Sip Clean makes two alcohol-removed wines, packaged in cans. Incredibly delicious, White Blend is fresh, crisp, and dry. Unlike many sparkling whites, this one isn't overly carbonated. With 35 calories and just three grams of sugar, it's a treat you can regularly enjoy. It's also surprisingly well-priced, so you can buy these nonalcoholic wines for a party and stay on budget.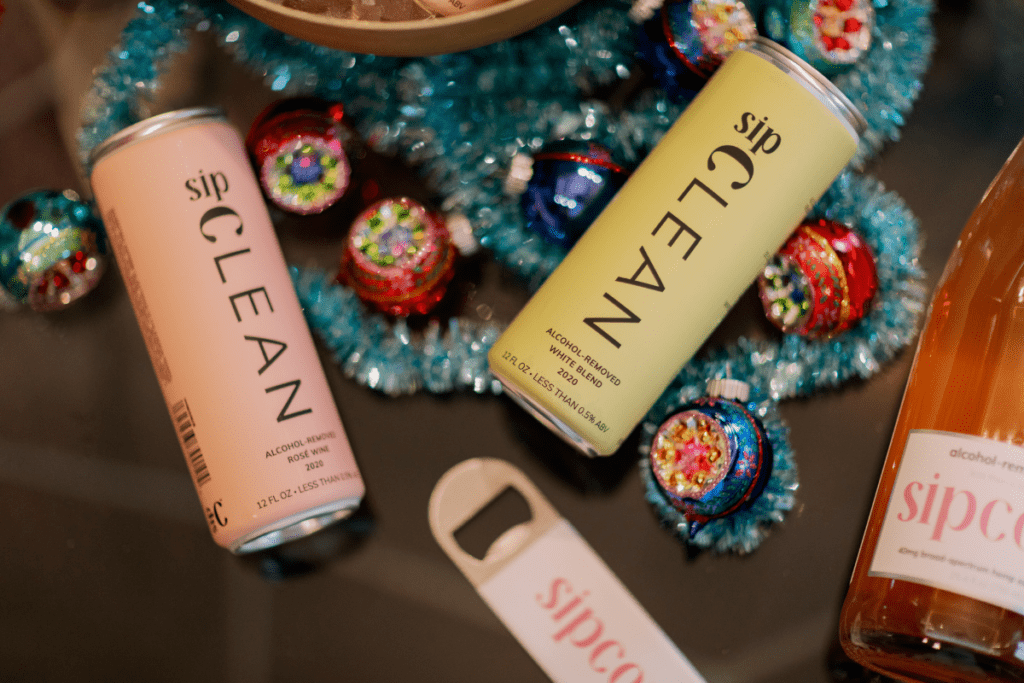 The Rosé doesn't disappoint either. With notes of strawberry and stone fruit, it's made from Cabernet Sauvignon grapes harvested in Washington. It only has 40 calories and three grams of sugar.