How to Create the Perfect Charcuterie Board on a Budget
National Wine and Cheese Day is July 25th — and if you really needed another reason to enjoy a glass (or two) of wine and cheese, this day is the perfect excuse for it. You may already have your favorite sips picked out, but creating a homemade charcuterie board can be somewhat pricey. (We're looking at you, fancy cheeses and meats.)
Whether you want to celebrate National Wine and Cheese Day this week (or any day of the week), here's how to make a charcuterie board without breaking the bank.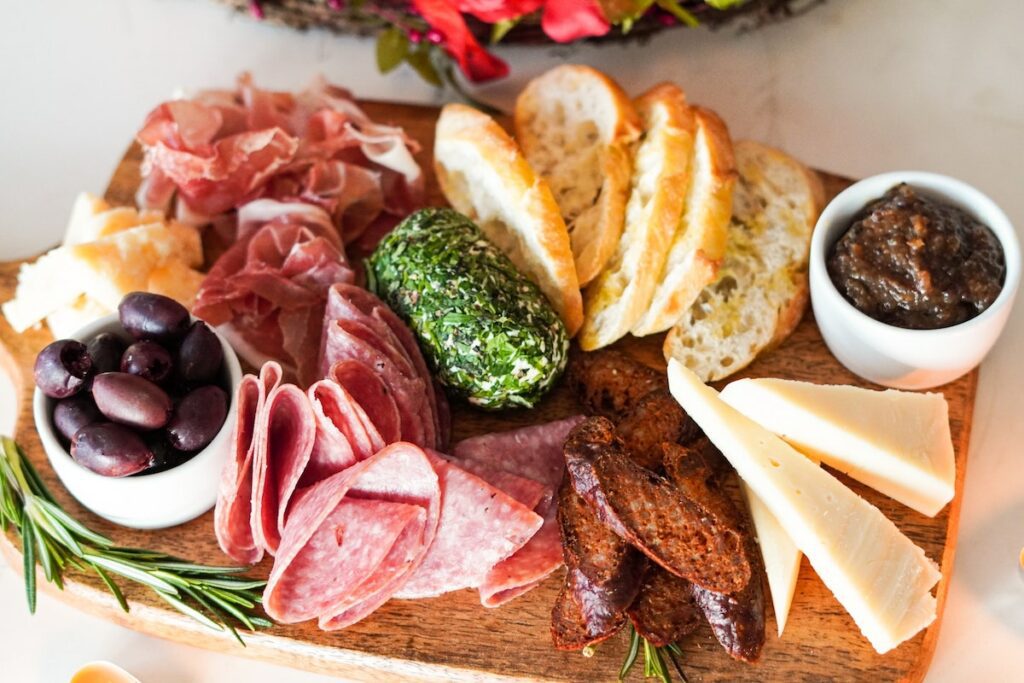 How to make a charcuterie board on a budget
1. Choose one expensive cheese and meat
Two of the main staples of a charcuterie board are cheese and meat. (Yum!) Instead of spending an entire paycheck on a variety of hard and soft cheeses or fancy deli meats that could break the bank, simply select one expensive cheese and one meat you really want to splurge on.
Johna Burdeos, RD, blogger, says in order to save even more money, take advantage of any memberships you have to Costco or Sam's Club. You can even shop at inexpensive stores like Aldi and Walmart. She also suggests purchasing store brands over name brands. "They tend to be cheaper [in price], but do a price comparison, just in case," she says.
You can also skip the gourmet cheese counter and instead, go straight for the dairy section. "It may be even cheaper if you buy the block cheeses and cut [it] yourself," Burdeos notes.
2. Cut cheese carefully
When arranging your cheeses, cut smaller portions from the more expensive cheese selections, then stock up on larger slices of the more budget-friendly cheeses. If you aren't sure which cheese to go all in on, ask your local cheese connoisseur.
If you're wondering what varieties are more budget-friendly, try cheddar, goat cheese, and mozzarella as these options tend to be more affordable, says Burdeos.
Also, be sure to select a variety of cheeses to give your homemade charcuterie board texture and variety. That means selecting one hard cheese, one soft cheese, and maybe one or two other options. Then, arrange everything in a beautiful cascading design so your charcuterie board looks abundant and overflowing. Try not to leave any empty spaces!
Tip: Fill in open spaces with smaller groupings of items such as banana chips, chocolate-covered nuts or squares, dried fruit, or stuffed olives.
3. Go all in with the garnishes
This secret to how to make a charcuterie a board without breaking the bank lies in the garnishes.
Fan out some sliced apples, place a hearty cluster or two of grapes, then scatter a handful of almonds, dried fruit, or walnuts, and finally, slice up a crusty baguette. You can even place a bowl of small olives, pickles, or pretzels on your charcuterie board along with a stack or two of affordable salami slices to complete your homemade charcuterie board.
If you decide to get canned or jarred accouterments, opt for the cans and jars in the grocery aisles instead of the fancy ones placed at the deli counter, olive bar, or salad bar, notes Burdeos.
These extras may seem small, but they're mighty and prove a few dollars can go a long way in zhuzh-ing up your homemade spread. Garnishes, FTW!
4. Skip the meats
If you want to save a little extra money, consider creating a plant-based charcuterie board and loading up on high-protein foods like chickpea-based hummus, peanuts, and other less expensive nuts if they're on sale. "Check out the baking aisle for almonds and pecans," recommends Burdeos.
Vegetables like broccoli, carrots, and cucumbers are great for dipping and add a pop of fresh color, not to mention nutrition, to the board, says Burdeos. Veggies are also cheaper if you buy and chop them yourself versus buying the precut ones at the grocery store.
5. Slice strategically
The way you present certain cheeses can make it feel fancier, so slice strategically. For example, serve parmesan cheese in a long, skinny wedge that takes up more space on your charcuterie board.
Then, cut more affordable cheeses like cheddar into long thin slices that can be fanned out or stacked in delicious layers. Larger cheeses, like brie, can be served as an entire wheel.
6. Use a wow factor
The last step to creating an affordable charcuterie board is to decide on a wow factor to really impress your guests. Try placing a wheel of brie in the center of your charcuterie board, then drizzle it with honey or slather it in a layer of homemade jam or jelly and surround it with berries, dried apricots, or thinly sliced pieces of fresh pear.
If you're featuring fresh fruit on your charcuterie board, Burdeos says to select in-season fruits that are easy to pick up and eat. "You will get more bang for your buck with berries that are in season and may be on sale or grapes," she says.
The bottom line: The next time you think creating a homemade charcuterie board is too expensive, use these six tips to create an affordable charcuterie board without breaking the bank. Bon appetit!