The April Scoop: "Smart" yoga mats, "Bravey," and what's wrong with the word "fat-phobia"
Welcome to The April Scoop, the third of a monthly series we're sharing with the help of our friends at NICK's. Here, we'll share what's new in wellness, the latest trends in Swedish culture, and how we're finding sparks of happiness during the colder months of the year. Find last month's edition here.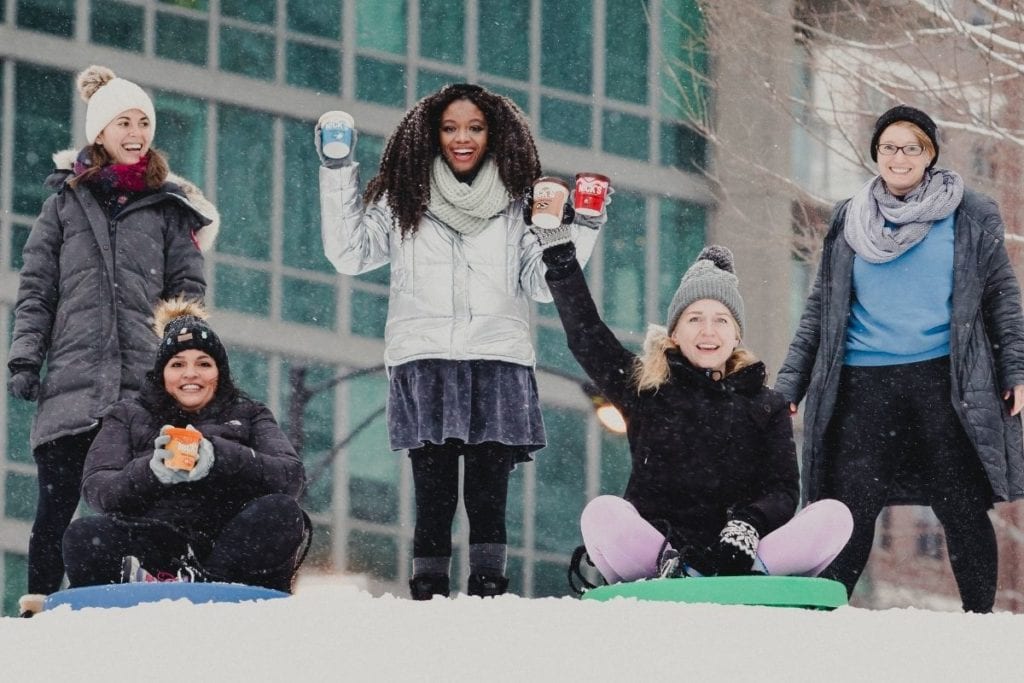 Want to enjoy this post over some ice cream or try Nick's new Snack Bars? Use code aSweatLife15 (case sensitive!) for $15 off your online order of ice cream or bars—or both!
What we're reading: Bravey by Alexi Pappas (and you can read with us!)
I downloaded the ebook version of Bravey from the library and by the halfway point of the book, I'd already placed a Bookshop.org order to get the hard copy for myself. That's honestly the best endorsement I can give.
But, you probably want a little more context than that. Bravey is the memoir of Olympic runner, filmmaker, and actress Alexi Pappas, a longtime hero of aSweatLife's (seriously). In her own words, she shares incredibly vulnerable details about her life: growing up with a single dad after losing her mom to suicide, her battle with depression after her first Olympics, and how she's constantly fought to avoid being pigeonholed into just one career.
There's so much to discuss with Bravey that we're making it our first book club pick in partnership with Fable. Join us on the brand-new app as we ask questions, respond to prompts, and share how Bravey made us feel—we're excited to have these discussions with you! Click here to join our book club.
What we're adding to cart: This "Take Form" yoga mat
As someone who has no idea where my feet are supposed to be during about 60% of any given yoga mat, I'm highly tempted to buy the "Take Form" yoga mat from lululemon. This brand-new yoga mat is designed with slightly-raised concentric circles (which they call "ripples") that designate where your feet and hands are supposed to be during a few of the most common yoga poses, like downward dog, side angle, warrior II, and warrior III. The idea is that after enough flows, you develop a sort of muscle memory as to where your limbs go, allowing you to become stronger and more confident in your practice.
It's also a genius response to the current moment. When working out at home, many of us don't have access to a space outfitted with a mirror to be able to check on our own form; we also don't have access to live instructors who can correct us. Will you be buying?
From Self: "I'm a Fat Activist. I Don't Use the Word 'Fatphobia.' Here's Why."
We know that the words we use matter, and the wrong word choice for a certain situation or context can have a lasting impact. That's why I was especially struck by this SELF op-ed from the "Your Fat Friend" column, in which the author points out all the things wrong with the term "fat-phobia" (a term I've undoubtedly used multiple times without giving it a second thought). In it, the author notes that calling something a phobia denotes a mental health issue that's out of the individual's control—whereas in real life, hating fat people is a sign of a discriminatory attitude, not a mental illness. And thank you to the author, who's prompted me to think more critically about how I use my words surrounding fatness—I'll be using the terms anti-fatness and anti-fat bias from now on.
One thing to try: Clean out that small area of your home that's been ignored for too long.
Whether you love spring cleaning or love to hate it, there's no denying the benefits of a clean, organized space free of clutter. We're taking that idea and running with it for the month of April, with a little help from NICK's.
Want to get a sneak peek? Designate one small area of your home that needs a little clutter-clearing love, then set aside 15 minutes and see how much you can purge, re-organize, and then put back. We'll build on this during our April workshop with NICK's!
This post contains affiliate links and if you make a purchase, we'll earn a few cents commission at no extra cost for you. Thank you for supporting aSweatLife!