15 Alexi Pappas Tweets to Inspire Your Next Big Goal
Whenever I'm looking for a little inspiration, I know exactly where to go: directly to Alexi Pappas' twitter page: a gold mine of inspirational quotes in digestible bites. And I'm not alone. Alexi Pappas and her tweets inspire everyone from young female athletes to Olympic athletes and those of us in-between. Alexi's following of bravies* know she's never short of doses of motivation.
*Bravey, noun: a courageous person who strives for crazy goals. Also, a fan of Alexi Pappas.
I remember first hearing about Alexi Pappas during the 2016 Olympics – she stepped on the scene as the spunky Greek runner, rocking a huge bun on top of her head and oozing self-confidence and originality. Before the Olympics, of course, she had a very successful running career in college – first at Dartmouth, and ending at Oregon. (Pssst: the "pony" to Alexi's "bun" at Oregon, Jordan Hasay, was just featured on We Got Goals. Check the episode out here)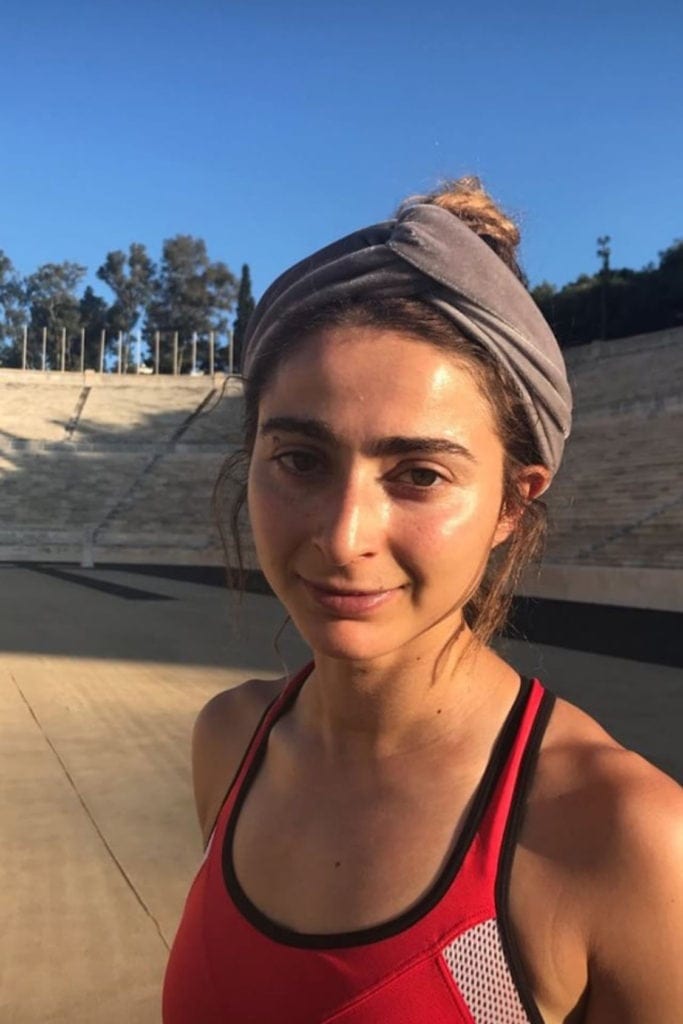 Friends of mine know I'm a huge Alexi Pappas fan. We're the same age, but I find myself looking up to her. Her genuine nature makes her approachable; her ability to redefine what it means to be an athlete and a creative makes her an icon. Pappas balances her strength, confidence and humility like a seasoned acrobat; she talks about the journey and pain it takes to get to her goals as much as she talks about achieving and celebrating them. As a filmmaker, she's starred in Tracktown and created one of the best vlogs in the game. If you're into reading, you can also check out her Book Club Track Club collaboration.
My own Twitter timeline is filled with Alexi Pappas retweets (sometimes more than my own tweets) in hopes that they will inspire others as much as they inspire me. If you aren't on Twitter or you don't follow Pappas, don't worry – I've rounded up a few of my favorites here. Whether you are striving to beat your marathon PR or run your very first 5K, here are some of her words to help you chase your next big goal.
On being brave:
everybody is afraid the key is not being afraid of being afraid

— Alexi Pappas (@AlexiPappas) April 17, 2018
brave not perfect

— Alexi Pappas (@AlexiPappas) December 4, 2017
nerves are cousin to excitement

— Alexi Pappas (@AlexiPappas) March 20, 2018
tough is an adventure

— Alexi Pappas (@AlexiPappas) January 23, 2018
"@AlexaPantazonis: how to be speedy?" run like a bravey, sleep like a baby, dream like a crazy, replace cant with maybe, lady.

— Alexi Pappas (@AlexiPappas) February 19, 2014
On goals and goal-setting:
write down your goals
commit yourself full
surround yourself with those
who make you feel whole
eat lots of steak
& when you feel, cake
on the start line
pretend that you're fine
smile through pain
sleep/miles matter the same
be kind to yourself
& value your health https://t.co/Sv5oDlXghe

— Alexi Pappas (@AlexiPappas) March 13, 2018
a dream come true unfolds very very gradually then all at once

— Alexi Pappas (@AlexiPappas) February 27, 2018
if an oyster can turn sand into pearls
i can turn myself into anything

— Alexi Pappas (@AlexiPappas) March 26, 2018
headed to the moon
not now
but soon

— Alexi Pappas (@AlexiPappas) September 19, 2017
like a middle school crush, i think about my goals more often than id like to admit

— Alexi Pappas (@AlexiPappas) January 18, 2018
On self-love:
be as kind to yourself as you are hard on yourself

— Alexi Pappas (@AlexiPappas) February 20, 2018
i am almost always more proud of myself in hindsight & so i am going to try to be more proud of myself in the now

— Alexi Pappas (@AlexiPappas) May 23, 2018
before bed decide tomorrow will be great
.
it is national eating disorder awareness week – part of chasing our dreams is facing obstacles. some easier & some more serious than others but all important. a bravey knows to ask for help. a bravey is kind to his/herself. a bravey can. pic.twitter.com/qh2LoxU1vr

— Alexi Pappas (@AlexiPappas) February 26, 2018

[PS – Pappas' fan base includes a lot of young high school track and cross country runners, and it's no secret this demographic is very susceptible to eating disorders. Pappas handles the topic with grace, and so does Lauren Fleshman.]
no nots
only not yet

— Alexi Pappas (@AlexiPappas) February 7, 2018
good thing i didn't accomplish all my goals yet because then what would i do tomorrow.

— Alexi Pappas (@AlexiPappas) March 23, 2015