Now Accepting 2018 aSweatLife Ambassadorship Applications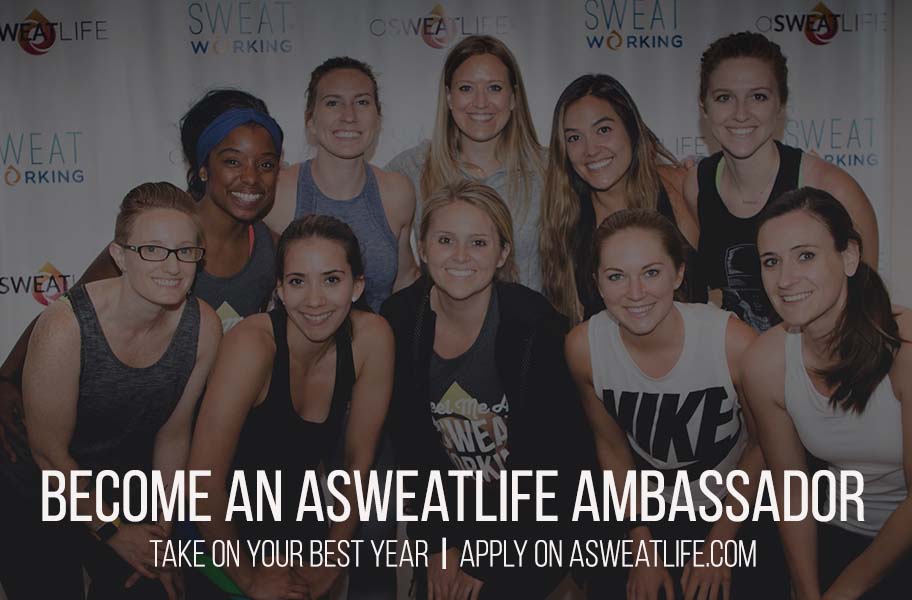 [Applications are now closed]
In 2017, when we asked the aSweatLife Ambassadors what it would take for them to live their best lives, we listened to what they had to say. Over the last year, we crafted a program that paired workouts with workshops to give our Ambassadors the tools to help them live their best lives with fitness as the catalyst. In 2018, we're doing it again – and we're inviting YOU to apply to come along on the ride with us.
What is the Ambassadorship and why should I get involved?
We took a simple idea that we believe wholeheartedly at aSweatLife – that fitness can be the catalyst to you living your best life – and ran with it. (Sometimes, we rode with it and lifted with it, and other times we flowed and arm balanced with it.)
Over the year, we paired workouts and workshops together, not only to get stronger physically but in our minds, hearts and souls as well.
Why do it this way? Because we know that physical fitness is just one component to living your best life, but health and wellness manifest themselves in every other aspect of your life – from inner confidence to career success to overall satisfaction and happiness in life. Our workshops aim to reinforce that.
Monthly group workouts and workshops are a staple of the program, but you'll experience much more than just a sweaty hour each month. In addition to monthly workshops, you'll receive early access to #sweatworking events, entry into the growing #teamaSweatLife network and resources to help you live your best life both in and out of the gym.
The best part about this year's Ambassadorship? We're going national. If you have friends in other cities that you'd like to bring into the fold, we'll be live-streaming all our workshops, offering special swag and goodies to Ambassadors regardless of where you live, and everyone in the program will receive a #LivingaSweatLife Field Guide filled with tools to help you live your best life no matter where you are.
What can I expect? 
As one of our current Ambassadors said, "It's more than just working out. Being an ambassador is about building a community around healthy living."
Whatever your goals – fitness, career or otherwise – expect to be supported. Expect to be encouraged. Expect to have a group of understanding people in the same boat as you – aiming to be the best version of themselves every day.
And if you just like to work out and find friends who enjoy that as much as happy hour from time to time, there's plenty of opportunity for that too.
What's the commitment?
We want you to be as much a part of the experience as you'd like to be. There are endless opportunities to get more involved, but if you can only make it to one or two workouts and workshops every couple months – we're still happy to have you on board.
The aSweatLife Ambassadorship is $10/month. These dues help us create more immersive, quality experiences for you for every single event.
How do I apply?
Applications for 2018 are now closed. Ambassadors will be alerted by November 30. and the first event of the year will be in December 2017 to kick off the aSweatLife Ambassadorship for 2018. If you have any questions, please email us at [email protected]