Life Lessons from an aSweatLife Ambassador Weightlifting Workout
Rae Reichlin pulled the aSweatLife Ambassadors into a circle to set the record straight on lifting heavy weights.
Looking around the room, Rae reminded the group of truths we've come to accept about strength. If you want to get stronger, pick up heavier weights. If you want to feel healthier, go heavier. If you want to stay fit for life, get to the next size up in dumbbells, stat.
"And you're not going to 'bulk up,'" Rae stated, putting one last misconception to rest.
"Loading your bones with heavy weight is going to aid in building up your bone density, helping to prevent oesteoporosis later in life," Rae continued. "Lifting also helps to stimulate your sex hormone, growth hormone, boost your metabolism and maintain healthy organ function.
"It has also been proven to reduce risk of injury, back pain, heart disease, depression and aid in a good nights sleep."
And finally, Rae touched on the psychological benefits of weightlifting.
"[Lifting] pushes you to your limits and absolutely makes you take control over your body and mind to get in and get the work done. You never leave a heavy lifting session without learning something about you, your body and your efforts."
And with that, we began a weightlifting workshop and the kind of workout that leaves you sore three days later, unsure why or what happened to you. During our two-hour stint at Rockwell Barbell, where Rae regularly hosts Ladies Who Lift, we gathered three big takeaways.
1. True community is formed by being both a student and a teacher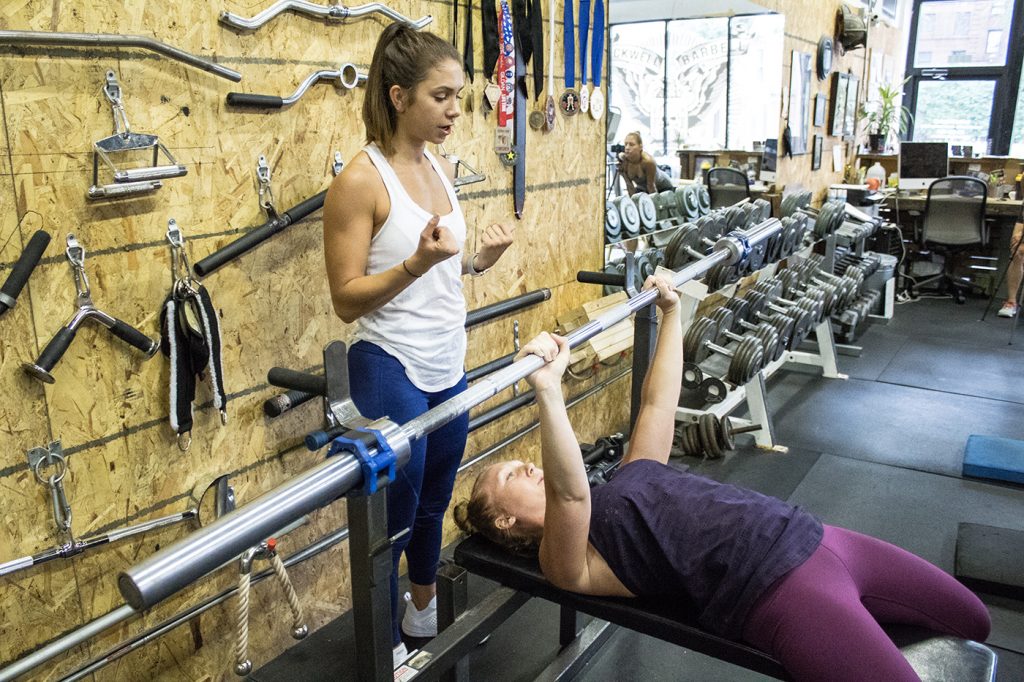 After teaching the proper lifting form for three exercises, Rae challenged the Ambassadors to coach each other through the barbell back squat, deadlift and bench press. In groups of four or five, we practicing each movement, giving each other helpful coaching cues.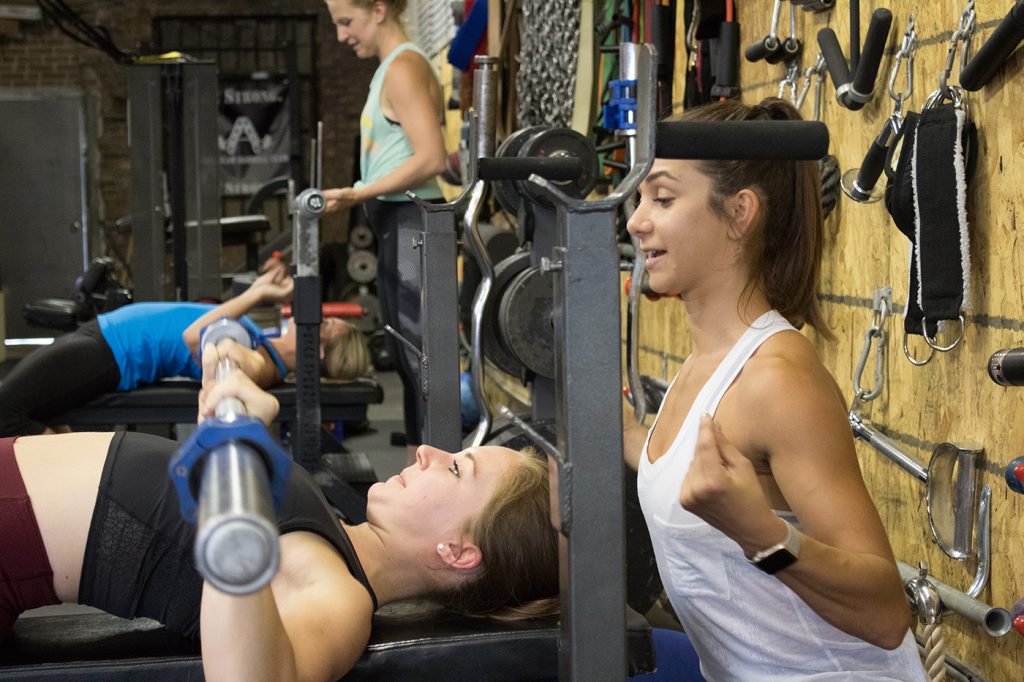 But in addition to the cues, words of encouragement bubbled up over Kanye blasting through the gym's speakers.
All of a sudden, the proper setup for a deadlift became reason enough for a high five and celebration. The accomplishment of re-racking the barbell was met by ten or more high fives from everyone in the group. And we all felt accountability to help coach each team member through the work, just as they all did for us.
2. Being afraid to do something can be the precursor to accomplishment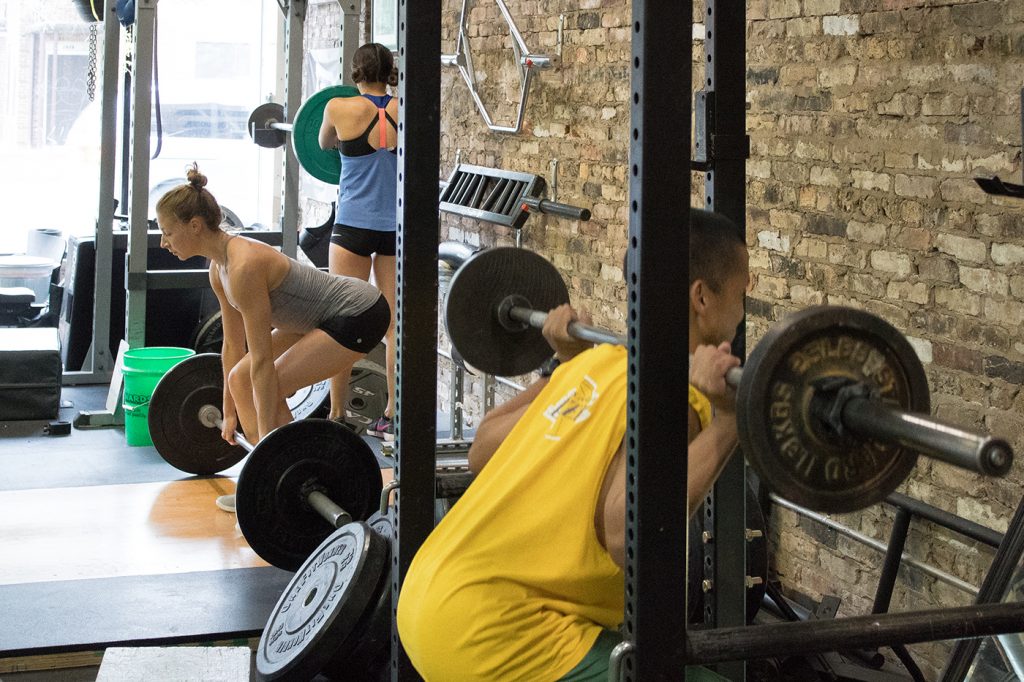 After breaking down the lifting moves, we put our new knowledge to the test in a tough workout. At seven stations, Rae gave the group seven-minute AMRAPs (as many rounds as possible) with two different exercises in each circuit. Some of the pairings included pull-ups with barbell squats, deadlifts with reclined dumbbell presses, tire flips with farmer carries and rope slams with sled pushes. Rae walked around to various stations, pushing us to attempt lifting something heavier, a weight that perhaps had a number that intimidated us.
I could see the moment of hesitation in the group's eyes, but after a split second, that hesitation would turn into a newfound determination to accomplish the goal they set out for that day – to try something new.
Whether it was not dropping the battle ropes – even for a second – while their partner was pushing a sled or making it to rep eight with 25-pound dumbbells for the first time ever, the room was full of personal bests over the course of the afternoon.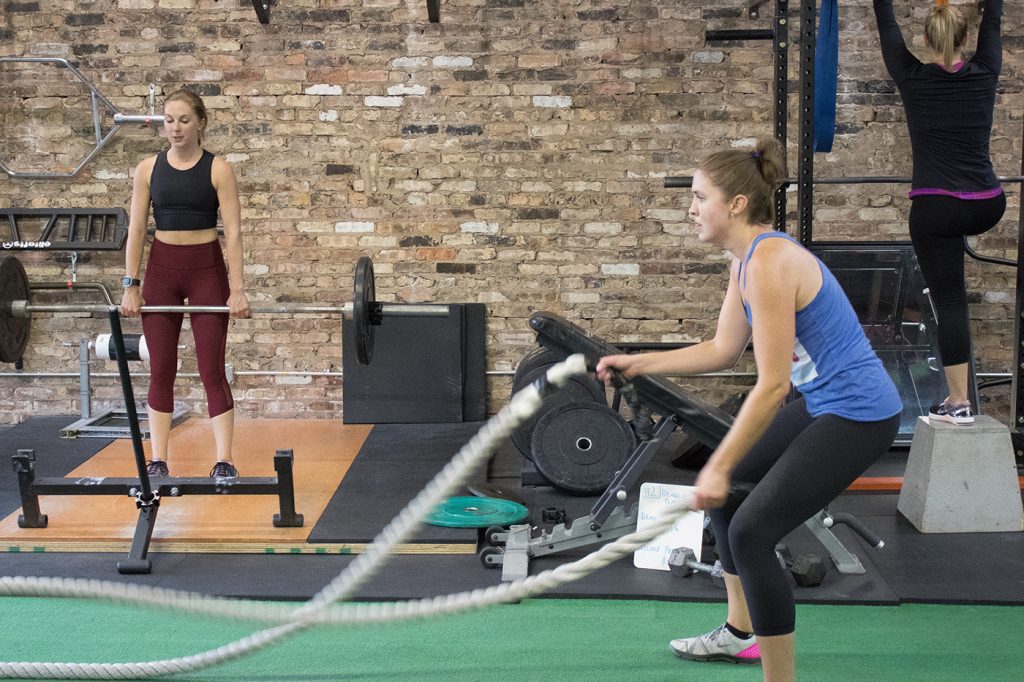 3. Showing up for for your community is different every day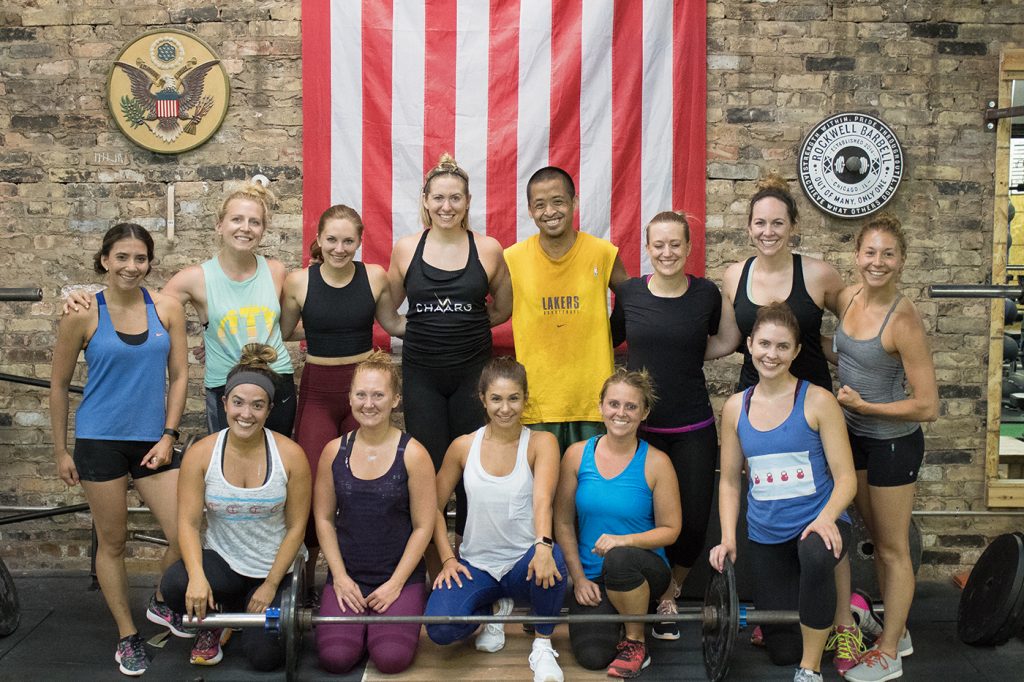 No matter what the weekend held or their personal training goals, this group listened to each other and showed up in the ways that mattered.
Some Ambassadors were ready to work, some were ready to cheer. There were Ambassadors who ran more miles than we have fingers this weekend and there were some coming back from a week-long vacation, just getting back to a routine.
It didn't matter where we came from prior to this workout. What mattered was a high-five after a hard set and the shouts from across the room. It mattered that we took on a challenge together, and when the going got tough, the tough found friends to make it all worthwhile.
If you're looking to introduce weight training to your routine, find out more about Ladies Who Lift from Rae. In her Level One workshops, you'll learn "why we lift, what we lift and how we lift," as she describes it. In her Level Two workshops, you're given the opportunity to hone in on these skills.
"In Ladies Who Lift, I want people to leave feeling like they have found a resource in not only myself and this class, but the other ladies who attend," Rae says. "We are building a community of strong, empowered women."
Rae hosts Level One and Level Two workshops once a month out of Rockwell Barbell.
Let us know!
Did this post help you get closer to achieving one of your goals?