Out of Your Comfort Zone, Into the Flow With Yoga and Improv
I like to think of myself as having a go-with-the-flow personality, but I know that when it comes down to it, I'm Type A through and through. At aSweatLife, I've learned one of the most valuable lessons I'll probably ever learn, though, and that's this: sometimes, you just have to say yes – and figure it out.
When an opportunity presents itself, you say "yes," knowing that you're smart enough and capable enough to pull it off – and you charge forward from there, no matter what. While flying by the seat of my pants hasn't become second nature by any means, I've come to expect it and even get excited by it.
That's the way I approached a lunchtime conversation with Jenny Finkel over the best veggie burgers in town; she told me she leads improvisation workshops as well as amazing, beautiful yoga classes all over the city (she didn't brag about her classes, but trust me, they are) – and we said, "Let's smash them together, shall we?"
So on a weekend in March we gathered the aSweatLife Ambassadors at Viva Prana, Marta Granat's new studio nestled in Lincoln Park, for an arm balance-focused yoga class and an improv workshop. We asked the Ambassadors to show up, not telling them much about the workshop and together we had a far richer experience than I could have ever imagined. Our biggest takeaway? Yoga is a lot like improv, and vice versa.
Here's how:
You've got to get out of your head and into the present moment.
In yoga, your breath moves you from one pose to the next, and the way to reap the most benefits from a single pose is being completely in it, without thinking too hard about what's coming next. Similarly in improv, listening to your fellow teammates is instrumental in keeping the rhythm going. If you're too focused on what's going to happen next, you miss what happens right in front of you, and that's a missed opportunity for something great.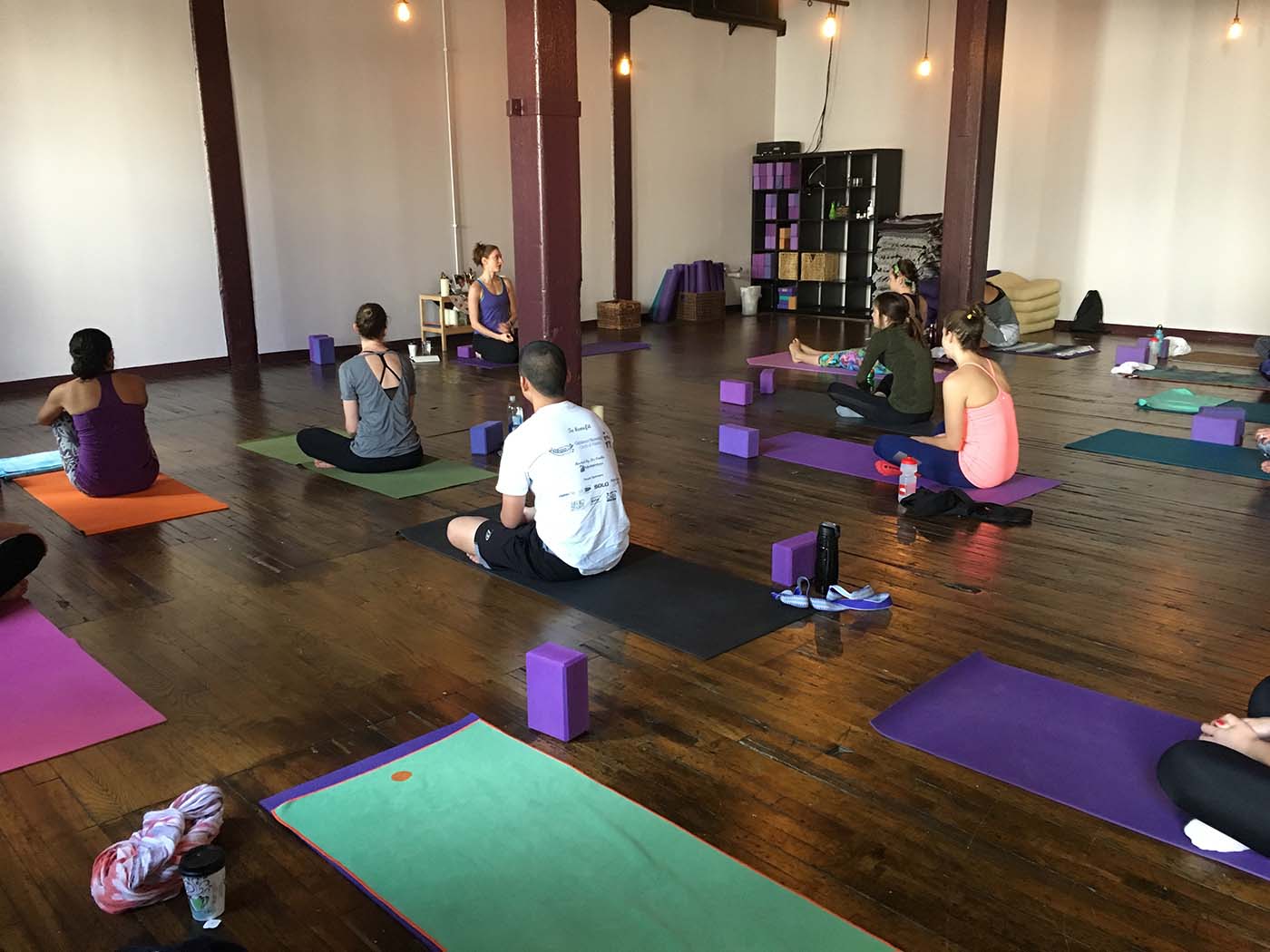 Taking a risk can be greatly rewarding.
If you go for a risky arm balance, like flying pigeon, for example, what's the worst that can happen? We tried it throughout class and I can assure you, no one was hurt in the process. A few of us were even able to take flight for the first time in this tricky balancing pose, and that never would have happened if we didn't try.
And in improv, the guiding principle is "Yes, and …" among teammates, which fosters a group mentality of "We're all in this together to succeed." If you take a risk, your teammates are there to back you up, which opens up the possibility for an even greater, funnier sketch than anyone could have planned. The "Yes, and …" mentality also encourages peaceful, constructive conversation that brings people together, rather than creating walls between them.
"We never say 'no,'" Jenny said. "You never put the wall up. You always build forward and up. The 'yes' takes you forward, the 'and' takes you up."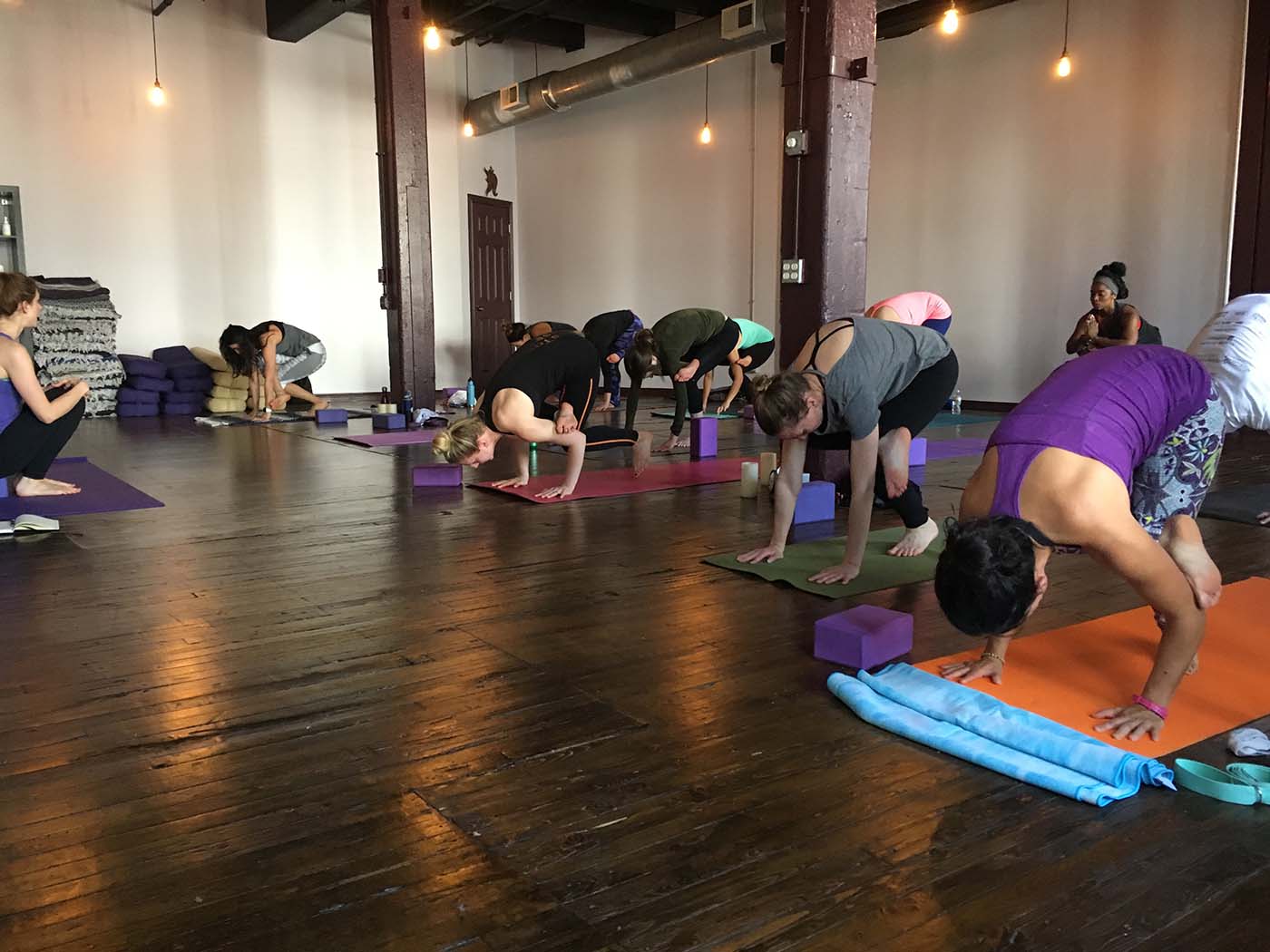 There are no mistakes.
In both yoga and improv, there are no mistakes. Yogis will tell you that savasana is as important (or even more so) as any crazy arm balance. You honor your body by listening to your breath and deciding what's best for you in any given moment, on any given day when you practice. And whatever works for you, that's your practice – it's no better or worse than the person on the mat next to you. In improvisation, "Mistakes are gifts," as Jenny says. "That's where the magic is … don't be sorry you made a mistake. Use it!"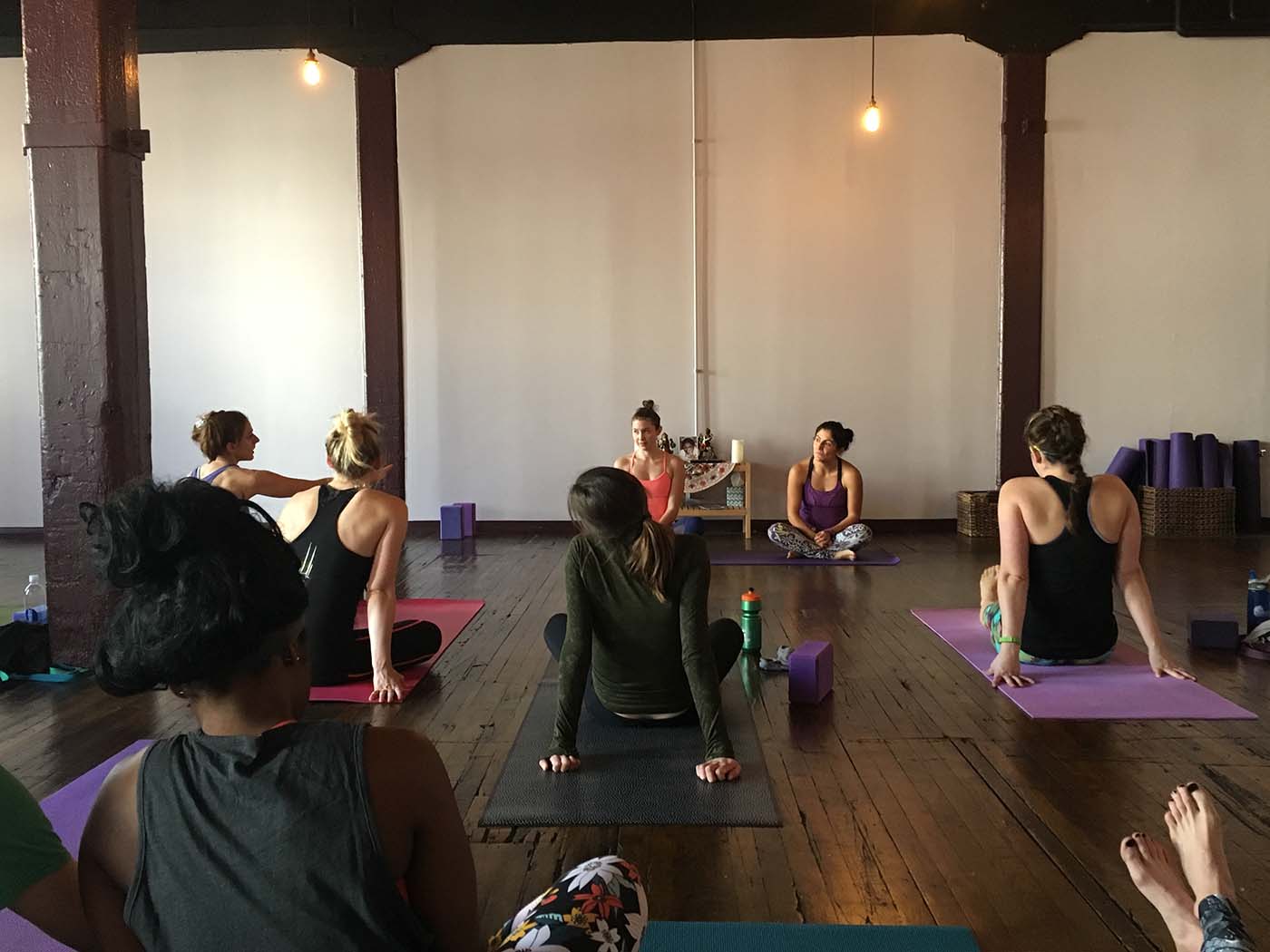 You don't have to be a "pro" to work some real magic.
I've never taken an actual course on improv before, but I was thoroughly impressed with what we were able to come up with. Together we pulled off sketches that had the whole room cracking up – and I'll dare to speak for the whole group in saying we all walked away feeling a little more proud of ourselves than we expected.
In yoga, truly anything is possible. Sure, there are people who practice meditation for hours at a time, but that doesn't – and shouldn't – discount you from giving it a whirl once in a while because you're not sure you're "good at it." In fact, there's plenty of ways to meditate and get your zen if it's not typically your thing.
In both yoga and improv, it's really all about listening. In yoga, it's about listening to your body; in improv, it's about listening to your partner(s). Listening to signals right in front of you is your best tool to stay in the present, to find connections in places you may not normally see them and trust in yourself that you'll be able to say "Yes, and… "  then figure it out from there.