Eight Things a Year of "LivingaSweatLife" Taught Me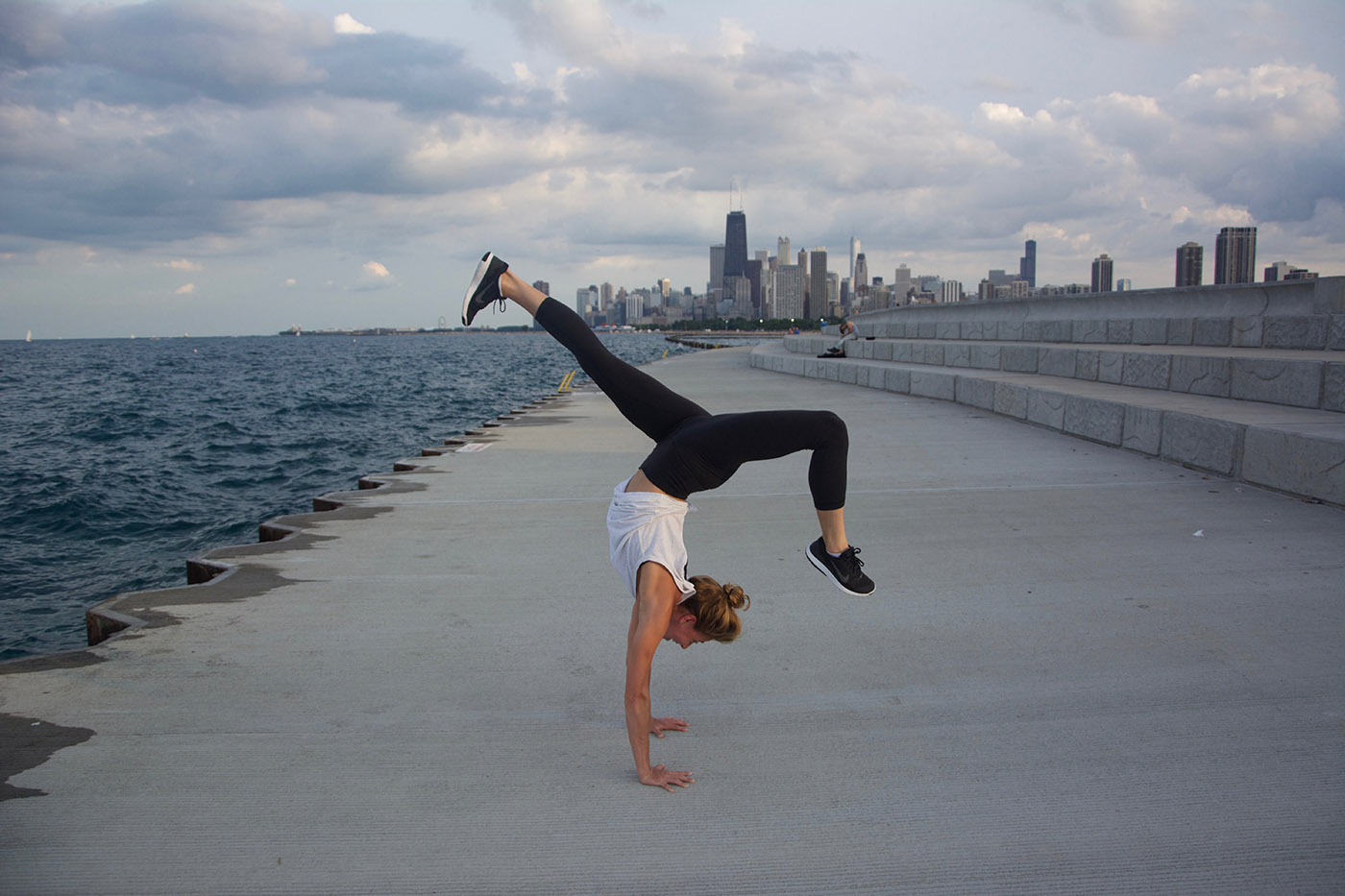 (Photo by Cass Gunderson)
This time of year must have some magic in it.
On August 8, 2014, I drove a U-Haul with my mom from Charlotte, North Carolina to Chicago, Illinois and started my post-college life. I taught one yoga class and one bootcamp class every Thursday morning at 6 am and 7 am, and I worked in advertising from 9 – 5 (or maybe more like 9 – ???).
After two years of picking up more and more classes, falling more and more in love with fitness, experiencing a lot of failures and learning a lot about what made me tick (and what did not light my fire at all), I made a pretty significant career move. On August 8, 2016 I joined Jeana Anderson Cohen, founder of aSweatLife, in #livingaSweatLife full-time.
The last 365 days have flown by, but not without me taking a step back here and there to acknowledge the growth I've experienced over the past year. These lessons are ongoing, but I think I can safely say, after a full year, this is what #livingaSweatLife means to me.
1. #LivingaSweatLife means every day is a hustle, and it's one worth getting out of bed for.
Whenever something is really hard, that's when it feels the best to actually say you've accomplished it. Easier said than done, though, because when it comes down to it, there are days that feel like an eternity. There are times when the workload overshadows the joy that work will no doubt bring. That's true with any job, any workout, you name it.
The past year has taught me that soaking up the moments that feel truly amazing puts all the hard work into context and makes it so beyond worth it.
2. It means acknowledging your weaknesses and choosing to tackle them head-on.
Much like wall balls in a MetCon workout are my weakness, I've said over and over again that I'm not a great decision-maker – that's my "weakness." I chose to see this year as an opportunity to practice a harder skill – making decisions. Now, I'm able to be decisive without attaching any extra drama or weight around feeling good or bad about myself when things didn't run smoothly.
And just like an AMRAP, if I did my best, and I know I'll do better the next time, who cares if I only completed eight out of 10 wall balls?
3. It means saying yes and figuring it out.
See above for my fear of making the wrong decision, and how this year has helped me out of that rut. I say "yes" to workouts I'm not familiar with; I say "yes" to new projects I don't know how to do yet. I don't always know how things will turn out (which is typically no bueno for all the fellow Scorpios out there) but I'm becoming way more trusting in myself, knowing that we will make it happen and come out the other side. (And I might actually love that new workout or feel incredibly accomplished at the completion of a project and buy a way-too-expensive 10-pack of classes for it.)
4. It means never settling; there is always one more even more amazing goal to go after.
As I've gotten more comfortable being out of my comfort zone in workouts, I've learned to embrace challenge more and more. This mentality translates directly out of the gym when we come up against a business challenge; instead of feeling intimidated, we jump into creative problem solving mode. In my workouts, I've done things I never thought I could do and similarly, every day at work, I'm astounded by the ideas we come up with when we're faced with a challenge and choose to approach it with excitement.
5. And speaking of goals, #livingaSweatLife means saying your goals aloud for everyone to hear.
There's nothing wrong with saying "I feel like a badass because…" and there shouldn't be anything scary about saying "I want to do X, Y and Z." If you fail, so what? You're way more likely to run that half-second faster mile or launch that podcast if you say you're going to do it aloud.
6. It means being unapologetically who you are and finding your voice within that to share your story.
If you're all you, you're relatable. If you're nothing but yourself, there's no wall that people have to sidestep to get to know you. Comparison is inevitable, self-doubt is bound to happen and second-guessing is natural, but here at aSweatLife we drive home the idea that everyone has room for success, everyone deserves to tell their story.
We are also fairly obsessed with sharing others' amazing stories. Shedding light on others' journeys, successes and accomplishments is an amazing gift. People everywhere are amazing, and if we take a few minutes to get out of our own way, there's a lot we can learn from our peers, friends and colleagues.
7. It means finding a peak in every single day, not just Friday and Saturday.
Along the journey towards bigger goals, there are inevitable ups and downs. Teaching a yoga class first thing in the morning (yes, sometimes like 5:30 am early) is sometimes the highlight of my day because I get to be a part of the way someone else starts their day and I have the power to make that really great.
Within that same day there might lots of other high and lows, but when I hit the pillow every night I know I'm impacting people in a very real way and I am so grateful. It's something I don't take lightly and I try not to take for granted even for a day.
8. Most of all, #livingaSweatLife means not apologizing for choosing joy.
If while reading this, you thought that "living aSweatLife" sounded a bit grandiose, I'll challenge you any day. Rumi, an ancient poet and philosopher, said, "Stop acting so small. You are the universe in ecstatic motion."
I have to remind myself almost every day that choosing to be bigger, to go for great big goals and to live ecstatically out loud isn't selfish. It's simply living.
As it's now August 8, 2017, it feels appropriate to take a step back and look in amazement over the last three years. These lessons I've learned within my job as a very (very) sweaty human are so much than just about lessons learned in fitness; they're entirely about how I want to live my life outside of the gym.
Bring on the next year, world. We've got big goals for you.
If this post or anything else we've created impacted your life, please support our Kickstarter.