Preventing Chafing on Long Bike Rides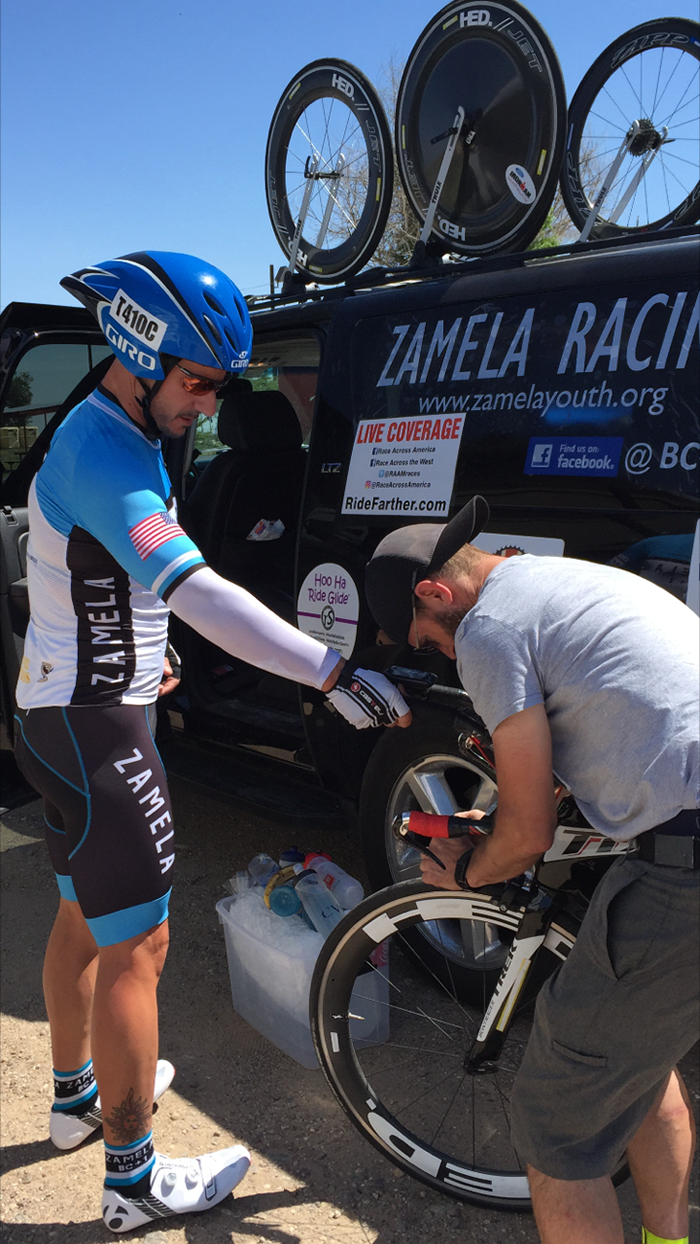 Team BC+1 recently used Hoo Ha Ride Glide as their exclusive chamois cream for Race Across America
A few months ago, Kelly invited me to join her for Bike MS, a 150-mile ride across the state of Wisconsin to raise money and awareness for multiple sclerosis. While I was so excited for the opportunity to ride for a cause that is near and dear to my heart, I had never ridden my bike further than about ten miles. When I started training (mainly enticing myself with distant breweries), I quickly learned about the part of long bike rides that no one talks about: chafing.
When my friend and I got home from our first ride, my first text to her was, "the chafe is real." I thought I was well-prepared wearing bike shorts, but after this article popped up in my news feed, I learned that there was a lot more I needed to know before I embarked on my longest ride yet. The article asked a handful of female triathletes about how they prepare for races, including inquiring whether each used chamois cream. Cham-what? There seemed to be some big piece of information I was missing here, so I reached out to Laurie Mellot, President and CEO of Reflect Sports, creator of Hoo Ha Ride Glide, to ask the questions that I was too afraid to ask my biking friends in person.
Laurie and her business partner, Jena, invented Hoo Ha Ride Glide (yes, the name is amazing) when training for their first triathlon. As they prepared for a fifty-mile ride to Palm Springs with their husbands, they were struck by the idea.
Let's start with the basics. How do you pronounce Chamois?
It's pronounced "shammy." Back in the day, any padding in bike shorts was leather. Over time, the leather would get really stiff. In order to soften the leather, you added chamois cream. Even though we don't use leather padding anymore, we still call it chamois cream.
I'm currently preparing for a long ride, what do I need to know?
Riding for a long time can be painful and irritating. At the least, you can have chafing which is red and sensitive. As the chafing gets worse, the skin can break and you can get bumps under your skin that can boil – what we call a "saddle sore." Saddle sores are really painful and can get infected to the point you need antibiotics. It's important to take steps to avoid saddle sores.
Before you even think about chamois creams, it's important to get the right equipment. You should start by selecting a saddle that works well for you. A good bike shop can measure your butt bones and have you rock back and forth to determine the best saddle for you. Once you find the right saddle, it's important to find someone who can help you fit it properly so you're not too far up or down. If you're new to riding, you will have a less aggressive position over the handlebars. As you get more comfortable and aggressive, it's important to be consistently addressing your bike fit and adjusting saddle position with a professional.
Once your bike is set up, get a good pair of shorts with padding. There are $20 shorts and $200 shorts, and what works best for you will vary. My rule is that if you push your thumb through the padding and don't feel the counter right away, that's good padding. A lot of women think they need to wear underwear under their bike shorts, but you really shouldn't. The seams of your underwear can cause chafing, so just put your shorts on directly.
Once you have the right equipment, you're either prone to chafing, or you'll never have a problem. If you have chafing, you'll look at chamois creams or lubricants. There are about 10-20 choices on the market now.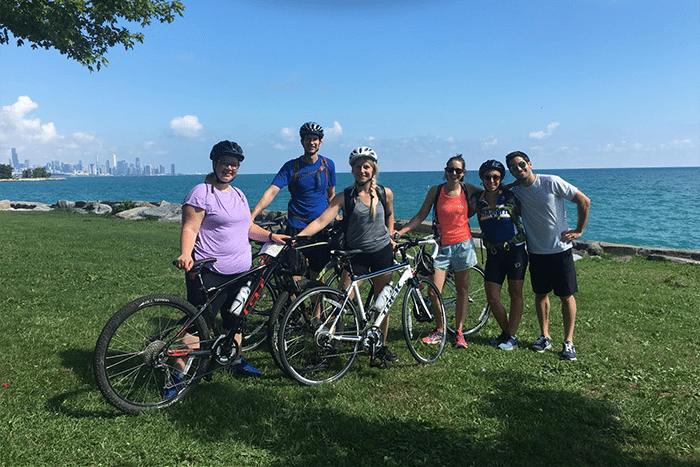 Feeling comfy on our Team aSweatLife ride to 3 Floyds 
How is Hoo Ha Ride Glide different from others on the market?
This product was truly born out of a need. My business partner and I were training for our first triathlons and were preparing for a fifty-mile ride to Palm Springs with our husbands. When we read the tube, we couldn't believe we were using something called nut cream. Not only was it not marketed to us, there were a lot of ingredients that weren't safe for how we were using it. As a side business, we designed the very first chamois cream for women. We have tons of fans – both men and women – who love it. Although we designed it to be safe for women, it's also safe for men and we hear from tons of men who love it as well.
How does Hoo Ha Ride Glide work?
There are products that provide lubricants alone, but Hoo Ha Ride Glide is a lubricant, antibacterial, anti-inflammatory and anti-chafing. It's free from parabens and fragrance, and is never tested on animals. It contains four all-natural essential oils – peppermint, eucalyptus, tea tree and lavender oil – tested proven to be antibacterial, which help to prevent infection. Phellodendron amurense bark extract, sandalwood, barley and licorice extract are anti-inflammatory and increase comfort. It also includes FDA-approved ingredients which create a friction-free barrier to prevent chafing.  
Many chamois creams stop there, but I wanted it to have healing properties as well. When I had gotten saddle sores in the past, I used Neosporin to help heal them, and I wanted Hoo Ha Ride Glide to have the same healing power, so we added epilobium angustifolium flower/leaf/stem extract and vitamins E, B5 and C. If you've already developed a sore or raw skin, apply the cream after you shower and before you go to bed and it will help heal you overnight. I have had friends use it for facial windburn from skiing and it worked great! For that reason, I recommend using it prophylactically, before you ever get any chafing.
Where do you recommend applying it?
Ours can be applied anywhere chafing occurs when doing sports. My son body-boards and I'll put it on under his board shorts so he doesn't chafe. It can also be used to prevent sports bra rash, blisters on your feet, or chafed nipples from running. Many triathletes like to apply it to their legs and neck to prevent saltwater rash.
Some people like to apply it directly to their shorts or clothing and then pull the clothing on. We made a cream that can easily wash out of clothing and won't leave a stain. If you prefer, you can also squeeze it out of the tube onto your hand and then apply it directly to the skin, especially in any nooks and crannies where chafing is likely to occur (think like you're applying diaper cream on a baby). We made it in a tube, unlike other creams that come in a tub, so that you're not dipping your hands back in and spreading bacteria.
I also carry an anti-chafing stick [editor's addition: Cass loves body glide], which works like a deodorant on the wrists, ankles and neck. It doesn't work to prevent infection and isn't safe for other areas, but I carry both in my bag.
What can I expect when I first apply it?
When you first use Hoo Ha Ride Glide, you'll feel a cooling sensation from the peppermint oil and a tingling from the tea tree oil. Many users think it takes their mind off the burning and uncomfortable feeling they have from chafing. After four or five uses, you'll get used to it and won't feel it anymore. I recommend starting with a little at first in a less sensitive area, and as your sensitivity decreases you can use more. Everyone reacts differently, but many people really love it.
Where can I find it?
It can be found in many bike shops either in a tube, or in single-use packs (sold either in a 10-pack or individually). It's also available on Amazon and on our website.