Summer Running Essentials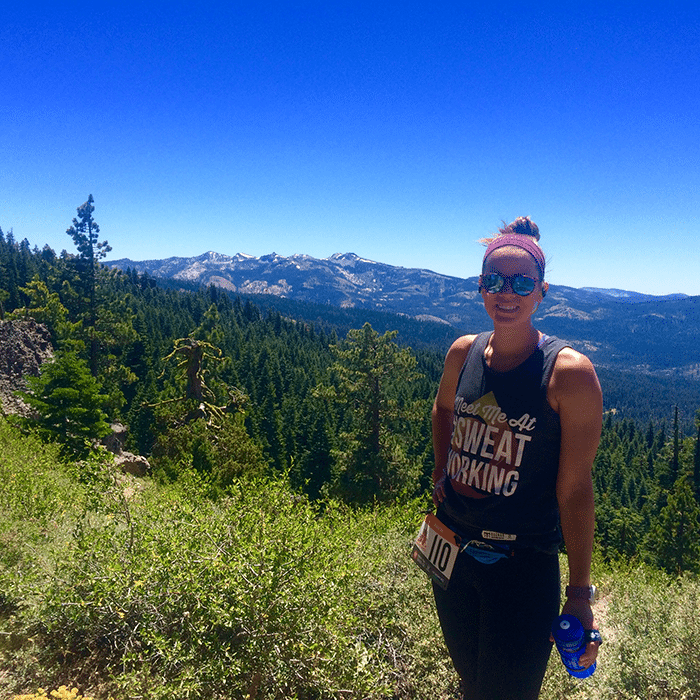 (Disclaimer: I received BodyGlide to review as a BibRave Pro. Check out Bibrave.com to learn more about becoming a BibRave Pro (ambassador) and also to find and write race reviews! As always, I only discuss products that I would recommend)
Last week, I had to complete the arduous task of packing for a Ragnar Trail Race in a single (though, admittedly large) backpack. Some friends and I were setting off to run 129.6 miles worth of trails (16.2 miles a piece) in Lake Tahoe.
When limited to a backpack, every tiny crevice counts. Fill this pocket with Gu StroopWafels, that one with protein drink mix, this pouch with hair ties, sweatpants go here (it drops down to forty degrees at night!), tank tops and sports bras go there – everything has its place and there is no room for unnecessary items (unless you consider my Portland snapback an unnecessary item, but I would argue that it's not).
I'm no stranger to long runs and races in the summer. I've spent way too many Saturday mornings along the lakefront path with other early riser runners, training relentlessly (like fools) for fall marathons and other races. With the knowledge that I will be putting my body through at least two to three hours of cardio under the hot summer sun, forgetting an item or step during preparation can ruin a run. Thankfully, waking up early and grabbing the essentials in my half-asleep state is now *almost* second nature.
That said, here are the top items that I can't do without during summer races and training (you can bet that all of these made a coveted backpack spot.)
1. BodyGlide
This stuff works miracles. My only complaint is that I wish I knew about it sooner, because my first few summers as a runner left me feeling very, um, uncomfortable. Wearing running shorts meant dealing with the reality of my legs rubbing together (it's okay, they like each other) – but this unfortunately led to very bad chafing (and, as a result, walking awkwardly for a few days after every long run.)
I started first using BodyGlide a few years ago and it changed my summer running routine. It's super easy to apply: I put a few swipes on my thighs and around my arms and sports bra line as if I am applying deodorant, and I'm good to go for hours. BodyGlide comes in various sizes, is easy to throw along in a gym bag, and best of all – the stuff is pretty cheap and lasts forever. I still have sticks I bought years ago and spread them out amongst my various gym bags so I never am without it.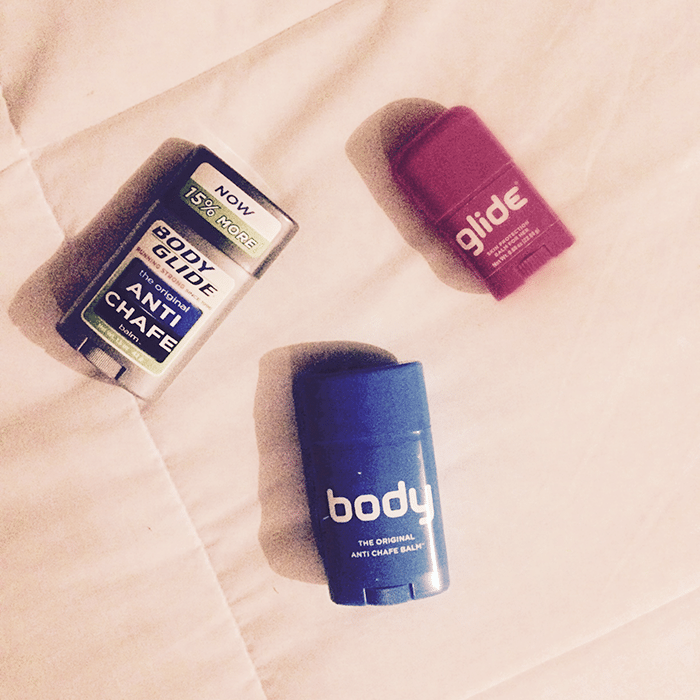 2. Spibelt
Though I don't even want to think about winter yet, I will say that running in cooler weather often comes with the perk of wearing clothes with pockets. Unfortunately, light tank tops and shorts are not often very pocket-friendly. I always bring my phone with me during a run, along with a few other important items (keys, my ID, some cash), so having no pockets poses a minor problem. Enter: Spibelt. Sure, I look a little like I'm a 90's kid in a fanny pack, but it gets the job done and I barely notice it's on. The pouch expands to fit everything I need to bring with me and more, and the zipper closure makes me feel comfortable that nothing will unknowingly fall out during my run.
3. Nutrition
If I'm running over six miles at any given time, I require something more than just water to get me through. As with all snacks and food, everybody has different tastes, but some of my favorites include GU chews, Clif Shot Bloks and Honeystinger waffles. If you are going on a really long run (think: double digits), consider grabbing nutrition that has higher salt content in it, like Clif Shot Bloks margarita flavor.
4. Good headbands
Summer runs get really sweaty really fast, and keeping sweaty hair out of your face is pretty important in retaining sanity as a runner. Some of my favorites include Lululemon, VictoryBand, and Buffs. Buffs can double as a mask on dusty trails, have UV protection and are great at wicking away sweat. Once you find the headband that works for you and stays on your head, buying multiple isn't a bad idea.
5. ALL of the sunscreen
Speaking of UV protection, sunscreen: wear it. Don't tell yourself that, "it's only a three mile run" and leave home without applying it. You know what's not cool? Sports bra tanlines. You know what's even worse? Increasing your risk for skin cancer. There are so many easy ways to apply sunscreen these days (my favorite for my face is this spray that also helps set your makeup), so find what works for you and don't forget to use it.
What have I missed? What are some of your summer running essentials?