Weekend Adventure: Bike to 3 Floyds Brewery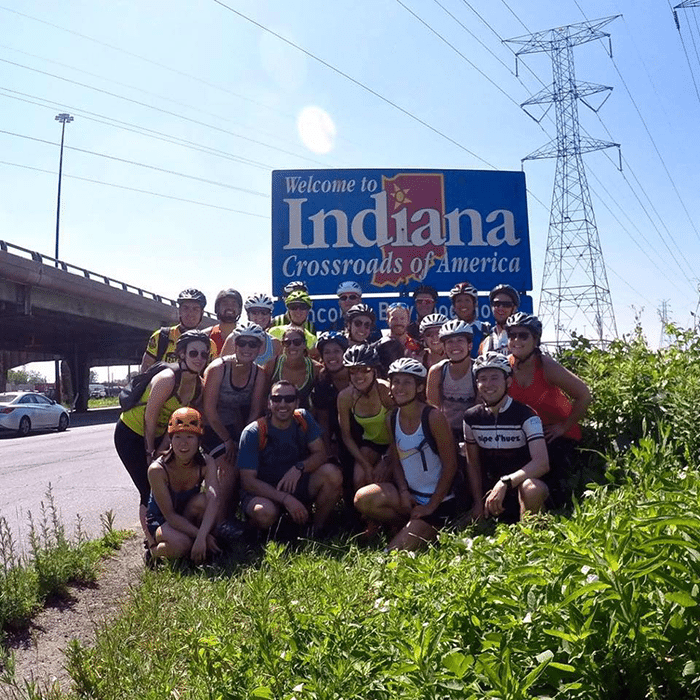 One of my biggest complaints about living in Chicago has always been the lack of outdoor activities. I grew up in New England, where weekend hikes or downhill skiing were just about always on the agenda. Since the Midwest is flat, it's taken some readjustment to figure out how to take advantage of the great outdoors.
While a lack of topographic variety is a disadvantage for mountain-based workouts, it's actually a HUGE advantage for biking! When a friend sent me a Facebook invite to ride 36 miles with a bunch of tribe members from the November Project to the 3 Floyds Brew Pub, I saw my chance to take back the outdoors, enjoy the gorgeous weather, taste some unique beers and spend a day being active!
Packing a Bag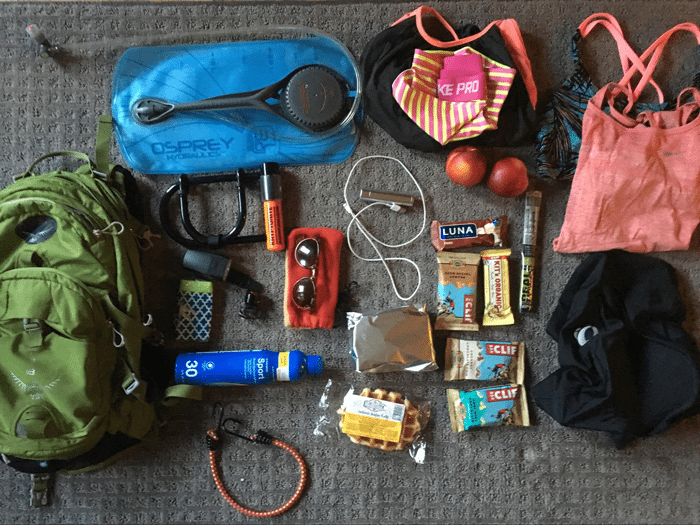 The weather was hovering around 90 degrees when we took our ride, which lasted almost 10 hours (including eating at 3 Floyds), making it was critical to pack smart. Here's what I brought.
Helmet (not pictured): no one is "too cool" for helmets. You only get one brain. Protect it.

Hydration Backpack

: a backpack with a built in hydration bladder lets you carry more water, distribute it evenly in your pack, and access it quickly via the nozzle. I love that the Osprey backpacks have a magnetic chest strap so that the nozzle is always right where you need it. I carried a three-liter bladder and still ended up getting more water at a gas station towards the end of the day (although I could have refilled at 3 Floyd's!).

Kryptonite Messenger Mini+

: once you get to 3 Floyd's, you'll want to lock up your bike. Since the lock-up situation is tight (

lots

of bikes and only one big fence to lock to),

I like the Messenger Mini+

to give me flexibility in locking up my bike.

Bike lights: in case we stayed out past dark, these are critical to stay safe.

Tissues: am I the only one whose nose always seems to run when they're biking?

Sunglasses and Sunscreen: to protect your eyes and skin from the sun!

Spare charger: I like to track myself on

Endomondo

, but it definitely kills my battery over a long period of time. Grabbing a spare battery and iPhone cord ensured I had a working phone all day.

Snacks: I grabbed a peanut butter sandwich, Cliff/Luna bars, nectarines, jerky, and a Belgian waffle, with extras for my fellow riders (never leave your friends hungry!).

Spare set of clothes: shorts, tank and socks, in case anything got wet.
I also wore bike shorts with a tank and sports bra, pictured on the right. Bike shorts are critical for a ride this long. I didn't use any this time, but I recommend using an anti-chafing cream as well (I just bought a tube of Hoo Ha Ride Glide for my next bike trip), because after a ride this long the chafe is real.
The Route to 3 Floyd's
The November Project team has done this ride before, so they have the route down. We started at the Totem Pole in Lakeview, and then followed the Lakefront Trail south until it ends. It was a gorgeous Saturday morning, and it seemed like every few miles we passed a different event – from the Proud to Run 10K on the northside to the 31st Annual Hunger Walk on the southside. Plan to leave early, and be cautious and slow around runners or walkers on the trail. It's not a race – it's a journey!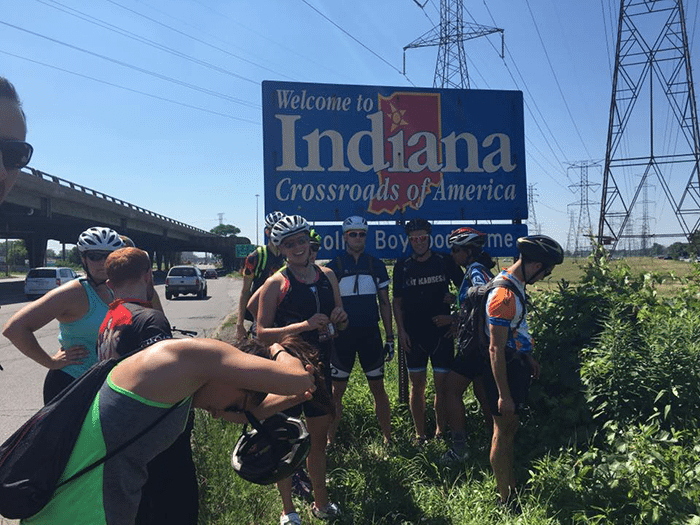 At the end of the Lakefront Trail, you have to ride on the streets for a bit. Although it's not the highway, these roads can be a little bit busy. Use extra caution and help your fellow riders watch out for cars. I recommend riding single-file at this point so that you can stay as far over to the right as possible. When we made it to the Indiana Border, we took a little detour to visit the Welcome to Indiana sign, mainly because it makes for an awesome picture and proof that you biked to a different state!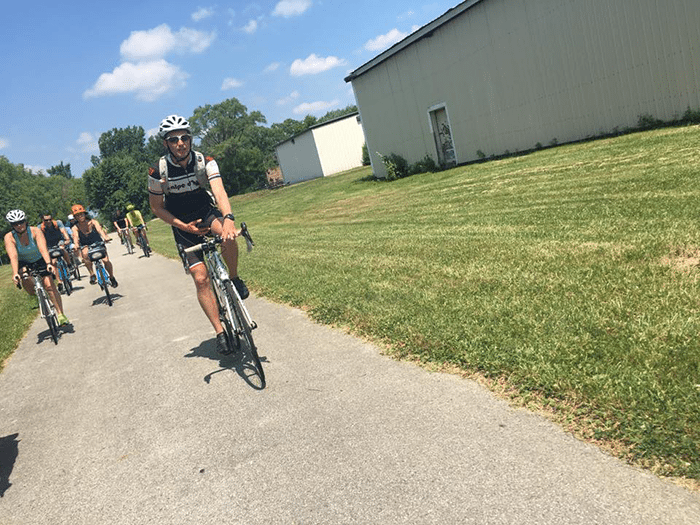 After the pit stop, we popped back into Illinois and hopped on the John Beans Beniac Greenway and the Burnham Greenway. These bike trails lead you through fields and trees – away from the hustle and bustle of traffic and city life. They're pretty quiet (we rarely saw other riders) which make it a great time to ride two-across and get to know the folks you're riding with. November Project members are always super friendly, so I was excited to get to know many of them. The rest of the ride alternates between riding on the side of the road and bike trails. When you make it to Munster, keep your eyes out for the signs for 3 Floyd's (keep an eye out for the Franciscan Healthcare Hospital, they are very close to each other) – a few of us overshot it and had to backtrack a little bit!
3 Floyd's Brewpub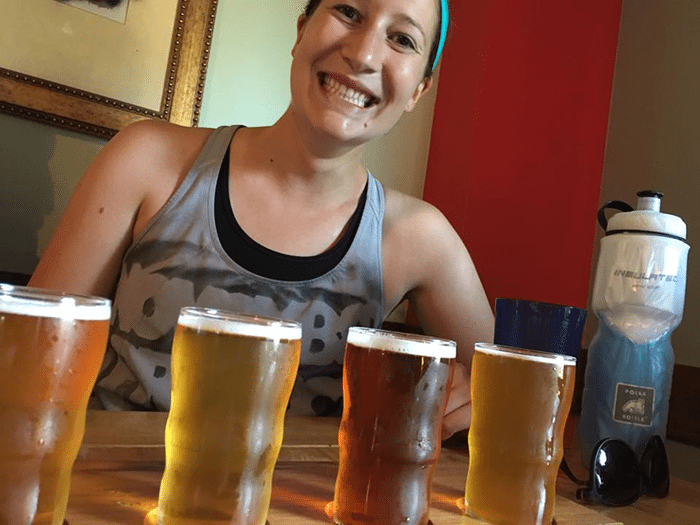 The 3 Floyd's Brewpub doesn't take reservations, so our group of 16 had to wait a while to get a table. I recommend bringing snacks and a deck of cards to keep you entertained while you wait. Although they sell beer to-go, they are very strict about NO DRINKING in the parking lot while you wait, since it violates Indiana Law.
The beer list at the Brewpub was impressive! In addition to their own hard-to-find beers (yes, they have Zombie Dust on tap!), they have a huge list of beers from other breweries. I love sour beers, so I was excited to try their Icelandic Pants of the Dead, a super sour ale that I'd never seen before. They also had Sour Bikini from Evil Twin (one of my favorites) and Triton Barn Phantom Gose (delicious and on the lighter end of sours). For those looking to try a bunch of 3 Floyd's beers, they offered a flight including Yum Yum, Alpha King, Gumballhead, and Arctic Panzer Wolf.
The food was stellar as well. The fried cheese curds were a great take on a classic, fried in tempura with pickled ramps and a kimchi aioli. The vegetable pizza was big enough for two (or three!) and had pickled corn and IPA-poached Brussels Sprouts leaves. I had their burger, which was topped with maple bacon and a tomato jam. After biking all morning, we devoured their delicious food!
Getting Home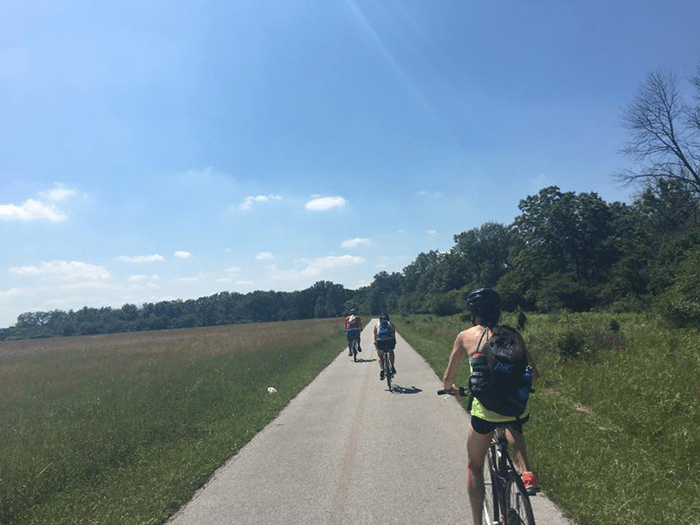 If you don't want to bike another 36 miles home, you can cut your ride short by riding about 12 miles to the Metra stop either at Flossmoor or Homewood (they're about equi-distant from the pub). Although our map led us to Flossmoor, we actually rode along the Thorncreek Trail and up to Homewood. It's a gorgeous, well-paved trail through the woods, along the river, over impressive bridges and was a welcome relief from the side of the road. Make sure you download the Ventra App before you leave home so that you can buy your Metra ticket from your phone. The Metra will drop you back off at Millennium Station, where you can ride your bike home or hop on the L.