Four Bike Security Innovations You Need to Know About
(Disclaimer: Kryptonite sent me some of their latest gadgets to test for this post and shared their extensive knowledge of bike security with me. As always, all opinions are my own.)
We talked about the basics of keeping your bike safe: buying the right lock and locking up properly. For gear nerds, or those of you still paranoid about your bike (me, and me), our friends over at Kryptonite have some awesomely cool new products to keep your bike safe.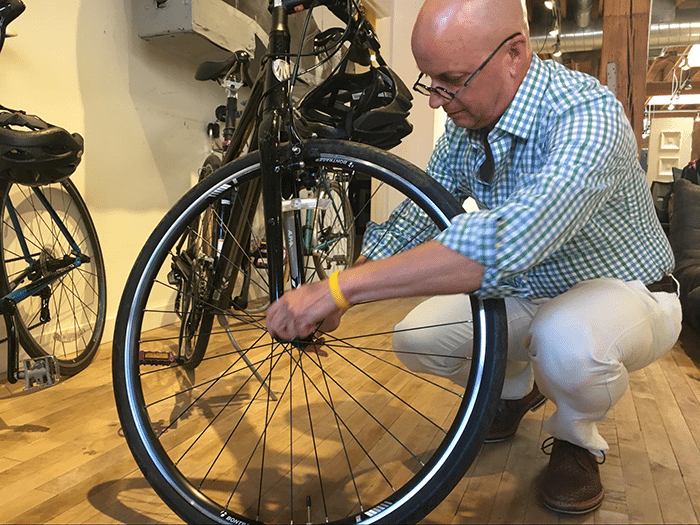 Anyone who has seen me lock up my bike has seen me fumble awkwardly to fit a wheel, frame and bike rack into a single U-Lock, along with the chain attached to my other wheel. When bike racks are all different sizes, and you're squeezing your bike between three others, it can be a frustrating task.
Enter WheelBoltz. A typical wheel can be released quickly and easily (especially my quick release front wheel). All it takes is the twisting of a lever, or maybe an allen wrench, and the wheel can be off in seconds. WheelBoltz harness the power of gravity to make it impossible to unlock the wheel while the bike is right-side up. In order to get the WheelBoltz (and therefore your wheel) off, the bike has to be flipped upside down. If your bike is properly locked to a bike rack, it's just about impossible to flip it upside down, keeping your wheels safe.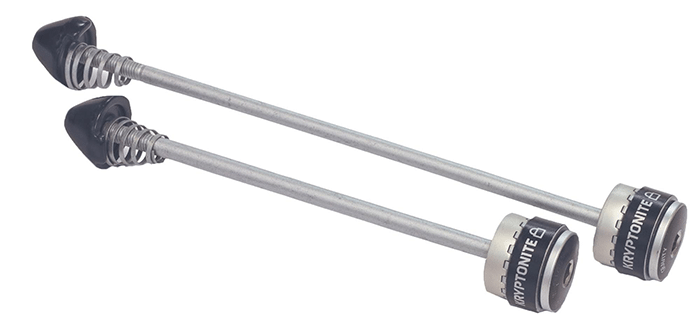 (Photo courtesy of Kryptonite)
Installation was quick and easy. I had a bike-loving coworker help me (thanks MP!) and he was able to install the front and back WheelBoltz in about 10 minutes. Kryptonite shared this installation video to show just how easy this is to do at home.
If you're still a bit worried about your wheels with the WheelBoltz, the Messenger Mini+ is another great way to get a tight-fitting lock-up without the struggle. The lock is similar to Kryptonite's other mini U-locks, but with a wheel extender that provides added security for your wheel.
You loop the extender around your wheel and then thread it through the U-lock before locking to your frame and the bike rack. It's quick and easy to use – making locking up a breeze. Keep in mind, it's about the same security as the EV Mini series (7/10) and might not meet your security needs in big cities like Chicago (where we recommend the New York Lock series).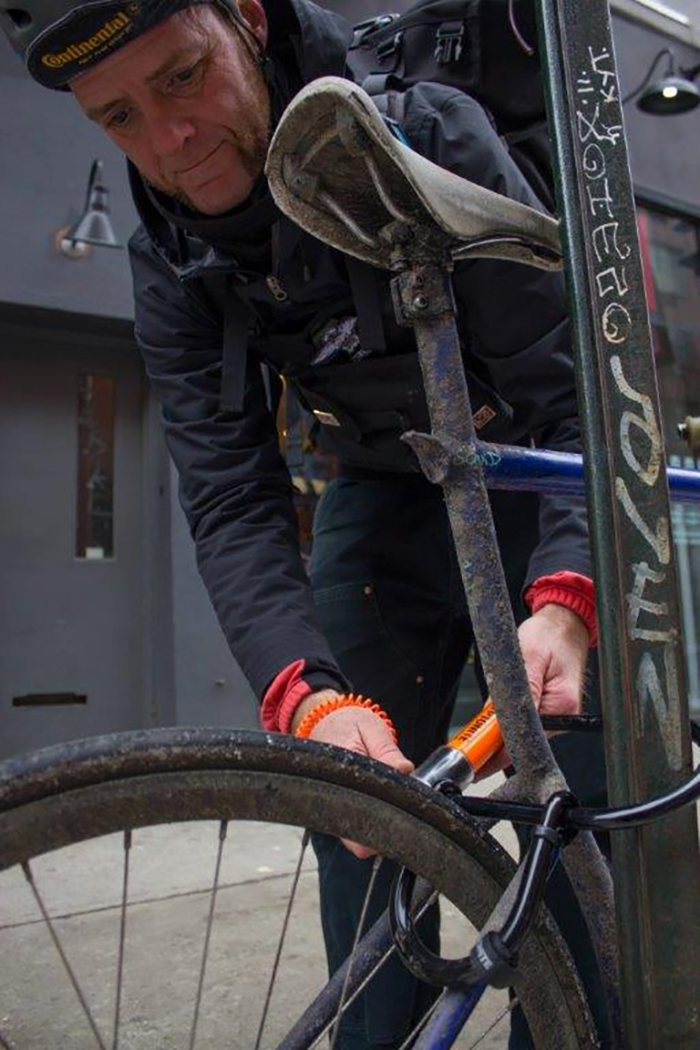 (Photo courtesy of Kryptonite)
One of the coolest services offered by Kryptonite is their Anti-Theft Protection Offer (ATPO). For any product over a rating of seven (orange or yellow U-locks and chains), ATPO is FREE for the first year, as long as you register online. After that, it's pretty inexpensive, and varies based on the type of lock, and they now allow you register for up to five years of coverage: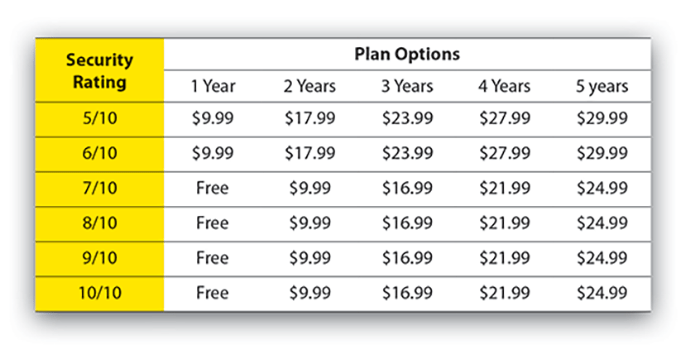 Once you're registered, ATPO will have your back if your lock is destroyed and your bike is stolen (if it was properly locked up). As long as you're registered, report the theft within 72 hours to the police, notify your insurance company (typically a homeowner's or renter's policy) and put in a claim to Kryptonite within seven days, they will reimburse the cost of your bike (up to a certain amount, which varies based on the type of lock). The good news is that they just increased the maximum coverage amount for many products and you can register and file a claim right on their website.
As soon as you get your lock home, head over to their website and register for ATPO for that extra sense of comfort when you're locking up your bike. Make sure you take care of it right away – you have to register in the first 30 days to be eligible!
You bought a strong lock and did a perfect lock-up job … so perfect that now you've lost your keys and your bike is locked in your bike room with no means of escape. We've been there. Kryptonite can help. When you get your new lock, immediately register it with Kryptonite on the website. Just in case, I also like to take a photo of my keys (more specifically, of the little numbers etched into the sides of my keys).
As long as you're registered, or know the number on your keys, Kryptonite can replace your keys when you get into the dreaded lost-key-situation. As a bonus, many of their products include their Key Safe Service, which means the first set of replacement keys is free. Breathe a sigh of relief.
If you didn't register your lock with Kryptonite and don't know the number on your keys, Kryptonite may be able to "re-key" the lock, for a small fee, if you're able to send the lock to them. Of course, if it's locked to your bike, in your bike room, there's not much they can do, and you'll still have to call either the fire department or a locksmith (sorry, Jeana!).