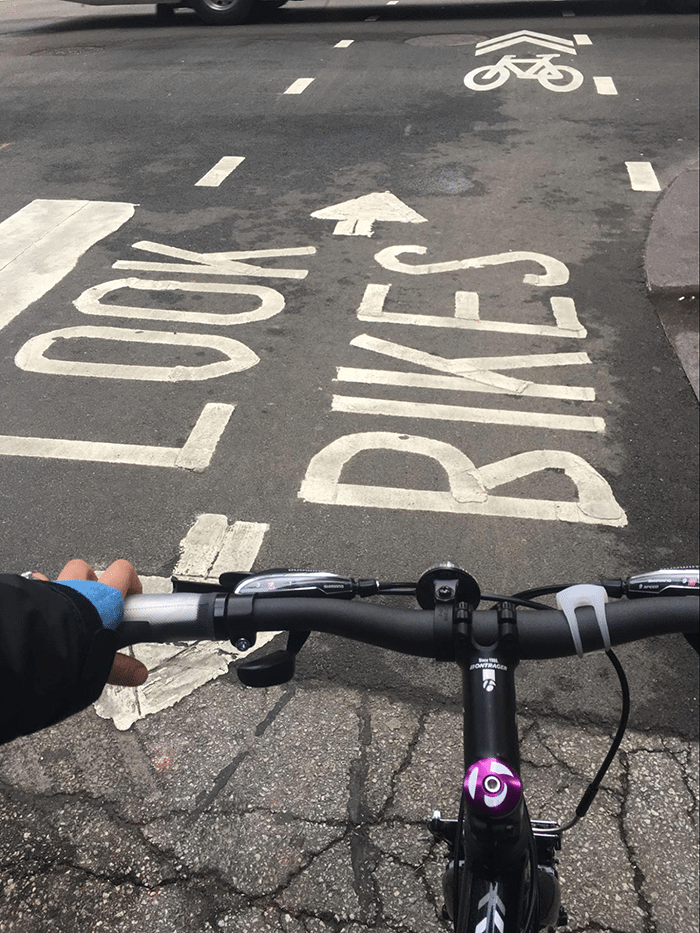 You just invested in a bike you love. You bought the right lock because you want to keep it safe. But if you're not using the lock correctly, it's all but useless. If you've spent any time walking around Chicago, you've seen this:
Where'd my wheels go?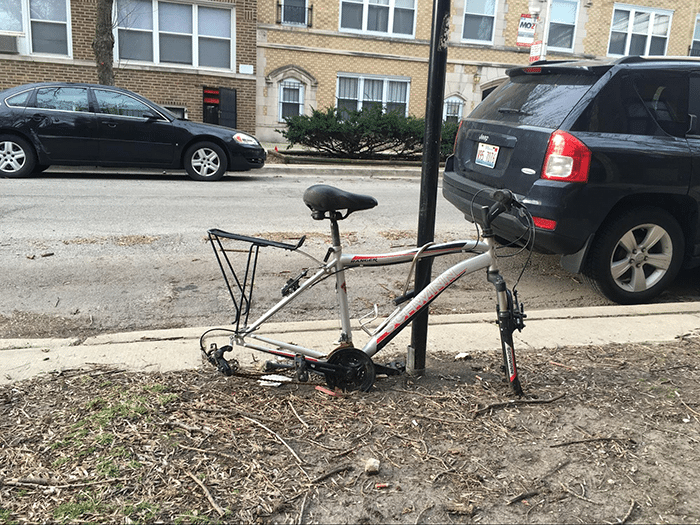 Or this: Lonely lock without a bike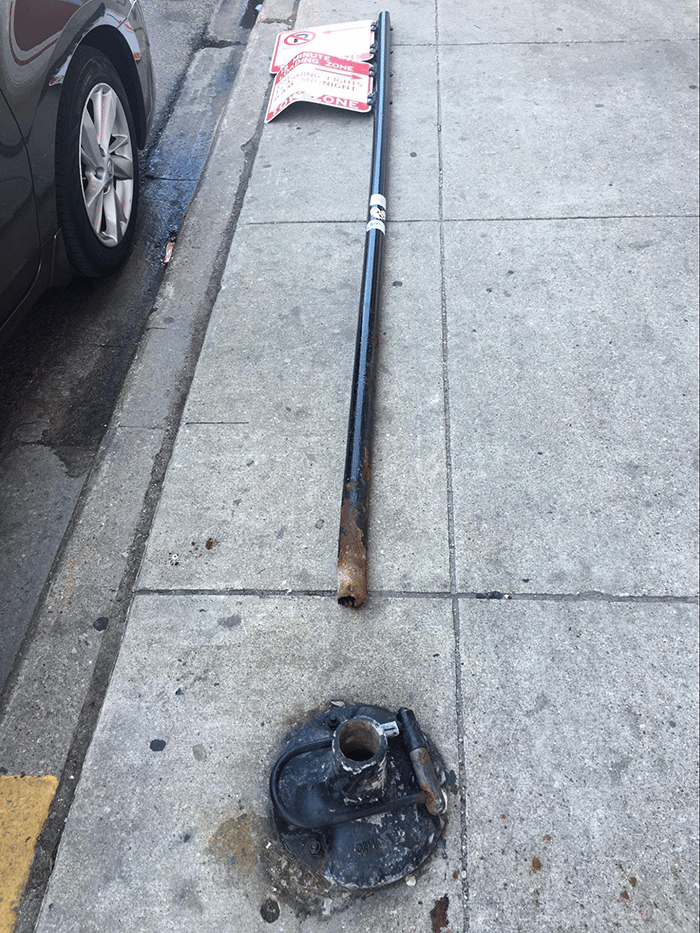 These folks had the best of intentions for protecting their bikes, but the wily thieves of Chicago outdid them. Don't be those guys. If you follow these simple tips and use your lock properly, you'll reduce your chances of that gut-wrenching feeling of returning to where you left your bike, only to find your precious baby gone.
ALWAYS lock to an immovable object that can't be cut
In the picture above, you can see that a sign post is NOT an immovable object. Many signs are not held all that securely into the ground, making it easy for a thief to pull the sign out of the ground, slip the pole out from your bike and lock, and take your bike. Scaffolding can also be taken apart with basic tools. Parking meters and smaller signs are even easier, as you can use a small step ladder to lift the bike and lock over the top of the sign, especially if you use a chain lock or a loose U-lock.
Make sure whatever you're locking to can't be cut. Although a tree is immovable, this lock-up, spotted downtown, doesn't meet the safety criteria: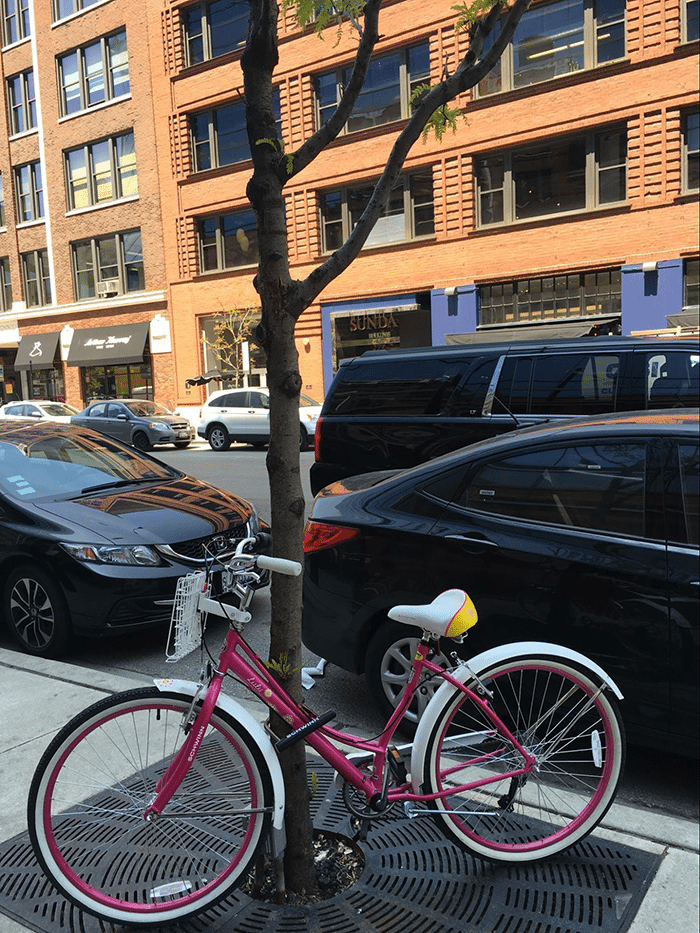 It's hard to believe, but there are actually videos of people cutting down trees to steal bikes. Super thin fences can also be easily cut with a saw to get your bike out.
So what is an immovable object that can't be cut? A bike rack! Chicago is awesome at putting bike racks just about everywhere. Even if you have to walk an extra block, you're better off locking your bike to one of these racks than just about anything else you can find.
Choose a well-lit, high traffic location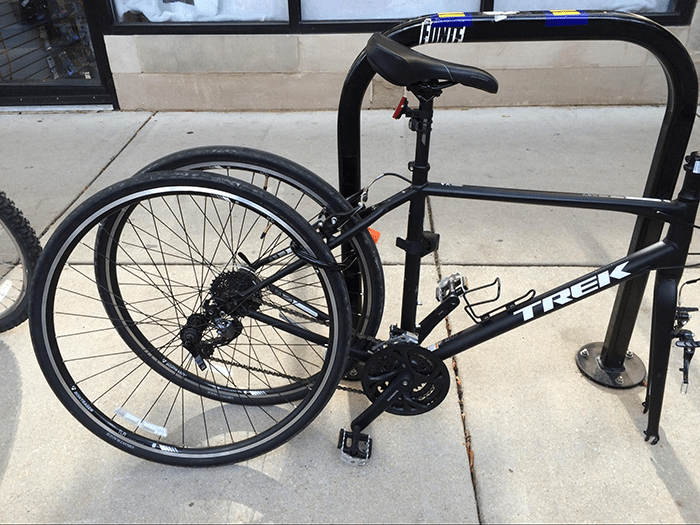 This may seem obvious, but an alley or a very quiet street is an easier place for thieves to take a bike than a very crowded street. If they're trying to cut a very secure lock (like the Kryptonite New York Lock), it's going to make a lot of noise and spark everywhere. If there are tons of people walking by, it's a lot less likely that they'll be willing to take that risk.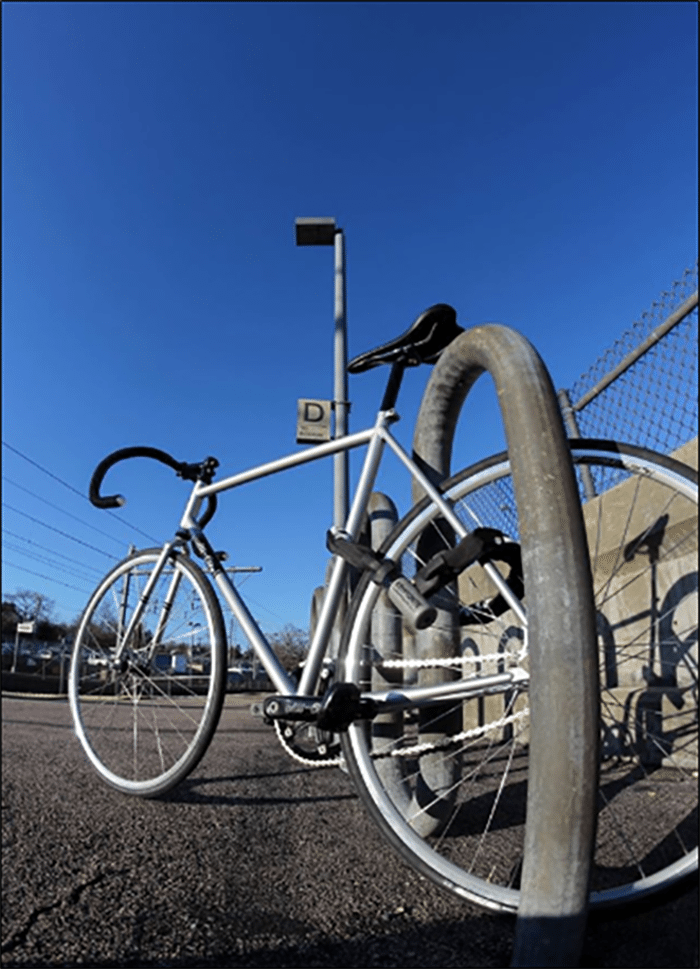 (Photo courtesy of Kryptonite)
Keep your lock-up tight and lock according to value
Although squeezing your tire, frame, and bike rack into a small U-lock can feel like a jigsaw puzzle at times, if you leave a lot of empty space in the center of the lock, it makes it easier for a thief to wedge something into the middle of the lock and break it.
Take up as much usable space as possible within the U-lock. Also, keep your lock off of the ground, or a thief could use a  hammer and blunt force to break it. Always face the key opening down to the ground. Lock everything according to value: 1. Frame, 2. Rear wheel (where your expensive gears are attached), and 3. Front wheel. That way if a theft occurs, you're minimizing the cost of replacement. I like to use a double loop cable to capture my front wheel and the U-lock to connect my back wheel and frame to the rack, as the cable is only a deterrent and should never be used as your primary lock (it is much easier to cut). Make sure the U-lock is what's attached to the bike rack, and never the cable! My husband likes to quick release his front tire and lock both tires and the frame through a single U-lock and then to the rack, but this is a matter of personal preference.
For more information on locking up your bike check out these videos from our friends at Kryptonite: