Should You Try Electro-Muscle Stimulation?
Every year brings the rise of new fitness trends — we've seen it before with indoor cycling, Pilates, and countless other modalities. As we move further into 2023 and people are more technology-obsessed and leading busier lives that ever before, there's a new workout well-positioned to make waves in the fitness industry — EMS, short for electro-muscle stimulation or electrical muscle stimulation. 
The founding of EMS dates back to the 1960s, but with recent technological advances and celebrities like Chrissy Teigen and Jessica Alba digging the workout, it's on the rise in popularity.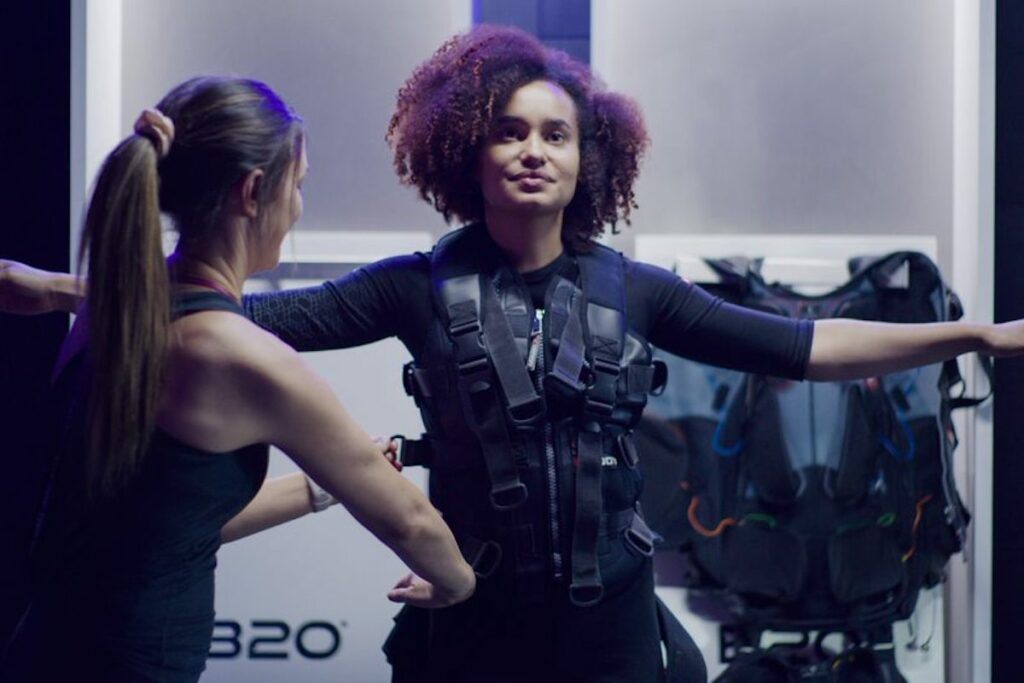 So, what is EMS?
EMS involves wearing an electro-muscle stimulation suit, outfitted with electrodes that send electrical impulses to contract muscle fibers all over your body.
"Electro-muscle stimulation essentially takes your brain out of working out," says Christopher Pena, president of BODY20, a leading EMS franchise in the United States with 100 locations slated to open by the end of 2023. "Instead of relying on your mind-to-muscle connection, which is strengthened through years of discipline training and correct form, our wearable technology mimics the brain's natural action potentials, sending signals deep into the tissue of your body's skeletal muscle the way your brain does, allowing you to train to your maximum potential."
At EMS studios like BODY20, you're paired with a certified personal trainer who puts you through a customized one-on-one program designed to meet your fitness goals. The exercises you may experience during a session are familiar, like squats, lunges, and bicep curls, but the high-tech suit amplifies the intensity of each move by stimulating more muscle fibers. Because a typical EMS workout gives your body over 150 times more muscle contractions than a conventional workout, sessions are only 20 minutes.
"It's an ideal workout for someone who needs a little guidance when it comes to fitness but doesn't have time for a conventional personal training or group fitness session," says Pena. "Plus, anyone who lifts weights at a big box gym during January and February knows you can wait awhile for various machines and equipment, drawing out workouts longer than they need to be."
The benefits of EMS
Along with efficiency and one-on-one attention, EMS can help decrease pain, maintain and regain muscle activity, and according to the European Journal of Applied Physiology, build muscular strength. However, most experts, including the FDA, have found that EMS packs the most punch when done in combination with other fitness practices.
The FDA notes: "Stimulating muscles repeatedly with electricity may eventually result in muscles that are strengthened and toned to some extent but will not, based on currently available data, create a major change in your appearance without the addition of diet and regular exercise."
Pena adds that many BODY20 members still practice a traditional cardio regimen but use EMS as a replacement for traditional weightlifting.
The best part of EMS is that it's accessible for all ages, fitness levels, and body types because it's low impact. Since the workout places the load directly on muscles using your own muscle fibers, everyone is pushed to their maximum ability.
"My favorite thing about the concept is we may have a pro-athlete working out next to a 60-year-old woman at the exact same time," says Pena.
However, while most people can benefit from EMS, the FDA recommends individuals with a defibrillator or pacemaker steer clear, as well as those who are pregnant.
Photo courtesy of BODY20