8 Apps for Personal Trainers
Being involved in the fitness community in Chicago is amazing, and sometimes there are fitness enthusiasts who want to get a little more involved.  That's how I felt. That interest pushed me to want to get certified as a personal trainer. That led me to getting certified through the National Academy of Sports Medicine (NASM) and was able to take this on with the help of aSweatLife.  
Once I got certified, there were questions I had, such as how to get started as a personal trainer and whether group fitness training was right for me.  Luckily, the training community is so supportive, and there are always people willing to share their knowledge and point you in the right direction—which, in this case, was towards the App Store, to download apps for personal trainers. 
Whether you are getting started or have been training for years, training through a big fitness studio or taking the route of being your own boss, there are some apps available that may help in the journey and make the process of training a bit easier. Here are eight apps for personal trainers to use for music, training, administration, and more.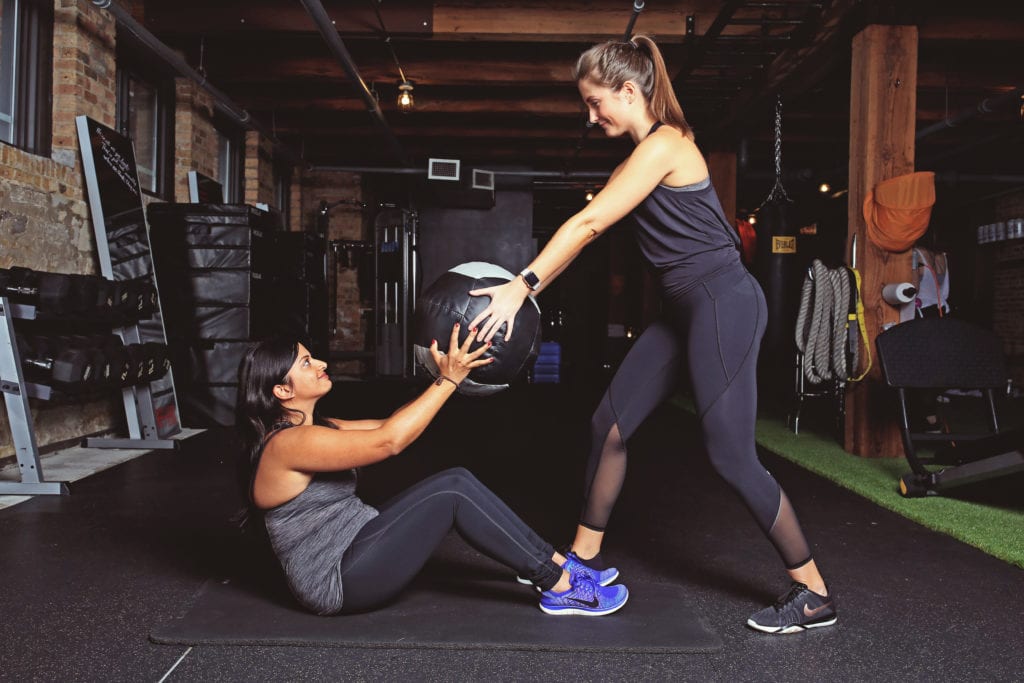 Music
Fit Radio is a great app that hosts a lot of great music as well as workouts.  It makes staying motivated during a tough workout easier. You can select music based on genre and tempo as well as mixes by DJs. Besides the regular music, you can find cardio and strength workouts. You can have a great pump-up playlist as well as do a workout for yourself once done training! 
Spotify is used by millions worldwide for music, but there are a few benefits specific to personal trainers that make this app a must-have.  There is a lot of music available, and you can also select music based on bpm (beats per minute) or select a style of workout and the music will flow.  You can also create playlists and make them public, so the music from a specific class or session can be shared with your clients. I look back at some classes and wish I had the music from it, so this is a great opportunity for that.
Timing and intervals
Gymboss, available for both Android and Apple users, is an extremely handy app too.  This timer app helps with setting up intervals that are great for Tabata workouts, circuit training, boxing and anything else in between.  You can set the intervals, how many rounds and shows you the length of the workout. It makes keeping track of time and staying on pace a lot easier, which is especially important if you also work in group fitness and need to adhere to a tight class schedule.
Workouts and progress
Google apps, which would include Sheets and Docs, are great.  I have some templates I use in spreadsheets that track a client's progress.  Week over week, I write down the exercises and the weights to track progress.  This system isn't fancy, but it is an easy way to have a visual for ourselves that the clients can also view.
Strong is available for both iOS and Android.  It's a simple way to track your workouts with exercises, repetitions and weight.  Clients are also able to see the progress they have made with what has been input into the app.
Booking classes
MindBody is great for clients and businesses. I have used the apps from both sides.  I have been a client scheduling or booking a session and now also use the business side of it to schedule personal training sessions and group fitness classes.  You can have your business info on there and include payroll, client info, calendar for booking unavailable time as well as sessions.
Your Calendar app on any phone is one of the easiest apps anyone can use and all phones come equipped with it.  If you aren't ready to start spending additional on other programs or applications, this is a great start.  You can add your trainings and when and where you are teaching classes. You can also add your clients to the invite so they also have it in their calendar and everyone is in sync.
Communication with clients
Connect is an IOS app for those times we want to send the same message to a group of clients but don't want to send a group message or text because then everyone receives the responses.  This app removes the inherent "reply all" bug that comes with a traditional group text. Contacts can also be organized by groups and people can be added or removed from them. It's an easy way to maneuver and communicate with a lot of people.  
As technology evolves and more apps keep developing, there will be more tools that will make training even simpler.  This is an evolving field and there's always learning to be done. But it's exciting too because the impact you can make with people is great.  These tools will just keep adding to the experience. Do you have some apps for personal trainers that you use that make training easier or just make your life easier as a trainer?