Why You Should Add Mat Pilates to Your Fitness Routine
Just a few years ago, Pilates experienced what the media dubbed the "Pilatespocalypse."
Interest in this more traditional workout style (which rose to fame in the '90s when celebrities started doing it) waned as other, trendier types of exercise like barre, boot camp, indoor cycling, and CrossFit soared in popularity during the boutique fitness boom.
But things have swung back the other way recently — and Pilates is currently enjoying quite the resurgence.
As reported in the New York Times over the summer, "thanks in part to the pandemic, many people's exercise priorities have shifted from intense, calorie-burning workouts to activities that also foster a mind-body connection."
And per the International Health, Racquet & Sportsclub Association, Pilates is currently the most popular gym activity for women.
The most common (and easily accessible) type of Pilates is done on a mat — although some Pilates workouts also incorporate exercise equipment, like reformer machines and chairs.
If you're ready to get back on the mat, we've put together this guide about what to expect from a mat Pilates class and the differences between mat Pilates vs. reformer Pilates. Your core is in for a treat.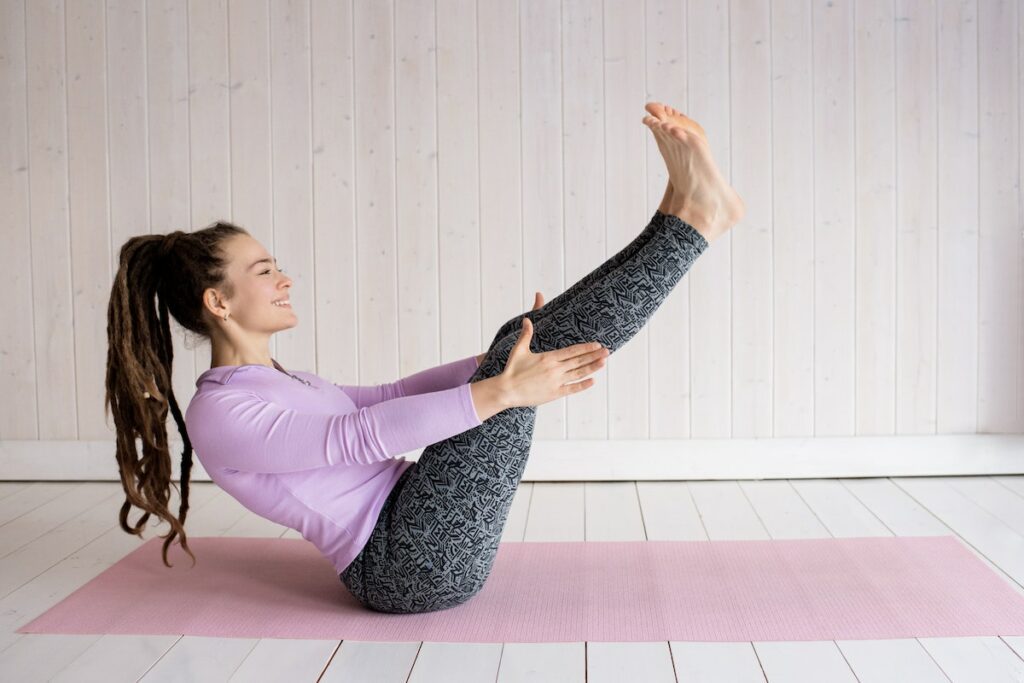 What to expect from a mat Pilates class
"Pilates is a combination of low-impact exercises that focus on strengthening the core by utilizing stretching and breathing techniques," explains Lynette Pettinicchi, founder of Hellgate Pilates in New York. "You'll sometimes hear it referred to as a modality that lengthens and strengthens."
During a traditional mat Pilates class, you'll perform core strengthening and stability exercises and exercises that help improve your body's mobility, says Tina Di Leo, founder of Body Barre Fitness & Training Studio in Ontario.
You'll concentrate on mastering the proper form and technique of each traditional exercise and learn how to breathe properly, adds Di Leo. You'll also engage the deepest layers of your abdominals (your transverse abdominals).
"Moving with a flow similar to yoga, the traditional Joseph Pilates mat work was meant to be done in order and as a continuous flow of one exercise that ties into the next," says Di Leo.
The benefits of mat Pilates
"Pilates has a multitude of mind and body benefits," notes Pettinicchi. She says strengthening your powerhouse — the group of muscles that include your upper and lower abdominals, glutes, lower back, and hips — can help:
Improve posture
Reduce lower back pain
Improve balance and stability
Increase sports performance 
Reduce injury risk
Promote better sex
Increase flexibility
Keep your inner organs and central nervous system in place
Improve focus and concentration
And the science is there: Studies suggest Pilates can help improve muscle endurance and flexibility, ease chronic pain, and even reduce anxiety and depression.
Of course, it's important to note that Pilates isn't a cardio workout and that it really won't help you build muscle the way strength training will.
Mat Pilates vs. reformer Pilates: What's the difference?
"Mat Pilates is done on the floor — usually on a Pilates mat, which is a little thicker than a yoga mat and uses your body weight," says Pettinicchi. "It's also considered the true foundation of Pilates."
Reformer Pilates, meanwhile, "is done on an apparatus designed by Joseph Pilates that was originally created to help rehab the body," explains Di Leo.
The reformer "is a machine that utilizes springs for added resistance and tension and has many attachments including a jump board," says Pettinicchi. "You're on an elevated surface, and exercises can be done sitting, lying, standing, kneeling on the carriage, or on the side of the machine."
Di Leo says reformer Pilates is a great place to start for beginners who want to get into a fitness routine because it's low-impact on the joints, strengthens and stretches the body by using straps in different ways, and comes with a lot of variety in how you can change each workout.
Mat Pilates, on the other hand, "is very core-centric — and that can be tough because the core fatigues quickly," says Di Leo. Mat Pilates is also usually done at a slower tempo, which can make it challenging to keep your core engaged, she adds.
Before you rush to book a reformer Pilates class, though, know this: "Mat work is essential to know because it improves all aspects of day-to-day living and will help you in other classes such as reformer Pilates," says Di Leo.
Plus, mat Pilates is a better option if you have injuries or back pain. "In mat work, we teach you how to engage your core and how to create stability in your pelvis, low back, and shoulder girdle, which helps prevent injuries in the future."
Is one type of Pilates more challenging than the other?
"Both can be equally challenging depending on the lesson plan and teacher," says Di Leo. Pettinicchi says she finds mat Pilates to be more challenging than reformer classes because you're not relying on springs or outside resistance.
"Mat Pilates is just you and your body weight," she says. "It also forces you to be more in tune with the six Pilates principles since you're not being assisted by any facets of a machine."
The bottom line on mat Pilates
Not sure if you should continue with mat Pilates after your first class? Pettinicchi urges you to stick with it. "The first class may be both physically and mentally challenging," she says, "but the more you practice, the stronger you'll become, and the better — and stronger — you'll feel."
The bottom line: "It really helps you get stronger from the inside out and builds a solid foundation that will carry with you throughout whatever activity you do," says Di Leo. "Mat Pilates is a safe, effective, and sustainable form of fitness that will just make you feel better in your body each and every time you do it."