Our Digital Workout Schedule for the Week of April 13 – Presented by Lifeway Kefir
(Disclosure: The post and digital workout schedule were created in partnership with Lifeway Kefir. As always, we only work with brands we truly endorse.)
We're entering our fifth week of creating experiences in a digital world. Each week, we learn something new and bring new friends along for the journey. Because #everythingisbetterwithfriends.
And this week, we're partnering with Lifeway Kefir, a company committed to being the best in probiotic and nutritious foods. And we're so very grateful to our partners there for the exciting and extensive partnership this week.
What we're serving up this week is a mix of workshops built to give you knowledge, workouts meant to bring you joy, and social moments to create connection. Grab your Lifeway Kefir (here's a digital coupon), let's go!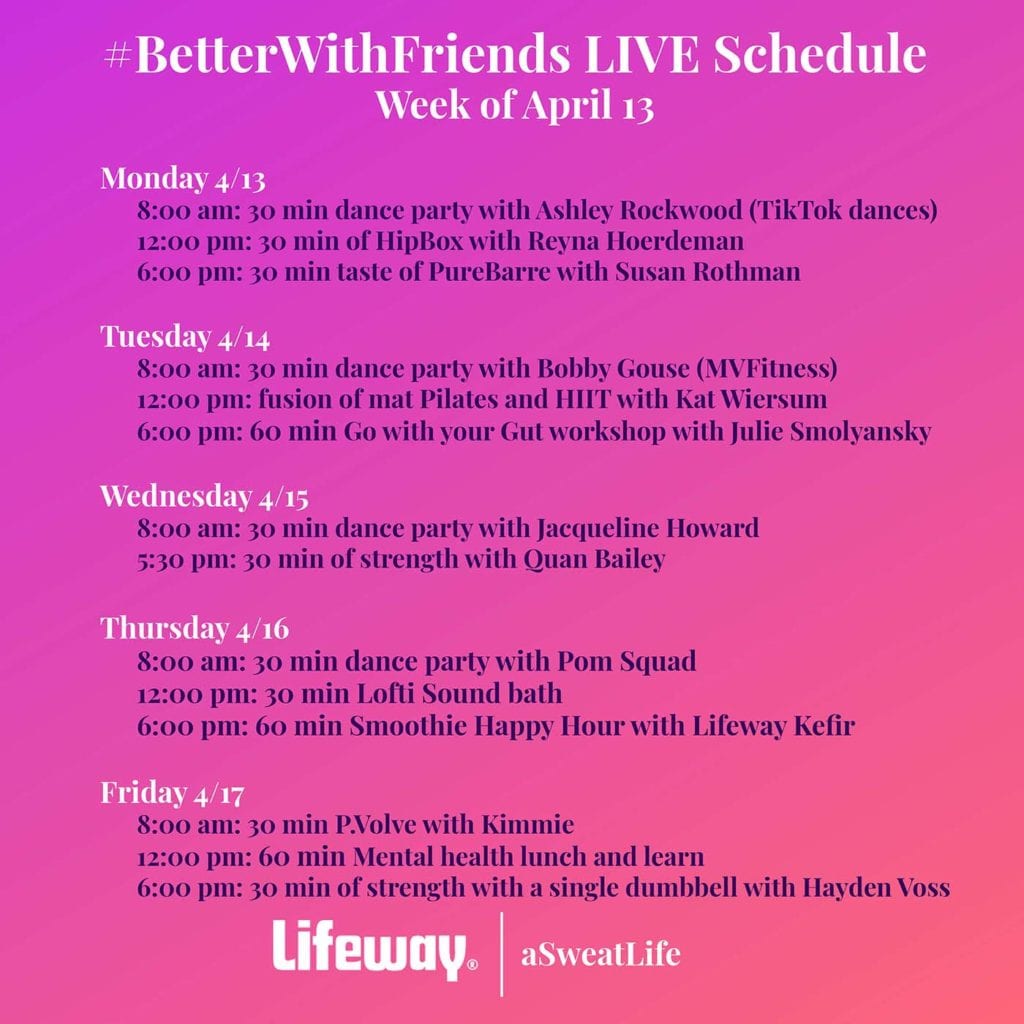 Two complimentary workshops, thanks to Lifeway:
Tuesday April, 14, we'll take on a workshop on the gut! This workshop will feature Julie Smolyansky, the CEO of Lifeway Kefir who was the youngest woman to lead a publicly-traded company. #goals We'll cover your gut's health as well as the gut's other job – serving as your "second brain." This workshop will take place on Zoom. Sign up and read more here.
Friday April, 17, we'll have a lunch and learn built around managing your mental health. This will be led by Center, an integrated private practice offering diverse individual psychotherapy practices, group therapy, sport psychology and yoga. This workshop will take place on Zoom. Link to sign up coming soon.
A complimentary social opportunity, thanks to Lifeway!
Thursday, April 16, we'll have a smoothie social hour when aSweatLife and friends make their favorite smoothies and chat about our favorite ingredients, our days, and what's good! This social hour will take place on Zoom. Sign up and read more here.
And we'll have lots of ways to work out!
This week, every day will start with something we wanted to do for the simple joy of it: dance parties. Monday through Thursday at 8 am CDT, we'll start the day with a dance format to get the wiggles out, to sweat, to smile and to laugh. On Friday, we'll have P.Volve in place of dance, but we can guarantee a party. You'll also find plenty of other ways to get stronger and work up a sweat with lots of instructors and business owners we love.
All workouts take place on Facebook LIVE.
Monday 4/13
8:00 am: 30 min dance party with Ashley Rockwood (TikTok dances)
12 pm: 30 min of HipBox with Reyna Hoerdeman
6:00 pm: 30 min A taste of PureBarre with Susan Rothman
Tuesday 4/14
8:00 am: 30 min dance party with Bobby Gouse (MVFitness)
12:00 pm: 30 min fusion of mat Pilates and HIIT with Kat Wiersum
6:00 pm: 60 min Go with your Gut workshop with Julie Smolyansky [sign up here]
Wednesday 4/15
8:00 am: 30 min dance party with Jacqueline Howard
5:30 pm: 30 min of strength with Quan Bailey

Thursday 4/16
8:00 am: 30 min dance party with Pom Squad
12:00 pm: 30 min Lofti Sound bath built around gratitude
6:00 pm: 60 min Smoothie Happy Hour with Lifeway Kefir [sign up here]

Friday 4/17
8:00 am: 30 min P.Volve with Kimmie
12:00 pm: 60 min Mental health lunch and learn with Center [sign up here]
6:00 pm: 30 min of strength with a single dumbbell with Hayden