Brands Like Lululemon Are Entering the Beauty Space—Here's Why
If you feel like you can't go a day without seeing an ad for another new beauty product, you're onto something. The United States leads the world in revenue for cosmetic and personal care products, so it makes sense that brands would want to capitalize on that by releasing new moisturizers, lipsticks, and deodorants every chance they get. Now, companies outside the beauty space, like Bumble (yes, the dating app), and Lululemon (known for bringing athleisure to the masses), are entering the game too.
(Check out our Beauty gift guide here for extra gift inspo this holiday season!)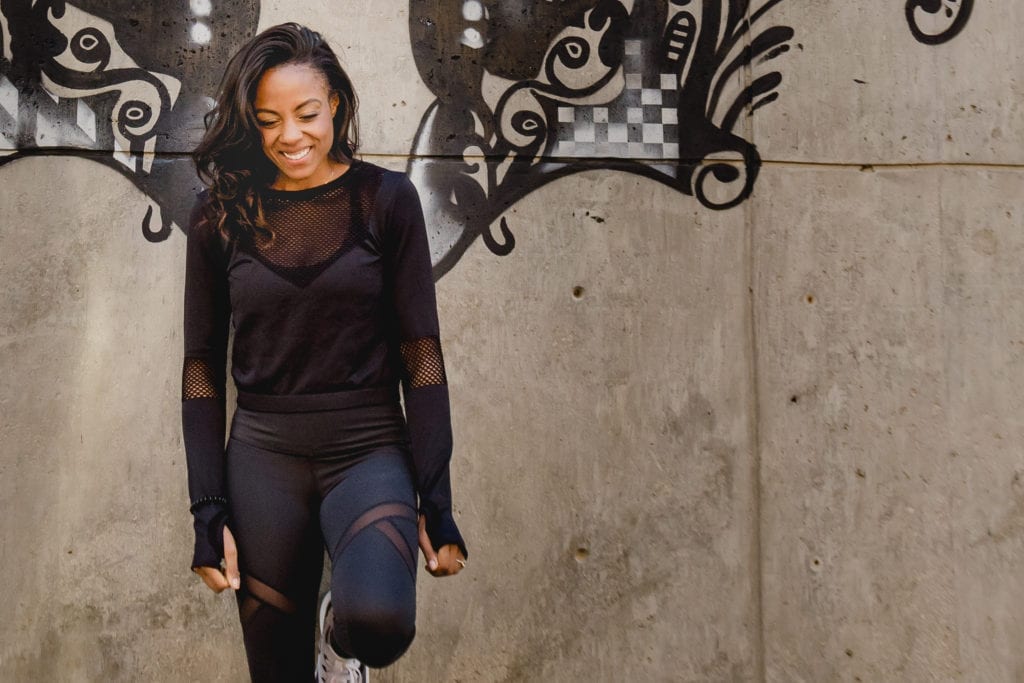 In September, Bumble CEO Whitney Wolfe Herd told Marie Claire that the dating app has been working for months with psychotherapists and dermatologists to develop serums that address skin care and emotional issues. One serum would be called "Break Up with Bad," targeting "breakups and breakouts."
Meanwhile, in October, Lululemon dropped a line of self care products dubbed "Solutions to Sweaty Problems." The collection (which is currently only available at stores in three test markets: Chicago, Toronto, and Orange County) features deodorant, dry shampoo, lip balm, facial cleanser, and moisturizer (in essence, everything you'd need in your gym bag for a post-workout refresh).
These days, many companies see themselves as lifestyle brands, says Daniel Levine, trends expert and keynote speaker. So it's definitely not unusual that Bumble and Lululemon would try their hand at beauty. Lululemon in particular is a no-brainer, since their CEO, Calvin McDonald (who started in August), previously was the president and CEO of Sephora's Americas division, says Sonia Summers, founder and CEO of Beauty Barrage.
Bumble and Lululemon are smartly targeting their core demographics with their expanded offerings. "These companies know who they are," says Summers. "For Lululemon, it's natural, it's wellness, it's healthy. For Bumble, it's breaking up and having fun."
Most of the users on Bumble, which only permits women to start conversations on its app, are in the 18-29 age range. This is a time in life when breakouts—and breakups—are pretty common. Summers says it's likely Bumble used the data on their customers and determined that this is the age when they're acne-prone—and that's why they decided to formulate a serum that addresses this skin problem. "It's genius," says Summers. While Bumble's product line might sound a little gimmicky, that's not necessarily a bad thing. "It's a fun thing to read about, hear about, and maybe even have on your shelf," says Levine.  
As for Lululemon, "their customers want clean, they want organic, they want products that work and make them feel good," says Summers. "It's about wellness." The Lululemon line is made from clean ingredients and free of gluten, parabens, and sulfates.
Lululemon even assembled a team devoted solely to self care, says Courtney Clinkert, Lululemon's Chicago local storyteller, who tells us "the team got athletes together and asked what sweaty problems they have." One issue that came up: Many fitness instructors said it was impossible to wash their hair when they had to teach six classes in a day, says Clinkert. And so dry shampoo became part of the self care collection. The dry shampoo is proving to be super-popular with customers, says Clinkert, whose personal favorite is the facial cleanser that doubles as a face mask. "It feels so good," she says.
Athleisure-inspired beauty is something of a trend itself, another reason why it was natural for Lululemon to expand into this arena: In 2016, Birchbox launched Arrow, a line of skin care, makeup, and body products inspired by the athleisure trend; In 2017, Clinique debuted CliniqueFit, a collection of skin care and makeup for fitness enthusiasts.
Bumble and Lululemon aren't the only companies to start in one siloed area and veer into beauty. "Nobody blinks an eye any more that most fragrance brands are fashion brand extensions," says Levine. "Christian Dior was a great fashion designer, but he wasn't an expert on creating perfume compositions."
Outside of the beauty industry, Levine points to BMW, which extended from cars to skateboards; Jacuzzi, which extended from hot tubs to kitchen sinks; and Virgin, which extended from records to airlines, mobile phones, and more, as other examples of companies that have successfully expanded their product offerings.
When breaking into the beauty space specifically, "the hardest part is building a community," says Summers. "Everyone has the great ideas, but if you don't have a customer, you don't have anything." Summers says companies like Bumble and Lululemon have a leg up over new brands that don't have that built-in name recognition.
"It's almost a perfect union if you ask me," she says. "You already have your community—you just have to make sure that whatever products you're going to roll out are good products and that you're not going to ruin your reputation with bad products." (To give you a sense of how well-known they are, Bumble has more than 22 million registered users and Lululemon has 2.6 million followers on Instagram.)
So what comes next? According to Marie Claire, Bumble's skin care line should be available sometime in 2019. Lululemon's self care collection will remain in stores in the three test markets, then will be pulled from shelves while the company mulls over how the line did and decides whether to offer it in more stores and/or online.
The bottom line: Only time will tell if Bumble and Lululemon's beauty ventures are successful, but both companies seem to have put a lot of thought into creating products that resonate with their target audiences. "Conventional wisdom says you're more likely to succeed if there's a perceived good fit," says Levine.