The Definitive Guide to Which lululemon Leggings are Best for Your Workout
For as much time we spend in our leggings, somehow, lululemon's offerings still confuse us. And is it that much of a surprise? Online alone, the brand has over one hundred different legging options — that doesn't even include color differences.

Considering that a pair of new lulu's can cost just as much as an expensive pair of jeans, we figured that there had to be a method to the madness – and we were right. The helpful staff at Manhattan's Fifth Avenue confirmed that each pair was actually designed with a specific activity level in mind. Luckily for you, it's a bit easier than remembering over hundred vaguely fitness-themed names like Align and Inspire.

The intended use of any given pair of lululemon leggings is determined by its fabric, according to the New York-based store educators. All of the options are good for sweat, but some are much better equipped to withstand excessive impact and friction. Certain fabrics – like the Luon – are perfect for a low-impact workout like yoga or barre, while others – like the Luxtreme or Everlux – are designed to keep up during a long run or CrossFit class.

It's easy to write off, but according to our friends at lululemon, interchangeably using the fabrics at different workouts can actually cause your pants to break down faster than they ordinarily would have. For example, a pair of leggings designed for a yoga class will wear out much quicker if you start regularly wearing them to your spin classes, too. Wearing them to the wrong class can be as detrimental as throwing them in the dryer or forgoing a wash after a few wears.

Next time you're shopping at a lululemon, take a look at the style tag. The fabric should be listed prominently. Many of their most popular styles – think Wunder Under – come in all the different fabrics (like Luon vs Luxtreme), so once you find a style you like, pick the fabrics that best suits your workout needs.

Here's a cheat sheet for all of lululemon's legging fabric, organized by their ideal studio environment.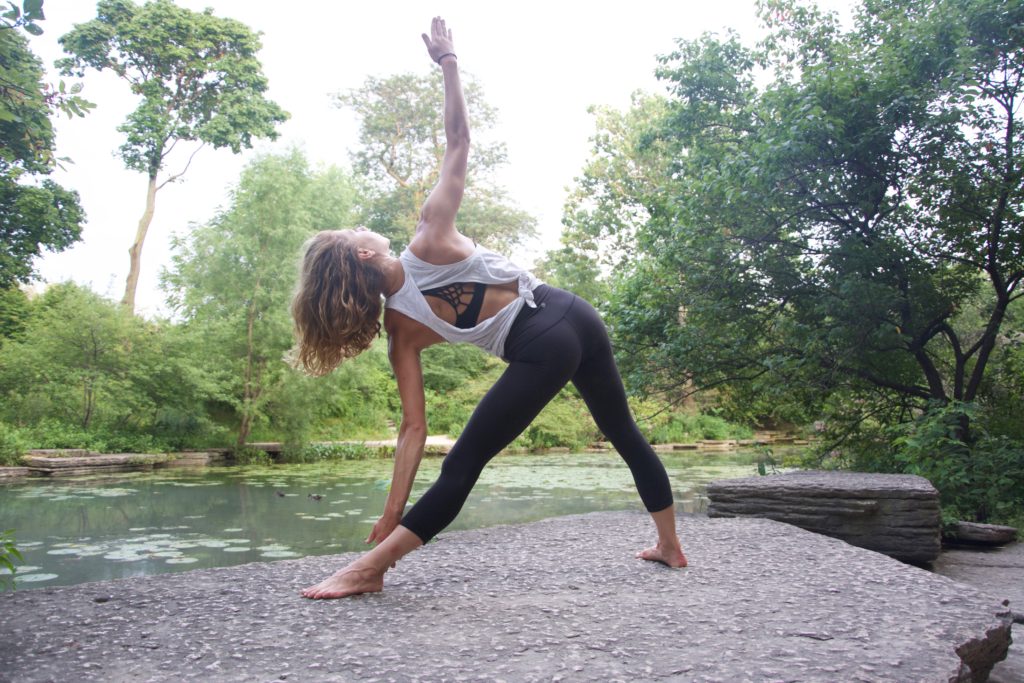 Yoga, Barre, Pilates
Luon
Think of Luon as the perfect option for a hot yoga class – it's thick enough to keep yourself tucked in during inversions, but breathable for when the temperature gets high. It boasts a four-way stretch that adapts to your curves and snaps back into shape when you take them off.
One thing to note here is that Luon comes in four different versions: Seriously Light Luon, Light Luon, Luon and Full-On Luon, ranging from thinnest to thickest. Lululemon recommends this fabric for non-friction activities, like yoga or barre.
Nulu
Imagine you're wearing your favorite pair of tights in the winter. Ideally, halfway through the workday you've nearly forgotten you're wearing them, right? That's Nulu. Just like Luon, these are intended for lighter-impact workouts, but unlike the Luon, they have less compression qualities and are more non-restrictive.
Spin Class, Running, Dance
Nulux
Are pants a major downside to leaving your apartment? You'll probably love lululemon's Nulux, which are designed to be "next to naked'' and have fast-wicking technology so you won't feel like you're working out in a puddle of your own sweat (apologies for the visual, but let's be honest – we've all been there).
Nulu and Nulux have a lot in common, but your Nuluxes are designed to handle a little more impact than your Nulus. Take these to a spin class and be confident your tap backs won't wear the seat out faster than you'd like.
Everlux
Think of Everlux as a souped up version of Nulux. Everlux leggings have the same sweat-friendly qualities – quick-drying, wicking, and stretchy – but this newer fabric adds a few more extra features to help you through a particularly hot cardio session. Everlux advertise itself as a double-knit fabric, which makes it easier to wick away sweat and provide coverage. Bring these along for your summer long runs and 60-minute spin classes.
CrossFit, HIIT, and BootCamp
Luxtreme
For the most intense workouts, lululemon recommends the Luxtreme, their most intense fabric. This fabric promises a second-skin fit that supports your lower-half during your most demanding training sessions. Luxtreme comes in three different thickness levels – light, regular, and full-on – to match the warmth you're hoping to achieve. For example, an outdoor boot-camp in the fall may require the full-on Luxtreme, whereas an indoor CrossFit class in the summer would be best for the light Luxtreme.