Gift Guide #2: Beauty + Glossier and Scratch Goods Giveaways! [CLOSED]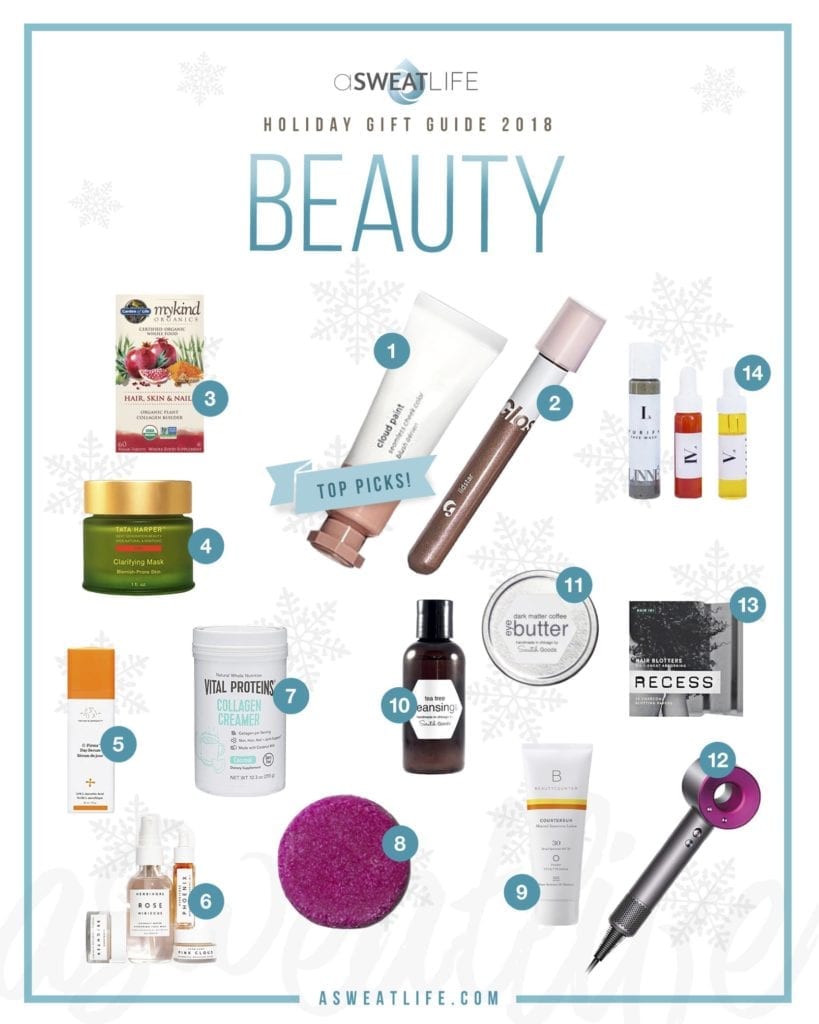 1. Cloud Paint, Glossier, $18 2. Lid Paint, Glossier, $18 3. mykind Organics Hair, Skin & Nails Collagen Builder, Garden of Life, $23.79 4. Clarifying Mask, Tata Harper, $68 5. C-Firma Day Serum, Drunk Elephant, $80 6. Hydrate + Glow Natural Skincare Set, Herbivore, $39  7. Coconut Collagen Creamer, Vital Proteins, $29 8. Shampoo Bar, LUSH, $11.95 9. Countersun Mineral Sunscreen Lotion, SPF 30, Beautycounter, $39 10. Tea Tree Cleansing Oil, Scratch Goods, $16 11. Dark Matter Coffee Eye Butter, Scratch Goods, $22 12. Supersonic Hair Dryer, Dyson, $399 13. Hair Blotters, RECESS, $10 14. Face Kit I, Linne Botanicals, $50
Is it just us, or is beauty one of the absolute most fun categories to shop, whether it's for a bestie, a mother-in-law, or (admit it) yourself?
There are so many beauty products out there that it can be hard to know what's tried-and-true, what's a good value, and what your lucky recipient will actually love versus what ends up forgotten in a dark corner of the bathroom cabinet.
Luckily, that's what we're here for — to take on that *incredibly difficult* task and share our verified, bona fide, we-would-stake-our-LIVES-on-these-products guide to the best gifts in beauty.
Let's start from the beginning. The first thing you do every morning and the last thing you do every night (or at least, in an ideal world) — take care of your skin. Editor-in-Chief Kristen stands hard for the C-Firma Day Serum from Drunk Elephant, which she swears energizes her skin and brightens her up almost instantly. We're also gifting this clarifying mask from Tata Harper for that one friend who has a different mask for every day of the week.  And, if you've ever heard CEO/Founder Jeana talk about her skincare routine, it always starts with sunscreen. This mineral sunscreen from Beautycounter has SPF 30 and it's light enough for everyday use.
A little love to your eyes goes a long way in looking more awake and youthful (a look we all aspire to during the holiday season, no?). The Dark Matter Coffee Eye Butter from Scratch Goods checks all those boxes and then some; this nourishing balm babies the skin around your eyes, de-puffing it and smoothing the skin with a hydrating formula. It's cute enough for a stocking stuffer and powerful enough to stand on its own as a solo gift.
For the friend who loves experimenting with makeup, treat them to this tea tree cleansing oil that takes off any makeup at the end of the day without roughing up delicate skin. Pair that with Lid Star and Cloud Paint (both from Glossier) for a shimmery, youthful insta-makeup look that's fit for the 'gram. (Seriously, Glossier's Instagram account is #goals).
Can't decide on just one product for a pal? The holidays are a prime time for popular skincare brands to show off their travel sets. We're picking up this Hydrate + Glow mini set from Herbivore, plus the Face Kit I from LINNÉ Botanicals. Both have gorgeous packaging and swoon-worthy product names; plus, we love that they're natural skincare brands.
Okay, enough with the face. Rhe Dyson Supersonic Hair Dryer is the Cadillac of hair dryers for the tress-obsessed. It's a bit of a splurge, but your lucky recipient will be absolutely bowled over — especially if they constantly groan about how long it takes them to dry and style their hair. A monthly membership to drybar is a great idea, too.
We felt like Sherlock Sweat once we discovered these oil- and sweat-absorbing hair blotters from Recess. Ever been in that awkward situation where you didn't leave yourself enough time to shower after a workout, but your hair is beyond repair? These blotters are an alternative to dry shampoo (read: no awkward white powder that makes it look like you've gone gray) and your new gym bag BFF. We also think these shampoo bars from Lush are so fun — choose based on favorite color or hair type.
If you're like aSweatLife director of communities Maggie Umberger and enjoy an added health boost to a daily habit, Vital Proteins' Coconut Collagen Creamer is truly a treat for those work-from-home mornings. Gift this to a low-maintenance friend who's religious about her morning coffee routine. A scoop of this in her mug each morning will strengthen her hair, skin, and nails for an overall beauty boost that doesn't add another minute to her mirror time. She's not a coffee drinker? These supplements from Garden of Life will have the same glowy effect (just without the caffeine — to each her own).
This giveaway is closed. Congrats to Sarah F. and Krystin H.!
10 Days of Gifting with aSweatLife 
Disclaimer: Some of these products links may be affiliate links, meaning we'd earn a small commission if you purchased through our site. It doesn't cost you any extra, and it helps us keep the lights on. Thanks for your support!