Read About the 2019 aSweatLife Ambassador Program
(The application for the 2019 Ambassadorship is now closed)
Close your eyes. Imagine that big goal in the back of your mind that you want more than anything in the world. It's a goal you're at least a little scared of saying aloud. It's something you might fail at achieving. But you decide to go for it anyway.
Now imagine this: you open your eyes to see a group of people around you all imagining their own big, scary goals that they want more than anything in the world. And it's a group of people that wants to see you succeed in your goal, wants to help you get there, and they're excited to go on the journey with you.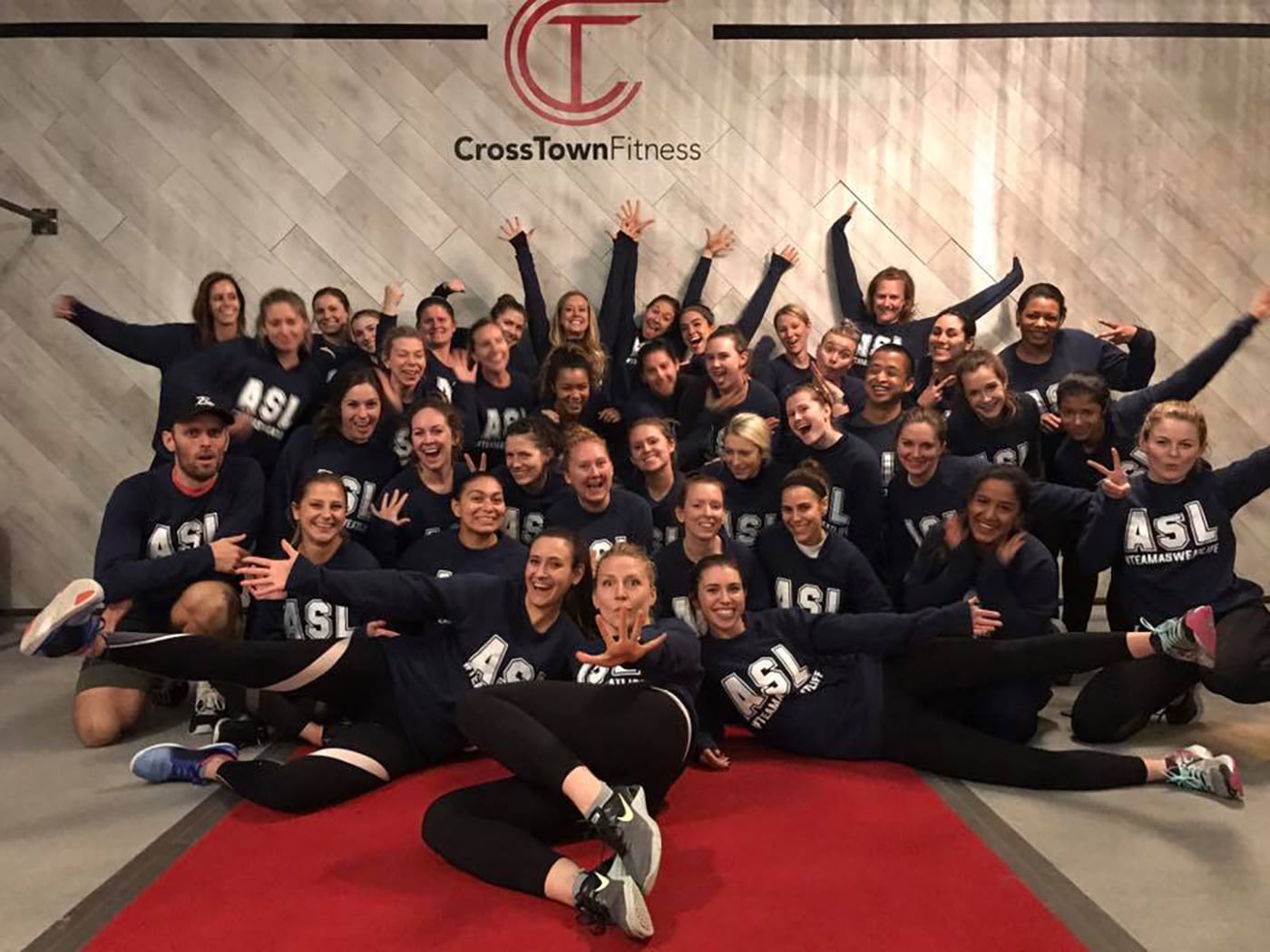 This, in a nutshell, is the aSweatLife Ambassadorship. It's a community that we're continuing to build in 2019. That's our big hairy audacious goal: to find Ambassadors across the country. What makes this community special? It's filled with like-minded people who share the values of lifting each other up – no matter how big or small our accomplishments are. It's full of people who push themselves to say their goals aloud. It's made up of goal-getters who believe that fitness really is the catalyst to make big, scary dreams come true – in all areas of life.
Who should apply to be an aSweatLife Ambassador?
Ambassadors know that they want to go after big goals and support others in their goals too. They may not have made progress towards their goals – in fact their goals may scare them just a little bit. They're open to trying new ways to approach those goals alongside others in the Ambassadorship. And they see fitness as a means to connect with others and to achieve what they want. If this describes you, you should apply!
More details about the program, please!
Events: If you apply to be an Ambassador, you're signing up to go on a journey. Expect goal setting sessions, accountability partners, dedicated group workouts, monthly workshops curated to help you achieve your goals, and opportunities to create more of what you love and are passionate about among other Ambassadors.
Digital connection: You'll be connected to all the Ambassadors across the country through the SweatWorking app in an exclusive channel where we'll be able to share more tools for you to help you live your best life all year long. Think: audio guided meditation and intention setting programs, exclusive workouts and meal plans, and goal setting accountability.
Workshops to enrich your life outside the gym: Every month, we bring the Ambassadors together – in person or through a video experience on the app – to learn something new that will help you live your healthiest, happiest, most productive life. The topics are always diverse; we've met over mindful eating, de-cluttering and confidence. We've hosted leadership, public speaking and meal prep workshops.  We've had sound meditations, mobility seminars and panel discussions.
Workouts to punctuate your life: In addition to exclusive content made solely for you as Ambassadors, you'll have access to gym and studio channels on the SweatWorking App on a rotating monthly basis as your studio of the month. These are workouts that only gym and studio members have access to regularly, but as Ambassadors you'll have rotating access to special, unique workouts across the country.
Committees: Our ambassadors raised their hands to create unique committees based on their passions. If you have career goals, there's a committee for that. If you're passionate about volunteering, there's a committee for that. There's also a group seeking balance in their busy lives. And if you're incredibly passionate about fitness, there's a committee dedicated to taking on and hosting unique workout experiences too.
What about National Ambassadors?
Through the SweatWorking app, you'll be connected to aSweatLife no matter where you live. Want more friends to join you to host events in your city? Invite them to apply, too. We'll be providing you the tools to host #Sweatworking in your city and the support what you need to make it successful. Whether you live in Chicago – aSweatLife's home city – or anywhere else in the country, we'd love to have you join the 2019 aSweatLife Ambassador program!
What are the perks?
In exchange for spending a year with us, you'll get:
Entry into a larger group of goal getters
Access to the SweatWorking app
Digital content to help you live your healthiest, happiest, most productive life
Exclusive events, workshops, treats and discounts to #Sweatworking events throughout 2019
Swag
Okay so tell me – what are the nitty gritty details?
The application for 2019 is now closed, but we hope you'll keep in touch and apply next year!
Let us know!
Did this post help you get closer to achieving one of your goals?