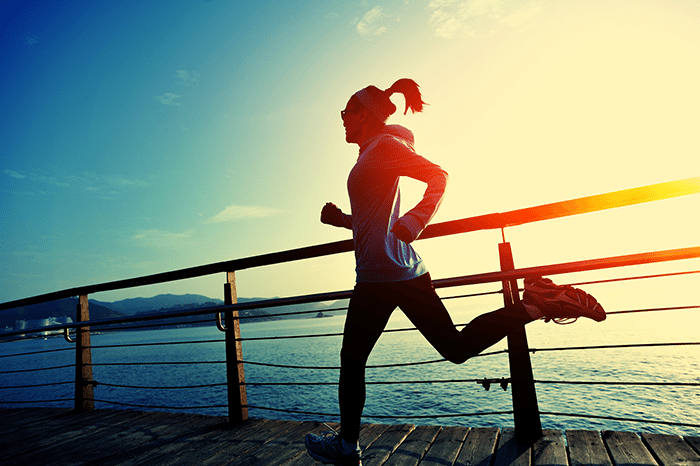 After my last big race, I gave my body full permission to take as much time off as it needed. No pressure, no judgment, no date circled in red on the calendar. I indulged in a lot of group fitness classes and a lot of sleep. It was glorious.
But then, over the holidays in Kentucky, I was met with glorious 60-degree weather during Christmas week (shoutout, El Nino), and no extra money to spend on a gym in Lexington. Thus, I decided to go for a run one day. Major, I know.
However, after not running for more than two months, I had more than a little anxiety. Would I get out of breath before I reached the end of my block? Would my legs remember the motions? What do I do with my arms again? With all the extra thoughts occupying my brainspace for what was once such a normal event, I decided to take one complicating element out of the equation.
I decided to run naked.
Get your mind out of the gutter. Not like THAT. That's illegal, after all. (Right? That sounds right.)
For the first time in probably two years, I ran without tracking anything whatsoever. No mileage, no paces, no grand total of how many minutes I spent jogging along. I ran in complete, blissful ignorance, and it was perfect.
Sure, there's a time and place for tracking your run- when you're training for a specific goal pace, or want to make sure you hit a certain distance, or when you're playing one of those running from the zombies app games. However, tracking your first run back after a long hiatus seemed to me like a surefire way to feel bad about myself.
Because let's face it, it's a lot easier to get out of running shape than get into it – and right now, I have a lot of work to do to get back to where I was, running-wise, last year. But, taking off the watch was equivalent to taking off the pressure.
Instead of pausing my watch obsessively the moment I hit a stoplight, I used the opportunity to stop and walk the last few yards to the light. I made the executive decision to run to my best friend's downtown apartment, take a 20 minute water and gossip break, and then run home- allowing me to catch up one-on-one with a pal before her busy wedding week. Later that week, I set out with a certain route in mind, then shortened it on-the-fly based on my tired legs – without feeling any guilt at how much less mileage I was doing, because there was no physical evidence of "wimping out" on a run.
I'm sure I'll go back to using a watch or tracking app on my runs eventually. After all, I paid a lot of money for that Garmin – I plan on using it until it physically returns to its original dust. Plus, it keeps me accountable for my progress. But until I get my legs back, I'll be running footloose and fancy-technology free.