How to Keep Up Your Fitness Routine When Life Changes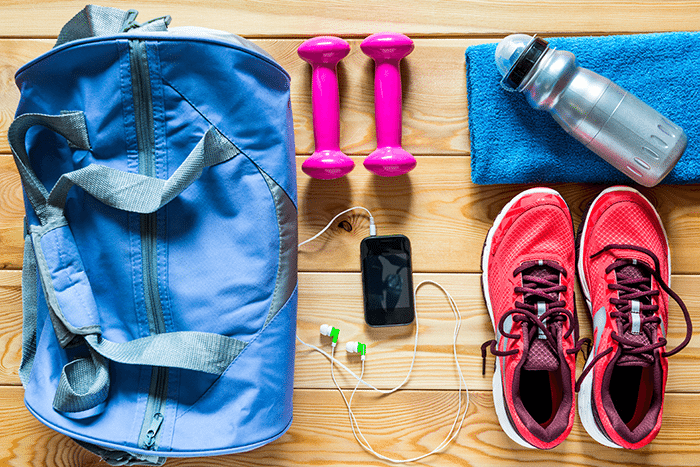 Although change can definitely be a good thing, it's never easy. Whether you just moved to a new city, had a baby, moved in with your significant other or got a new puppy, your routine can shift dramatically with big life changes. In the beginning of January, I started a new job. The location is a bit different than my old job and my hours have somewhat shifted. Instead of knowing I could reliably leave in time to make a 5:30 pm class at the gym, it's been pretty unpredictable when I'll be able to go. I know that I need to find a hour in the day to make it to the gym, so here are some tricks I've used to keep up my daily trip to the gym even when my routine is in flux.
Be Flexible but Committed
I love booking a full week of classes in advance. The organizer in me loves to look at my calendar and see each workout lined up. It keeps me accountable and lets me know that I won't end up without a spot in class.
Even though the idea of a week without my workouts booked induces anxiety, when life is changing sometimes it's just a necessity. At my last job, I was never worried about not making a 5:30 class. Now, I sometimes don't know what time I'll head out until I'm on my way out the door. And that means being flexible.
Instead of booking a week in advance, I'll sometimes wait to find a class just a half hour before it starts. That means that I might not be going to my #1 choice of a class, but I can usually find something that I'm willing to do on Classpass. Other times, I'll set the alarm an extra hour and a half early so that I can squeeze in a morning class either near my apartment or near my office. On some days, I have to be willing to brave the cold and go for a run to get in some fit time, or find a workout I can do in my living room.
As long as you commit yourself to doing something, you can be flexible about what that is and find something to keep you busy. If you're afraid to pay for a gym membership because you're not sure of your new routine, check out our list of free workouts.
Create time
When we're going through big life changes, the biggest issue with getting to the gym is usually a lack of time. The key is to find a way to create time by making other sacrifices or just changing your habits. Over the years, I've gotten into the habit of grocery shopping every day. On the way home from the gym, I like to pick up exactly what I need for dinner that night and nothing more. I don't have a car, so this is a way for me to keep my grocery loads small and also to never buy more than I need. However, this also takes up a ton of time.
By planning my meals ahead, I can do a single grocery shop on Sunday afternoon and use the extra grocery shopping time to squeeze in a workout every day. To take it one step further, I can prep my food ahead of time by cutting up vegetables, trimming meat, or even throwing together a meal in a freezer bag than I can dump into the crockpot in the morning. When I know a life change is about to happen (like when I'm traveling a lot for work), I like to make some big meals and freeze them in several foil containers so that even when I'm having a busy day I can still squeeze in a workout and have a homemade meal.
There may be other sacrifices in your day that you can cut out to create time for yourself. I don't like to admit it, but I love to watch the Bachelor. But let's be serious, even when I TiVo it and fast forward through commercials, that's an hour and a half of my day! Try cutting down on your TV watching time during the week and save your favorite shows for some weekend binge watching.
Get support from others
Employers are finally catching on that encouraging their employees to be fit has tons of benefits. Talk to your employer about how you can schedule time for the gym. Ask if they'll let you block off an hour at lunch to go to the gym, or come in early so that you can be out in time to go to the gym in the evening. My new employer has been incredibly supportive and on quiet days is happy to let me squeeze in a class nearby.
If you live with a roommate or your significant other, ask for their support. Maybe they can agree to make dinner one or two nights a week, or get home to let the dog out, so that you can have time to go to the gym for an hour. I have to give a big thanks to my other half for helping me through the unstable period while I've started my new job. If he didn't help with some of the grocery shopping, or tolerate my past-9-pm dinners, it would have been so much harder to work out. Don't let yourself feel alone in your fitness journey. You'd be surprised how much others will be willing to help you.
Have you had a big life change recently? What tricks have you used to find the time for fitness?
Let us know!
Did this post help you get closer to achieving one of your goals?