2015 Healthy Holiday Gift Guide
If you've watched any TV or opened any emails this week, you're well aware that the season to give gifts is upon us.
Whether you're searching for the perfect gift for the fitness enthusiast in your life or you're making your own holiday gift list, we've done some digging to uncover gifts for every kind of health buff – from runner to bag-lady – in our healthy holiday gift guide.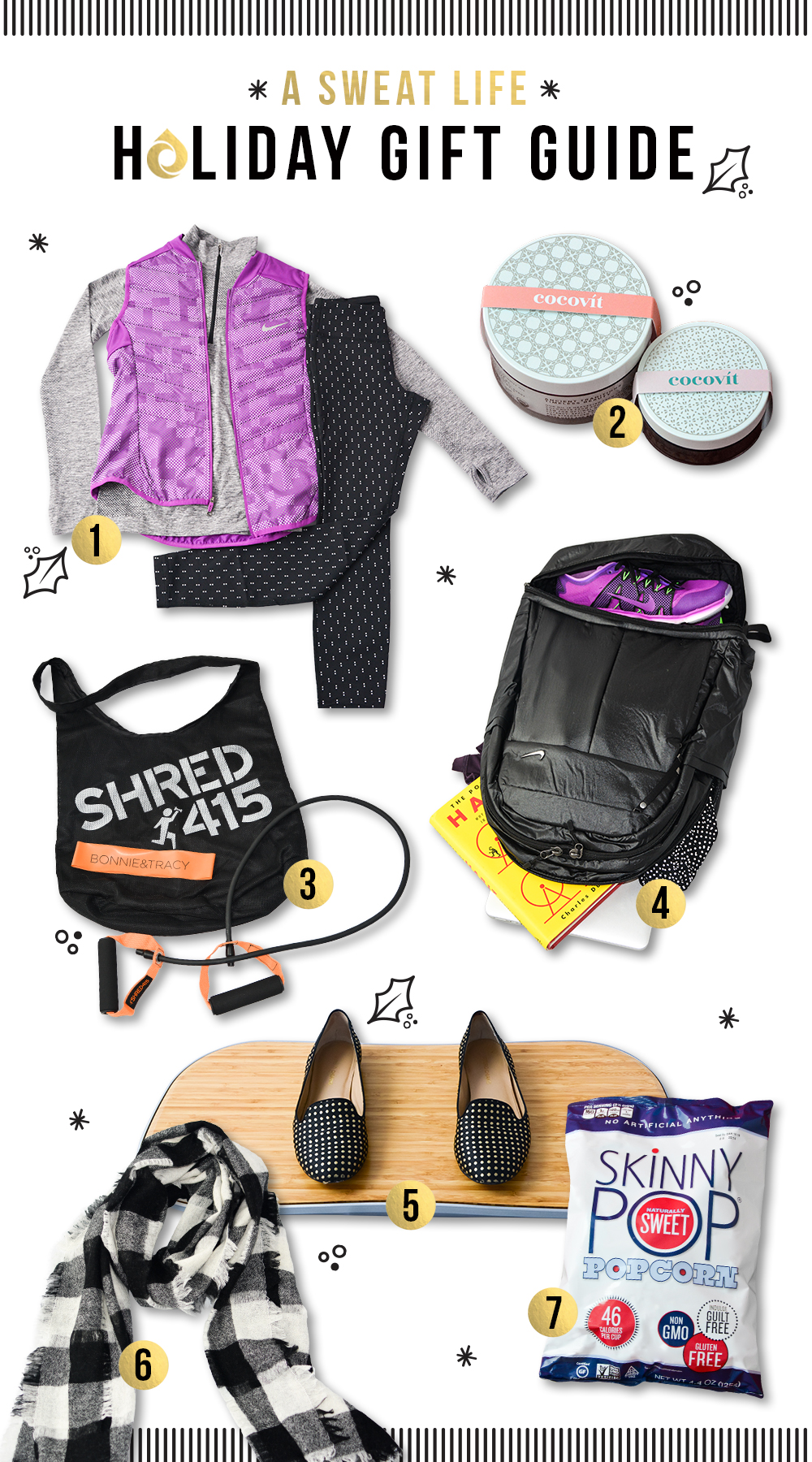 1. Give the gift of night-time gear to your favorite runner to keep them safe and warm in the colder, darker months. We love this Nike Aeroloft Flash Vest ($280) and these Nike Epic Lux Flash Dri-Fit Leggings ($150).
2. Coconut oil is the beauty product with nearly unlimited uses. Cocovit is a premium product that is created in India with a unique, raw extraction process. Bonus: it comes in beautiful packaging. It can be used for everything from smoothies to hair masks to makeup removal. Grab Cocovit coconut oil ($38) and Cocovit Charcoal facemask ($38) for the healthy beauty buff in your life.
3. For healthy travelers, make sure they have the gear to turn any hotel room into a gym. Give the gift of accessories and workouts from Bonnie and Tracy creators of Shred415 ($40 for 4 workouts and $30 for accessories).
4. Every healthy lifestyle enthusiast has one thing in common: they're always weighed down with stuff – gear for the gym, their healthy lunch and everything they need for work. For your favorite bag-lady, gift a backpack to consolidate all of that work and workout gear so she can make it through busy days. We love this Nike Victory backpack ($100).
5. Have a worker bees that swear by a standing desks in your life? If they find themselves shifting from leg to leg and ending the day with aches and pains, they're doing the whole standing desk thing wrong. Luckily, tools like the Level by Fluidstance ($429) help engage the legs and evenly distribute weight to keep those chugging away at a standing desk in an active position. It's a beautiful, bamboo product that's designed to look nice in any office.
6. For your favorite yogi, gift a cozy scarf for post-Shavasana, like this Madewell openweave scarf in buffalo check ($58.00).
7. If you fear the presence of the irresistible tub of popcorn that you're certain will sit and stare at you from your workplace kitchen, give your co-workers the gift of Skinny Pop Naturally Sweet popcorn ($4.29 for one 4.4 oz bag and $47.88 for a 12-pack) and White Cheddar ($4.29 for one 4.4 oz bag and $47.88 for a 12-pack). You won't even miss that popcorn tin and the sticky caramel on your hands.
8. (Not picutured) For the studio fitness enthusiast who has found him or herself in a rut, give the gift of ClassPass ($119), which will allow him or her to try unlimited classes across their city (ClassPass has a presence in dozens of cities) with a limit of three classes at each studio for that month. With that three class cap, they'll be prevented from falling into a rut in any one place. This e-gift can be sent on the date of your choosing (first day of Hanukkah? December 25?) and is redeemable whenever the recipient is ready.
We're wishing you a happy and healthy holiday gifting season.