How to be a Great Marathon Spectator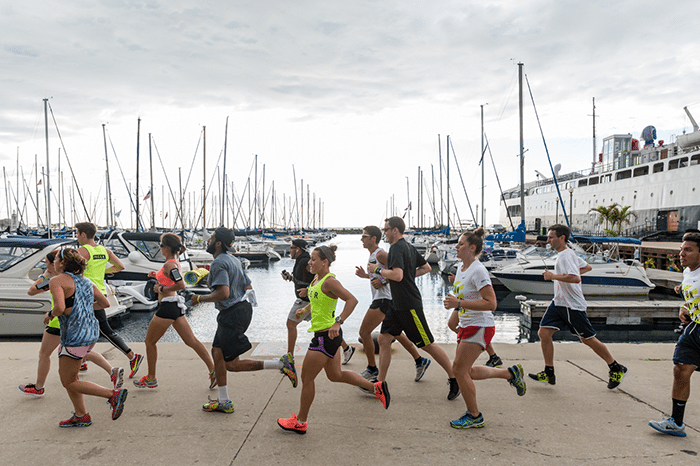 Before I ran Chicago in 2014, I had never seen the Chicago marathon – or any marathon, for that matter. I'd been out of town on marathon weekend every year that I lived in the city, and Lexington, KY only recently hosted its first ever marathon. In my previous experience, people watching races clapped when they saw their friends, sat in canvas chairs soccer mom-style, and occasionally mocked the runners by having beer and/or donuts while watching. You know who you are.
However, in a city like Chicago where the marathon is a banner weekend and attracts 1.5 million spectators, the phrase "spectator sport" isn't used facetiously. People go all out for the Chicago marathon: camping out early at prime locations, hand-crafting witty signs, handing out Popsicle sticks smeared with Vaseline, and generally throwing all their support behind 45,000 runners.
I've run two marathons so far: Chicago, as previously mentioned, and the Horse Capital Marathon in Lexington. The difference in spectators, in sheer numbers, was probably around 1,499,900. That's not to say the Lexington spectators were any less appreciated – on the contrary, one of the only reasons I finished that supremely rough marathon with a smile on my face was thanks to a group of well-meaning college guys (more on that later). In Chicago, on the other hand, I didn't even turn on my music until Mile 15, simply because there was so much to look at and listen to.
Chances are you'll know at least one of the 45,000 runners taking the Chicago streets this October; I can think of at least half a dozen off the top of my head. If you've never run the race before, it's impossible to overstate the effect of the jubilant crowd and lively city on the runners. Instead of just showing up and being another body watching the race, be a great Chicago marathon spectator with these tips.
Make Them Laugh
I know you. You're funny. You can come up with something clever to slap on a white poster in black Sharpie. You don't have to be fancy – you just have to temporarily distract the runner from whatever else is going on in his mind. Some favorites over the years:
"Smile if you just farted"
"The Kenyans are drinking your beer- run faster!"
"This is a lot of work for a free banana"
"If Britney survived 2007, you can survive this!"
If you're cheering for someone in particular, make a poster that's specific to their interests or your friendship. For instance, my roommates made me posters that were American flag and Friday Night Lights themed. I nearly cried when I saw them. My friend Julie made a sign that said "AFINIDAD" on it, in homage to our shared secret passion for a random Spanish pop song. I definitely cried when I saw that.
Blurry picture because my friends don't know how to operate iPhone cameras.
Dress Up
Wearing a costume can get you more excited to cheer and will boost the spirits of the runners around you. Personally, I'd go for a patriotic, American flag theme, because that's approximately half my current wardrobe. Neon '80s gear is always a good bet too. Feeling morbid? Station yourself at Mile 25 dressed as the Grim Reaper with a sign that says "The end is near." Bonus: if you dress up and tell your runners what you're wearing, it'll be easier for them to spot you and come over for a high-five during the race.
Bring Props
Noisemakers, pom-poms, balloons, flags and more are instant morale-boosters. Head to Party City, Liquor Barn or the dollar section at Target to get cheering props for cheap. Got a little more lead time before the marathon? Create a Big Head of your runner and surprise them with it on race day – you'll be impossible to miss.
Cater to Runners
If you know what kind of fuel the people you're cheering for prefer, buy some at your local running store and have it for them on the course. Or, head to Costco and buy a few bunches of bananas to hand out, especially if you plan on cheering on the later miles of the course. Other runner-friendly items to have on the sidelines: sunscreen, BodyGlide/Vaseline (or powder deodorant, which also works in a pinch), a couple pairs of cheap sunglasses, wet rags, face wipes and BandAids. Marathon runners tend to prefer to run with as little on them as possible (an armband carrying an iPhone begins to weigh hundreds of pounds as the race goes on), so bringing a few runner survival items to the course is both incredibly thoughtful and potentially life-saving.
A minor tangent: at Chicago, several neighborhoods are known for handing out alcohol or even JellO shots along the course. When I ran Chicago, I stayed far away from those – my stomach was not interested in the slightest. In Lexington, however, I was kind of miserable, and eating a ton of fuel and electrolytes along the course was the only thing keeping me in the game. At Mile 26 (.2 miles from the finish), I was greeted by a group of five or six rowdy college guys, presumably a little tipsy, who had been tailgating for the race (we love tailgating in Lexington). They blessed me with a Budweiser can as I ran by, and I finished that race with a beer in my hand. Four hours later and that beer (plus some pretzel rods) was still the only thing I could stomach. Shoutout to you guys, wherever you are now – you're the real MVPs.
Plan Ahead
Find out what times your runners are starting and what pace they expect to run, and try to gauge what time they'll pass you so you can look for them accordingly. Tracking apps are helpful for this, but be warned that mobile networks are likely to be overloaded and running slowly on race morning. Old-fashioned math is your best bet here.
Also, ask your runners what they'll be wearing, and get them to be specific – "blue top and black shorts" doesn't really cut it when 45,000 people are running past you. Have them send you their outfit laydown if possible so you know exactly what you're looking for.
Go the Extra Mile
Literally. If you have the chance to jump in the race and pace your friend for a mile or two, do it. You'll distract your friend and get a mini-workout yourself. In some major marathons (New York and Boston, notably), this is next to impossible; in Chicago, it's possible if you plan well and jump in during the later stages of the course (be warned that you might get chastised by race officials and security).
One of these runners is not like the other…
For smaller marathons, you'll likely have no problem doing this, since it's rare for the entire course to be gated off with security barricades. At the Lexington marathon, my sister and friend ran with me two different times for a mile stretch each time, including the last mile before the finish. During the hardest race of my life, I can't tell you how much it meant to me to have friends run with me and support me in my fragile emotional and physical state. It's something I'll remember for the rest of my life.
Note: don't confuse jumping in for a couple miles to pace a friend with "banditing" a race (aka running a race without a bib). That's not cool. Don't do that.
Watching a marathon is truly a spectator sport. Show up, be loud, and be proud- your friends and all the other runners will appreciate it more than you'll ever know.