Chicago Marathon 2014 Recap and 26.2 Things I Learned from my First Marathon
Way back in March, I went for a long run with the Crew, and at Homeslice brunch afterwards in the throes of passion inspired by a particularly delicious breakfast pizza, I fervently declared, "I would run a marathon for this breakfast pizza."
About seven months later, I did.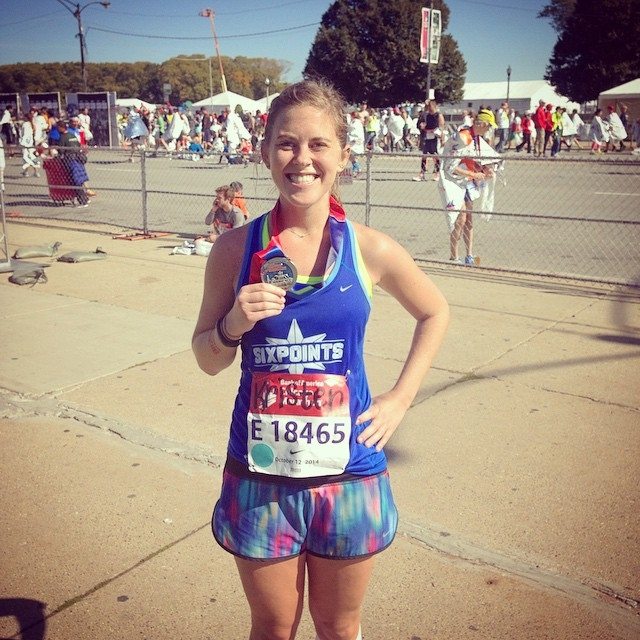 After 16 weeks of training with Nike's #2sixpoints2 crew and the Nike+ Running app, I walked up to Corral E on a cool October morning with 45,000 other runners dedicated to crossing that finish line in Grant Park. With the help of my friend Kara (who ran with me and set a strong pace for us through mile 18), the cheers from the crowd (especially seeing my dad three times), and the feeling of support knowing that my friends and family were cheering me on, I was able to finish my first marathon, hitting my goal of a sub-four hour marathon by two minutes for a time of 3:58:02.
The conditions for my first marathon were picture-perfect. The weather was in the mid-fifties, meaning I could comfortably run in shorts and a tank top after ditching a long-sleeved shirt at the start line. I saw family and friends several times throughout the course, and their cheers honestly kept me going. I never suffered from cramps or dehydration, and my pace was scarily consistent throughout the first 75% of the race, leading to a negative split. Really, I couldn't have asked for anything else.
It's been a long journey, and it's hard to describe how proud I feel even a few days removed from the race. But, while it's still fresh in my mind, I want to share 26(.2) things I learned from running my first marathon:
(Read my review of the Chicago Marathon on BibRave, and review your own races as well!)
1. Training has to be a priority. Even if your goal is just to finish, a strong training program will help you to finish strong and without any injuries on the course.
2. However, even if you've trained your heart out, things can go wrong on race day that you can't control. Bad weather, random cramps, a stubbed toe- the key is to run well on the good days and make adjustments on the bad.
3. Drink water before you feel thirsty. Drink Gatorade (or your own choice of electrolytes) before you feel tired.
4. Ask your friends and family to show up to cheer. You might want to play it off as no big deal, but running your first marathon is a HUGE deal, and seeing your friends and family on the course makes a huge difference. Nothing put a grin on my face quite like seeing the kids I babysit at Mile 10 and high-fiving them, or seeing my roommates and best friends with Tim Riggins-inspired signs at Nike's cheer station at Mile 24, and then having one roommate get so excited that she threw her sign at another runner and ran on the course with me for a few hundred yards. Those are the moments I'll remember most from the race.
5. If you happen to pass some spectators handing out Dixie cups of beer on the course, take one just for the experience, even if you don't drink it.
6. Run based on how you feel that day. Don't have your heart set on a certain pace if you wake up feeling a little bit off; on the other hand, if you feel amazing, stretch your legs out a little bit.
7. Don't turn on your music right away. I had my headphones in for the entire race but I didn't turn my music on until after the halfway point of the marathon. There's so much sensory overload that music just becomes extra noise, especially at the more crowded areas of the race. Instead, save your music for when the crowds thin out and you need a kick.
8. Some aid stations will have vaseline on scraps of cardboard for chafing issues. Don't be shy about taking some.
9. Your first time grabbing water or Gatorade at an aid station and trying to drink it while running will be messy. You will spill. You will also get better as the race goes on.
10. If you get one non-horrifying race picture from the official photogs, consider yourself blessed. My dad took probably 30 pictures of me on his phone and only one came out decent: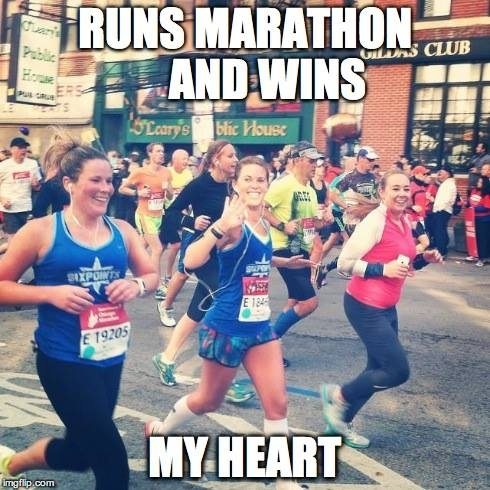 (Shoutout to my friend Ali for the meme-making)
11. Bring throwaway clothes to the start line that you won't miss as you toss them aside when you get warm. Shoutout to my roommate Chelsea for donating a Walmart running shirt to the cause.
12. Smile and wave when you see people you know or even just signs you like. You've done all of the hard work already, so the marathon is more of a victory lap than anything else – enjoy it with a smile on your face.
13. After the race, if you're in a charity tent or VIP area that offers free post-race massages, hobble there as quickly as possible to add your name to the list. Do this first, before you grab a beer, take a picture, or anything – waits get long quickly.
14. Revel in owning your very own silver space blanket after the marathon. Those things are so cool.
15. Thank the volunteers throughout the course and in the finisher's chute. They've had a long day too.
16. Have a change of clothes in your gear check bag, including shoes and socks. You'll start feeling like a real person again once you change into a fresh fit.
17. Wear your medal all day. Possibly even into the next day. Sleep with it and shower with it. People will offer you congratulations and ask how it went – thank them graciously and give them a quick comment about the race. This support from casual spectators is what makes Chicago such a special marathon.
18. Write the initials of someone you love on the inside of your arm as a reminder to keep going even when the going gets tough.
19. When building your marathon playlist, try to associate each song with a person who has supported you at some point. Hearing "Yeah 3x" and thinking of my best friend gave the song an extra power boost.
20. High five a kiddo, or two, or ten along with way. Whether you know it or not, you're inspiring them and other spectators just by being out there.
21. Afterwards, carbs + protein + all the water. Plus an extra serving of treat yo'self.
22. Speaking of treat yo'self, splurge on one commemorative shirt or shorts or something at the expo. You only run your first marathon once.
23. The day after, walk out your soreness. Going down stairs may be tough, but walking will help work through the soreness. One of my CRWmates, Carolyn, recommends doing your sight-seeing the day after a marathon if you've traveled for the race.
24. Make sure to thank everyone who has helped you get across that finish line in some way. Something as quick as a "thanks for coming!" text or a little longer, like a handwritten note, will let your loved ones know that you appreciate them – and they'll continue to support you through any more marathons.
25. If you don't get a lot of sleep the night before the marathon, it's really not a big deal. Your adrenaline will be sky-rocketing anyway.
26. There's nothing like the buzz of excitement flooding Grant Park as runners make their way to the starting corrals in the morning. It is palpable. Enjoy the sense of camaraderie from being around the other runners and take a second to appreciate the hard work and training that they've put in as well. Everyone's journey is different, and some people have had to overcome some serious obstacles during training. Just getting to the starting line is an achievement.
.2. One foot in front of the other. Just keep moving. Applies to real life as well as marathons.
Now that my marathon adventure is over, I'm heading to San Francisco for the Nike Women's Half and one last running-filled weekend of the season. After that? I'm going to enjoy running without tracking my mileage and get back into taking group fitness classes that I've missed so much, especially Sweatworking for charity on October 28th.
And then I'm going to start researching which marathon I want to run next.
What did you learn from your first marathon? Any recommendations for a second marathon to try? Leave them below!