Join us at #Sweatworking at POW! MMA and Fitness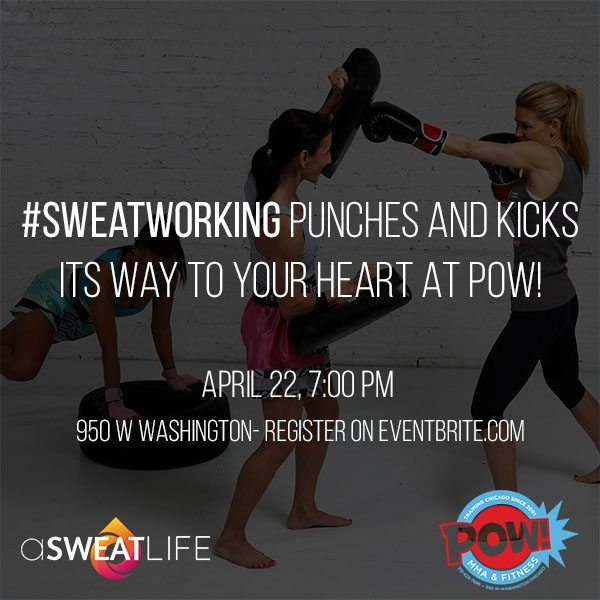 If you're following along, we've been touring the city's gyms for our monthly #Sweatworking events, trying out everything from Pilates to cycling to HIIT to yoga. For each month's event, we strive to find a new workout to try together – getting in a 60-minute sweat followed by a high-quality hang-out.
This April, we're coming together to get a little tougher and a little stronger.
Nestled in the West Loop is a bad-ass gym run by a bad-ass lady, Kat, POW! MMA and Fitness. Workouts at POW! are tough, but scalable for all fitness levels, getting you working – in your bare feet – on punching, kicking and conditioning.
When I think about a real boxing workout, I think about POW! That's why, when planning where to take #Sweatworking next, showcasing this serious but fun workout was a no-brainer. Plus this is an excuse to get all of those punches and kicks out of our systems.
You may even feel a transformation from the beginning to the end of the class, like I did the first time I went to POW! MMA and Fitness. After my first time, I said, "Admittedly, every time I take a kickboxing class, I immediately act like I'm Ronda Rousey, except with no real training or skills. Thankfully, Katalin is super hands-on and helped to provide some guidance for my flailing punches. By the end of class, I could feel a difference in the power in my kicks and punches. Watch out, potential assailants."
So we're taking it over April 22. We'll work through a 60-minute workout using the entirety of the gym's space, then we'll take 30 minutes to unwind together over some snacks and beverages.
Will we see you there?
Where: POW! MMA and Fitness at 950 W. Washington
When: April 22 at 7:00 pm
How do you sign up? You can Sign up here