11 Songs You Must Add to Your November Workout Playlist
With hundreds of songs dropping across music streaming platforms every week, it can be challenging for fitness enthusiasts to stay on top of all the new releases for their personal workout playlists. As a fitness instructor who is always scouring the depths of Spotify and Soundcloud, I want to save you from digging for the latest bangers and remixes so you have more time to focus on breaking a sweat. Check out eleven songs below that you absolutely need on your November 2021 workout playlist, along with suggestions for how to utilize them.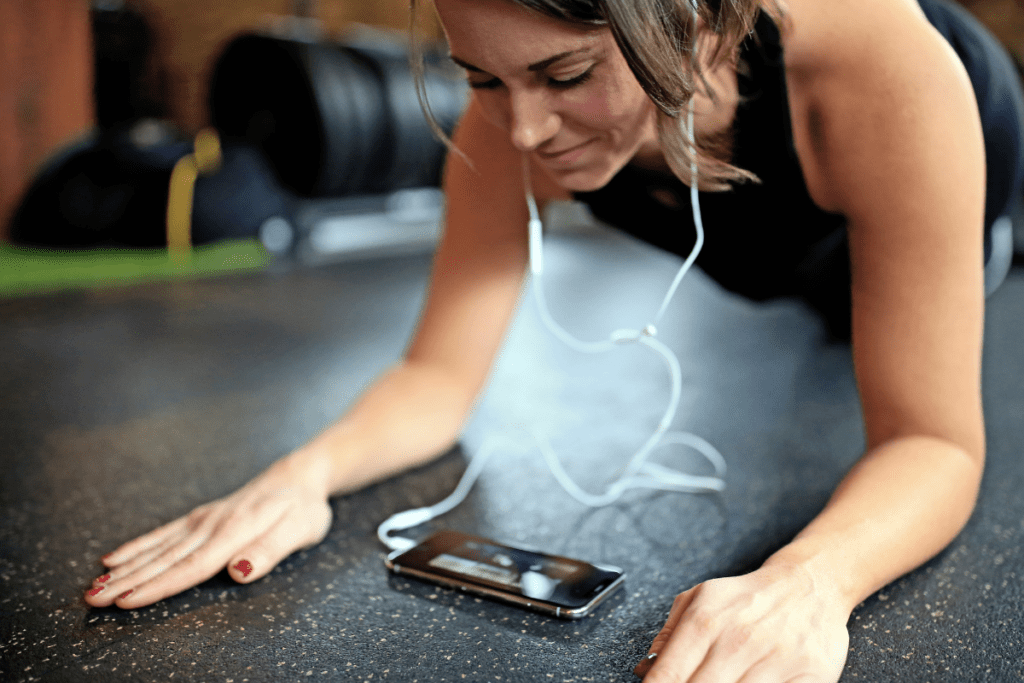 1. "Dance Floor Darling" – Kylie Minogue
The UK queen of pop offers up an infectious dose of disco with this track that will get your endorphins flowing and help you begin your workout. The tempo increase in the last minute will take you from the warmup to the working zone with ease.
2. "Never Love You Again" (with Little Big Town & Bryn Christopher) – Cheat Codes
Country meets EDM on this rousing single from Cheat Codes. This is another great song to play near the start of your workout to lift your spirits. Take the anthemic chorus and drop as an opportunity to rise out of the saddle while indoor cycling or to crank up your speed by a mile per hour on the treadmill.
3. "Go Crazy" (feat. Big Sean & 2 Chainz) – Megan Thee Stallion
With guest raps from Big Sean & 2 Chainz, this banger from Megan Thee Stallion packs a lot of punch in four minutes. The song is all about sticking it to your haters, so play it in the weight room to motivate you through an extra set or in the boxing ring to fuel you through a few more punches. It's okay to "go crazy" on your punching bag!
4. "Love Again (Imanbek Remix)" – Dua Lipa
Almost every track on Dua Lipa's latest album is gym-worthy, but the extra production Imanbek adds to "Love Again" on this new remix will reignite your Future Nostalgia fever. The pulsating beat and bouncy baseline give it a little extra oomph to carry you through any lengthy cardio session.  
5. "I Feel Good" (feat. Anthony Watts & DJWS) – Pitbull
Pitbull is back doing what he does best with "I Feel Good" –  a high-energy party anthem that can make the chilliest November day feel like summer. This one will have you shaking your hips and tearing up the dancefloor from the opening line, "It feels good to see the world getting loose." Don't be surprised if you hear this one in a lot of Zumba and cardio dance classes over the next several months.
6. "Real Love x Sunchyme [VIP Mash-up]" (feat. Jess Glynne) – Clean Bandit & Dario G
This mashup has all the right ingredients – a triumphant vocal from Jess Glynne and shimmery production from '98 house hit "Sunchyme" – for you to simply close your eyes while spinning and pedal as hard and fast as you can. Imagine yourself riding toward a brilliant sunset and lose yourself in the workout.  
7. "Paradise (Vintage Culture Remix)" (feat. Dermot Mulroney) – Meduza
Take yourself to workout "Paradise" with this EDM track that will make mile 10 of a distance run feel like mile 2. The dark, driving beat will help you maintain a steady pace even when your mind is telling you to quit.
8. "Wrong Side of Love (Deerock x Wyle Remix)" (feat. Darius Rucker) – Young Bombs
Another country-EDM hybrid, this remix of "Wrong Side of Love" builds up to a couple of ear-gasmic beat drops to help you deliver your best effort during exercise. Take advantage of those drops with all-out sprints while running or your heaviest weight selection while strength training.  
9. "Not the End of the World" – Katy Perry
Sort of a sonic sequel to "Dark Horse," "Not the End of the World" boasts a perfect mix of pop and trap. It feels right on a playlist for some light strength training or core work. Challenge: see if you can hold a plank for the song's entire 3-minute run time, and in the words of Katy Perry, "don't lose hoooooooooope."  
10. "Sunday Morning (Jaded Remix)" (feat. Josie Dunne) – Matoma
Even if it's not Sunday morning, this euphoric floor-filler will lift your mood and heart rate higher for your final, arduous intervals of work, whether you're focused on cardio or strength training.
11. "Easy on Me" – Adele
Nothing sounds better than Adele's warm voice to bring you back to your center after a challenging sweat session. "Easy on Me" is a great way to transition from a "hot girl summer" feeling to a "sad girl fall" vibe as you leave the gym to grab a coffee and curl up on the couch with some Netflix.  
Check out the full November workout playlist below and stay tuned for 11 new tracks next month.