What to Wear to a Boxing Class for Your Best Workout
There's no denying that boxing is one of the most popular workouts these days, and there are some very good reasons for that. Boxing is a high-intensity workout that burns plenty of calories while also giving you a toned look. It's also a serious stress reliever. Before you book a class, though, it's important to make sure you have the right workout gear handy. Wearing the right fitness attire to your neighborhood boxing studio will help you get the best results.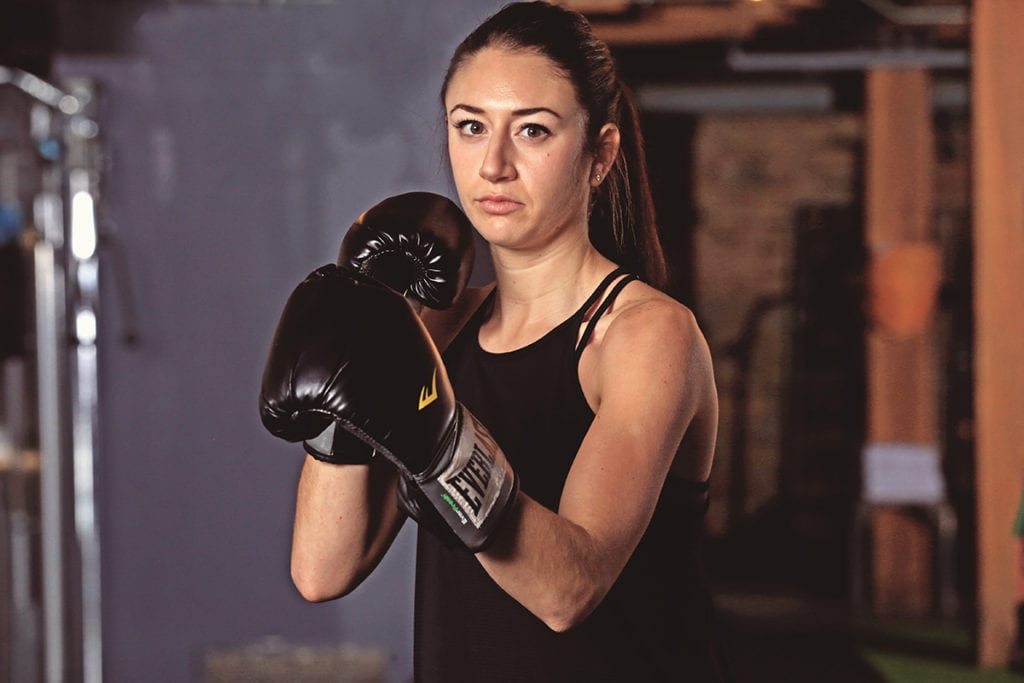 Here, pros weigh in on how to suit up for a boxing class.
What to wear to boxing class
The most important thing to look for in workout clothes is breathability.
"Breathable fabrics are ideal since boxing classes are always a sweaty affair," says Terri Dreger, trainer and director of brand management at 30 Minute Hit, a women's-only kickboxing and boxing circuit with locations across the country.
Dreger also suggests layering.
"I like to start wearing a sweatshirt during my warm up of skipping and shadow boxing to help my muscles get loose," she says. "After a few minutes, I'll ditch the sweater and rock some light, high-waisted leggings, a good sports bra, and a well-fitted tank for the rest of my session." 
And of course, whatever you wear should make you feel good.
"I love wearing comfy clothes so I can move," says Kate Kerner, fitness blogger and instructor and brand partnerships and marketing manager at Box + Flow.
Essential components of your boxing outfit
From sports bra to sneakers, here's specific advice for putting together a killer boxing outfit.
Sports bra: "Full support is best," says Dreger. "A boxing class is going to be full of dynamic moves like jumping rope, explosive strikes, and conditioning drills like pushups and burpees.
Dreger is a fan of Lorna Jane Support Sports Bras, which she says are "insanely supportive, and as an added benefit, make a girl look pretty good." Kerner adds that Fabletics has great high-impact sports bra options as well.
Top: Feel free to go "topless" and just rock your sports bra if you feel comfortable–that's what Kerner does during class. If you'd rather wear a top over your sports bra, a tank top or T-shirt are both good options. The fit (loose vs. snug) is up to you, but Dreger advises staying away from really thin-strapped tanks or shirts that are likely to have straps that fall down over your shoulders.
"That can get pretty annoying because it's really tricky to fix wardrobe malfunctions when your hands are buried in a boxing glove," says Dreger.
Leggings: Kerner and Dreger both love high-waisted leggings for high-impact cardio workouts like boxing.
"It's impossible to pull your leggings up with boxing gloves on, so making sure your gear fits tight and well and won't slip or sag is key to avoiding unnecessary stress in a high-paced class," says Dreger. She also recommends cropped leggings because you're going to get hot in class. Dreger's faves include the Lululemon Align Crop leggings. 
Sneakers: "Any pair of sneakers that are suitable for the gym are suitable for boxing," says Kerner. Just make sure they're already broken in. Kerner likes APL and Nike sneakers, although she notes that at Box + Flow, classes are done barefoot (socks are optional).
Dreger adds that a flat, stiff shoe is ideal for boxing.
"The flat sole means you'll be able to stay up on the balls of your feet better and be able to slide and shuffle your feet easily," she says. "Making sure the shoes are stiff, with good ankle support, will help with your lateral movement too." Dreger's favorite sneakers are Nike Metcons. Steer clear of running sneakers, which can make it difficult to dodge and move correctly, says Dreger. 
Gloves and wraps: Most studios will give you gloves for your first time or include them with your membership. That said, it is a good idea to bring your own wraps or buy a pair from the gym you're going to. (You can get good-quality wraps for between $10-15, says Dreger).
"They're essential to punch your best and vital to avoiding injury," says Dreger. "Your wraps will also absorb a lot of sweat." It can be really fun to pick out your own pair of gloves, so if you box frequently, that's something to consider.
"I bought Tiffany Blue gloves from Superare Shop in New York City," says Kerner.
Need help wrapping your hands? Read this beginner's guide to boxing for a tutorial.