What to Expect From Your First Zumba Class
Trying a new fitness class can be seriously intimidating. What if everyone there is a regular and you have absolutely no clue what you're doing? Some workouts are more challenging to get the hang of then others, but that doesn't mean you shouldn't step out of your exercise comfort zone and give them a whirl anyway.
One workout worth putting on your radar: Zumba! Here's everything you need to know about the dance cardio workout Zumba before booking your first Zumba class.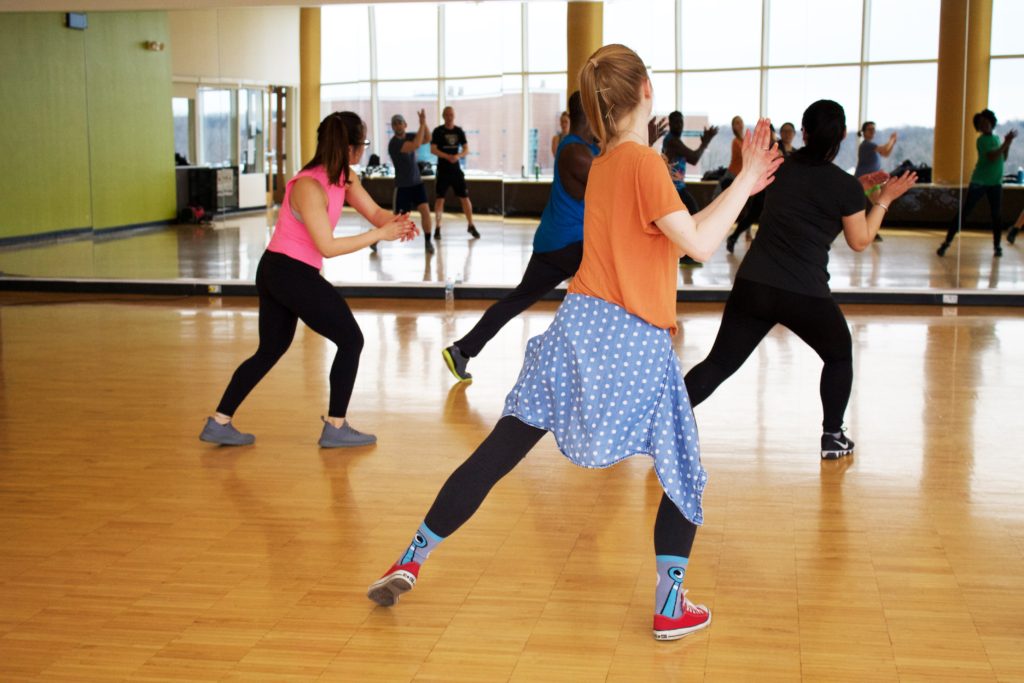 You may not master all the choreography right away—and that's OK.
This hour-long cardio class feels more like a dance party than it does exercise, says Nicole Puccio, Zumba instructor in New York City, but you don't need to have any prior dance experience to get something out of a class. "You don't need a dance background," says Puccio. "You just have to go in with an open mindset."
In fact, many of the steps will be repeated in different songs throughout the class, so you'll eventually start to pick them up, says Carissa Izquierdo, Zumba instructor in Los Angeles. Puccio says that you'll really start getting the hang of things after two or three classes. "It does get easier over time as you start recognizing the steps," she says.
A lot of the choreography involves moving your arms and legs at the same time, but Izquierdo tells beginners to focus on getting their feet down first, then adding arms. "When I'm teaching a complicated song, I'll usually start with the feet first before adding any other choreography to it," she says.
You'll be exposed to lots of different dance styles.
Zumba features a blend of dance styles including salsa, merengue, hip hop, and reggaeton. "Zumba instructors love Pitbull," says Izquierdo (her favorite dance style to teach is merengue because it's fast and reminds her of family parties). A Zumba class will include a variety of faster and slower songs, bringing up the intensity and then scaling it back. "Mixing it up keeps your body guessing," says Puccio.
There's a warm-up and a cool down.
"I usually choose three or four different songs to warm up different parts of the body that we'll be using throughout class," says Puccio. The warm up portion of class won't feature any complicated choreography, says Izquierdo. For example, you might do a grapevine, which involves moving across the floor while crossing one leg in front of the other. The last song in class will be the cool down, during which you'll stretch. "During the cool down, you'll pay attention to the different to the different body parts that you worked during class," says Puccio. 
Some moves might be hard on your knees.
When you're dancing and jumping around during the bulk of a Zumba class, this can put pressure on your knees and feet, so it's important to wear sneakers that offer enough support, says Puccio. Let your instructor know beforehand if you have any knee issues, because they can easily offer modifications, says Izquierdo.
Grab water when you need it.
Puccio says that within her playlist, she always accounts for water breaks and has a few throughout class, but she tells students that if they need to take a break in the middle of a song or in between songs then that's totally fine. "Sometimes your body needs a two to three second break," she says. "Listen to your body. If you need more water, grab it."
You can also follow your instructor's lead. Izquierdo says with some songs, the choreography doesn't start right away, and that's when she reaches for her water bottle. "When I take a sip, that's when I notice others doing it," she says.